December 2, 2018 – BEGINNING OF ADVENT
Southampton Pines, East Quogue, New York
Our Lady of Light
The world is now moving more rapidly toward the final days of the end times
"Greetings, My sons and daughters!
On the beginning of this Advent Season, we prepare to celebrate the Nativity of your Lord and Saviour, Jesus Christ, who was born through the Divine Intercession of the Father in Heaven over 2,000 years ago. During the Advent Season, we also anticipate the return of your Lord and Saviour as we prepare for His glorious Second Coming.
In this particular Advent Season, I call upon all of you, my sons and daughters in Christ, to prepare more prayerfully than ever before, for you are now deep within the end times when the final preparations in Heaven are taking place for the Second Coming of Your Lord and Saviour.
The time is short now for the greatest changes for humanity in the last 2,000 years. Many of you have been anticipating the return of Jesus within your lifetimes and preparing for His return. For many of you, the fulfillment of the End Times will occur before you are called to return to the Heavenly Realms. So close are the final events that many of you are perceiving a change in your world that is more spiritually evident than in the material world, where there are also many of the signs of the End Times manifesting in many different ways.
The world is now moving more rapidly toward the final days of the end times, and many of you can read the signs that are happening throughout your world. As has been predicted, great geographical changes will take place and you can foresee the rumblings in all of nature now.
I do not speak of the warnings that come from My Son's enemy and his minions who are attempting to instill fear in all of the people with a globalist environmental agenda masquerading as climate change. This is a hoax and a ruse and an instrument of the evil one to gain control of all the people of the world through a draconian global government that is not of the Father in Heaven, nor of His Son, the Redeemer.
Do not give serious attention to this global plan, for it is only intended to deceive you. However, do recognize the signs of the times that are affecting your planet which have been prophesied and predicted by the ancient prophets as well as the modern messengers who have been receiving inspired Messages from Heaven. Follow the prophecies that come from the good and not the demonic diversions that come from the enemy, Satan, and his minions.
Geopolitically the whole world is in turmoil now and this turmoil will only increase in the days ahead as nations become more divided and the citizens of every nation become more divided and adversarial to each other and one another. This is also the planned work of the evil one and has come to pass now because you are so deep within the events of the end times that there is no turning back now and no comfort for humanity to be found until the Great Transformation and the Second Coming of Your Lord and Saviour puts an end to all the strife and divisiveness.
Likewise, in My Son's Church, there is a great divide now pitting cardinals against cardinals; bishops against bishops; and priests against priest. This division and strife is also the work of the evil one who has preyed upon those priests, bishops, and cardinals who have lost their way and have sinned against their vows to My Son, the Redeemer, by their sinful ways.
Be assured now that the changes that you are seeing within My Son's Church are necessary for the fulfillment of prophecy and to bring about a purification of the Church that will take place in the very near future and which will be recognized by all of humanity, for the geophysical and geopolitical events will be accelerating now leading to a glorious future. But the road through this period of time will be dark and dangerous for all of you.
Do not despair! If you are truly a believer in the Lord and Saviour's mission to all of humanity throughout the ages, you have nothing to fear. The Father in Heaven is fully in charge of the future of humanity, and He has offered His Son to lead all of us on the righteous path that eventually leads to a Heavenly Home for all of God's children.
So begin this Advent Season joyously and celebrate with anticipation the Nativity of the Redeemer here on Earth and the glorious Second Coming of the Redeemer.
As powerful prayerful warriors in Christ celebrate every day of this Advent Season prayerfully with confident knowledge that the Lord and Saviour, the Redeemer, is already here with you very powerfully in spirit.
With this knowledge, you have nothing to fear for yourself or your family because the Lord and Saviour has a purpose for you, and He will not desert you in these End Times. So be it.
Thanks be to God!
Ned Dougherty's Near-Death Experience and His Visions of the Future

In his mid-thirties, Ned Dougherty (an Irish name, pronounced "Dock-erty") had everything: money, women, property, prestige, and power. He was a real estate broker for twenty-six years owning popular nightclubs in Palm Beach, Florida, and the Hampton's, Long Island's exclusive playground for the rich and famous. He lived in the fast lane every hour of the day, pursuing every pleasure money could buy. Despite his religious upbringing as a Roman Catholic, he had no interest in a spiritual life because he didn't believe in an afterlife.
He was too busy searching for a good time to be bothered with such things. This all changed on July 2, 1984 when he had a near-death experience (NDE) resulting from a heart attack after a heated – almost murderous – fist fight with a business associate.
Dougherty's NDE caused him to undergo a radical life transformation in which he gave up his nightclub business and party lifestyle and embraced his hitherto neglected Catholic religion. His NDE gave him a conscious awareness of his mission in life which was to embark upon charitable and missionary work. During his NDE, a wonderful "Lady of Light" (whom he identified as the Virgin Mary) revealed to him future global catastrophes many of which have already occurred which you will read in this article.
Today, Dougherty is a featured speaker, a former director and media spokesperson for the International Association for Near-Death Studies (www.iands.org). He also founded a spiritual center as revealed in his NDE called the Mission of Angels Foundation (www.fastlanetoheaven.com) through which he speaks on life-after-death issues, NDEs, Marian apparitions, and other spiritual matters.
He also hosts End Times Daily (www.endtimesdaily.com) – a Catholic news site focusing on eschatology – where he publishes interior locutions he has been receiving on a monthly basis since 2005.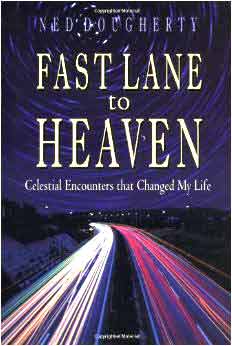 Book: Fast Lane to Heaven: Celestial Encounters that Changed My Life
Published in March of 2001. This book documents his amazing NDE and visions of Earth's future.
Ned Dougherty's End of Days Website:
Fr. Michel Rodrigue explaines The Events of the End Times
Do you want a quick overview of the end times? Then read "The great events of purification will begin this fall". If you want all the details of the unfolding events, then go to "Virtual Spiritual Retreat with Fr. Michel Rodrigue about the End Times".
Messages of Holy Love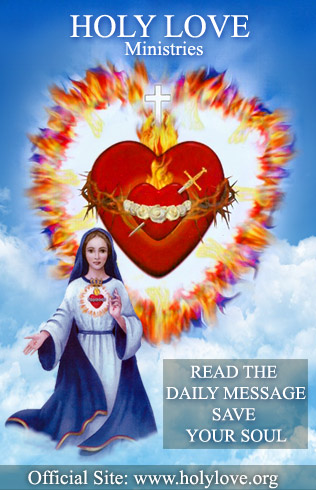 Read the daily messages
Catholics, we have entered the Pre-Tribulation, obey the Commandments, go to Confession; receive the Holy Eucharist and pray the Holy Rosary daily to keep your faith and save your loved ones. Prepare for the events that will devastate our planet: plagues, famine, WW3, cataclysms, antichrist's World Order