February 3, 2020
Blessed Virgin Mary Chapel – Basilica of The Sacred Hearts of Jesus & Mary
– Southampton, New York
Our Lady of America – Very important message for the people of USA
"My dear son,
I come to you once again as Our Lady of America, for I have a very important message for the people of your nation, as well as by extension for the peoples of the world.
God, the Father in Heaven, has given special graces to your country to be a shining example to the peoples of the world, but your shining example has been dimmed by the flash of evil from the demonic realms where the evil one's demons have taken control of the energies that envelop and surround your planet so that now the evil one has taken free reign to thwart the Creator's plans for your nation with a demonic plan of the evil one who has taken control of your planet.
Your shining example has been dimmed by the fact that while many of you have not lost your faith in the rewards of an Afterlife, as promised by the Father in Heaven, many of your brothers and sisters are leading a godless and pointless existence in search of instant gratification, glazed over by the subtle brainwashing that the evil one has inflicted upon humanity.
Nowhere is this more obvious to many of you, and that should be obvious to all of you, than in the daily bombardment in your lives of sinful gratifications and the dumbing-down of your intellectual capacity by the mainstream media and the entertainment conglomerates that have taken control of the means of communication that subtly change your perceptions and influence you so that good becomes evil and evil becomes acceptable, nay, even desirable.
Your shining example has been dimmed because you have permitted your so-called mainstream media and entertainment conglomerates to act in concert with your educational institutions, as well as with certain government institutions, and even with certain counterfeit religions and churches to take control of the minds of all of the peoples of the Earth to indoctrinate you as individual members of humanity into a belief and acceptance of a godless New World Order which has declared its intent to ultimately control all of you by the year 2030.
Your shining example has been dimmed because your children, who are only God's children in eternity, are being indoctrinated at the earliest ages into a society of self-gratification that knows no bounds or limits as intended by your Creator, the Father in Heaven. Your children are being brainwashed into a belief system that fully challenges their God-given identity and gender with a demonic intent to confuse you into believing that your identity should be formed by the influence of the evil one and not by the plan of your Creator, who has ordained each and every one of us with a mission in life.
Your shining example has been dimmed because you have become a nation that worships the culture of death to others, while you each individually value your own life and survival. Many of your brothers and sisters from the Heavenly Realms, whose spirits are infused by the power of the Holy Spirit into the sanctity of their mother's womb, are being torn into pieces, limb from limb because many of you regard their existence as an inconvenience and as a matter of 'choice'.
Not since ancient times has the sanctity of life been more disregarded by God's children than it is today. Not since the ancient and pagan times have the many snakeheads of satan – baal, lucifer, moloch, and others – reigned more successfully in destroying God's children.
However, God's children, who have been sacrificed at the altar of abortion, don their angel's wings and reside with us in the Heavenly Realms, where you will be reunited with them, only if you have fully repented for making them a 'choice' in your own life.
Hopefully, through your prayers and reconciliation, you will be prepared for your transition from this earthly realm to stand before your Creator and to meet with your unborn children, for they are here with us praying and waiting for your safe return to the Heavenly Realms, regardless of the trauma that you inflicted upon their journey in the earthly realms.
Your nation and its peoples are now more divided than ever before. Through the lens of a historical perspective of your nation, there is no comparison to today's divisiveness, and that divisiveness is most readily apparent in your political and government leaders who have become almost equally divided in either supporting the sanctity of life or denying the sanctity of life in the womb. The most pagan and sinful among you are those of you who have approved of the sacrifice of God's children at the altar of satan, even after the moment of birth. There is no salvation for souls who continue to support this slaughter of God's children.
All of you – who consider yourselves as souls in communion with the Body of Christ – must recognize that you must support your political leaders and institutions that stand for the sanctity of life, and alternatively, you must not support political leaders and institutions that are in league with satan and the evil one's culture of death.
I must warn you that your very eternal survival is at stake if you continue to support the culture of death.
This issue is of paramount importance to your Creator, who is your Father in Heaven; His Son, Jesus Christ, the Redeemer of all God's children; Your Heavenly Mother; and all the Angels and Saints."
Source: Ned Dougherty
Fr. Michel Rodrigue explaines The Events of the End Times
Do you want a quick overview of the end times? Then read "The great events of purification will begin this fall". If you want all the details of the unfolding events, then go to "Virtual Spiritual Retreat with Fr. Michel Rodrigue about the End Times".
Messages of Holy Love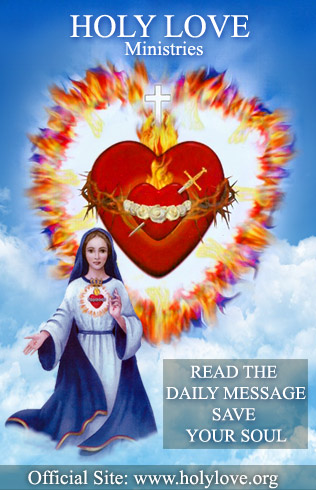 Read the daily messages
Catholics, we have entered the Pre-Tribulation, obey the Commandments, go to Confession; receive the Holy Eucharist and pray the Holy Rosary daily to keep your faith and save your loved ones. Prepare for the events that will devastate our planet: plagues, famine, WW3, cataclysms, antichrist's World Order