Please read these messages from beginning to end, pay attention to Our Lord Jesus' words on how to prepare and to be ready for refuges and for what is coming to the world … Also pay attention to the news from the USA to understand the end times.
Tuesday, August 11, 2020: (St. Clare)
Jesus said: "My people, you are seeing your socialist communist mobs looting and burning your cities while your Democrat mayors, councils, and governors are allowing it, and defunding your police. Some of your city and state leaders are sympathizing with these communists so they can make your President look bad for the elections. These leaders care more for their political power than they do for the lives of the people and your business owners. With such reckless destruction, your businesses will move out of your cities, and the truckers, who bring things, will stop delivering to your out of control cities with no police protection. These evil ones will starve the people with no food and very few police. This is the beginning of a communist takeover with no opposition. When are your people going to realize they are being controlled by these communist mobs? As things will get worse with more viruses, the punishment of your people will be seen when you see a communist takeover. When martial law or a civil war comes, I will call My faithful to the protection of My refuges."
Wednesday, August 12, 2020: (St. Jane Frances Chantal)
Jesus said: "My people, today's first reading from Ezekiel chap. 9, is significant for all of My believers who want to be protected at My refuges. My faithful are baptized and confirmed with chrism on their foreheads. Now, My angels are placing an invisible cross on the foreheads of My believers. Only during the time leading up to coming to the refuges will other faithful be able to see your cross. The evil ones will not be able to see this cross. Only My believers with this cross will be permitted to enter My refuges. My refuge angel will not allow the evil ones or people without the cross to enter. After the Warning experience you need to convert your family to believing in Me, so they can have a cross on their forehead. In the reading from Ezekiel those people marked with a thau on their foreheads, were protected from the angels of destruction. In the Exodus in Egypt only those houses marked with the lamb's blood on the lintel and door posts were saved from the angel of destruction. Also in the Book of Revelation it speaks of those marked on the forehead as being protected from the destruction by My angels. So be thankful that I will protect all of My faithful who believe in My Word and who will be allowed into My refuges."
(Holly intention) Jesus said: "My people, those people, who are faithful in coming to Sunday Mass, will have their reward with Me on earth and later in heaven. For a brief time My faithful will have to endure their purgatory on earth during the tribulation. Your safest place will be at My refuges with My angels for your protection. For those people, who do not know where My refuges are, they must call on Me, and I will have their guardian angel lead them with a flame to the nearest refuge. Once My people come into My Era of Peace, you will truly be led into heaven after you die in this life. My faithful need to be confident in My protection and My help with all of their needs."
Thursday, August 13, 2020:
Jesus said: "My people, think of all of the times that you came to Me in the priest for Confession. Every time you asked Me to forgive your sins, I did so. So it is with your neighbor. Since I forgive your sins, you need to forgive your neighbor's offenses as well. Just as you love Me, so you need to love your neighbor. So when you forgive others their offenses, you are doing it out of love for Me and them. Forgiving others may be difficult, because your loving others may not be perfected yet. The hardest ones to forgive are those people who you consider your enemies. Remember how I told you to love your enemies as well as your friends. This takes great faith to love and forgive your enemies. You are here in this life to imitate My perfect love for everyone, both the good and the bad people. I call all of you to be perfect as My heavenly Father is perfect. I know living in an imperfect body and in an imperfect world, it will be difficult, but you can strive for perfection. I give you My forgiveness in Confession, so you can cleanse your souls of sin. When you come to Confession often, there is no excuse for you not to be holy and living holy lives. I will forgive you every time you seek My forgiveness, so you also should forgive others as I forgive you."
Prayer Group:
God the Holy Spirit said: "I am the Holy Spirit of God, and you were calling on Me to heal someone. So I am coming to heal all the people here, if you have faith that I can heal you. All healings require a faith from deep in the heart and soul. I call on all of you to pray for all of your intentions, and the intentions of My spouse in the Blessed Mother."
Jesus said: "My people, I am truly your King of all the universe, and the flames on My crown are a sign of My justice that is about to come down on the earth for all of your sins. You are seeing the evil ones bringing destruction upon your cities. You are still having abortions, which greatly offends Me. You were taking care of your great grandchildren and you see how beautiful these little ones are to you and to Me. I cannot understand how you can kill these little ones for money or shame. Continue to pray to stop all abortions."
God the Father said: "I AM WHO AM, and I am showing you how precious each life is to Me, and your people are discarding My little bodies in human garbage cans. You are not worthy to have these gifts of Mine, so I am escorting every aborted baby to heaven as I treasure them as little martyrs. Their guardian angels come to Me in heaven, and I write their names in My Book of Life. You can see why America will suffer many punishments for killing My babies in abortion. You have seen in the Scriptures how I have punished nations for their sins. So expect My justice to fall on you soon."
Jesus said: "My people, I want to thank all of My prayer warriors for being faithful in your prayers every Saturday to help stop this carnage of killing My babies. Praying to stop abortions in this public witness, shows Me how serious you are to be on the front lines against your abortion clinics. Many people are promoting the Right to Life in prayers and actions. My son, this is why I asked you and your wife to join this protest against abortions by praying in front of the Planned Parenthood building every Saturday when you can make it. There should be even more numbers who should follow your example. Continue to offer your rosaries up to stop your abortions."
Jesus said: "My people, these 5G microwave cell towers will cause more harm to your minds and bodies. So avoid using 5G cell phone technology close to your heads. You also have seen a connection with 5G and this virus that causes even more virus cases. Some places are actually trying to take down 5G cell towers because the people know about the health problems. As your people put up more 5G cell towers, you could see more virus cases near these towers. So avoid using 5G technology that will cause more sickness."
Our Lady gave a message and she said: "My dear children, I thank you for honoring my feast day of my Assumption, and for your Rosaries tonight for all of your intentions. You have been visited by my Spouse in the Holy Spirit, and we are all calling your people to pray to stop your abortions. You saw the Holy Innocents who were killed by Herod, as he tried to kill my Son, Jesus. You saw many killed in the holocaust, but still you continue to kill the unborn babies. Continue your rosary devotions, as your world needs much more prayer that is coming only from the prayer warriors."
Jesus said: "My people, I told you in previous messages how abortion is the single most important issue among your people. You are seeing how I send many gifts of life to your mothers. Some babies are accepted and are born into the world, but some mothers are killing their own children in abortion. I love every baby, and the Holy Spirit instills life into the souls of these babies. Every abortion is an act of evil because you are not only killing these babies, but you are denying the plans that God the Father has for these lives. So pray to have these mothers accept their children in love, and do not let the devil take these lives away from Me."
Friday, August 14, 2020: (St. Maximillian Kolbe)
Jesus said: "My people, you are familiar with St. Maximillian Kolbe's story of how he took the place of another prisoner who was about to be killed. You also know of how Hitler killed many Jews and priests in his gas chambers. This was part of an ethnic cleansing of the Jews. It is also a sign of how Christians will be cleansed from your society by the evil communists, who will take over your country. In addiction to gas chambers, the evil ones around you, will use Guillotines to behead those people who believe in Me. The deep state has perpetrated these evil viruses on purpose, so they can use this as an excuse to mandate people to take a vaccine and a chip in the body as the mark of the beast. Avoid taking any vaccine or any chip in the body, even if the authorities threaten to kill you. The vaccine will cause damage to your immune system, but the chip in the body will control your mind. These same authorities will mandate this chip so they can tell if you had the vaccine or not. In the Book of Revelation (Chap 13) it tells you to avoid taking the mark of the beast, and avoid worshiping the Antichrist. When chips in the body are made mandatory, I will call My faithful to the safety of My refuges where My angels will heal you of any ailments, and they will not allow the evil ones to harm you. You will have My Warning before your lives are threatened. In the Warning you will be told to avoid taking the chip in the body, and not to worship the Antichrist. You will also be told to come to My refuges of protection. I have been giving this message for over twenty years, but now you are being faced with the threat of gas chambers for being a Christian, just as St. Maximillian Kolbe was imprisoned. There are hundreds of death camp detention centers all over America, but there are also many places of refuge where I will protect My faithful. Trust in Me to save your souls from this evil."
Jesus said: "My people, I am showing you how ruthless the deep state people are, because their goal is to reduce the world's population by any means possible. These same people have enabled Chinese scientists to produce a virus that would infect and kill people all year around, even during the summer. In the fall you will see the seasonal flu virus mutate, and infect people as you have seen in the past. In the fall you will also see a mutated corona virus that will be more deadly than the first corona virus. Both of these viruses will be spread among you using chemtrails. You may not be aware of how the deep state has been using chemtrails every year to spread the seasonal flu among your people. These chemtrails are full of aluminum oxide, flu virus, and many other toxic ingredients. The jet trail spreads out and spreads sickness wherever they go. So instead of criticizing your President, you should analyze the deep state and Chinese scientists who are the main cause of your people getting sick. My people, before these evil ones start spreading these new viruses, I will call you to the safety of My refuges. These evil ones will be cast into hell for their evil deeds, but My faithful will be brought into My Era of Peace. Trust in Me to protect you and provide for your needs."
Saturday, August 15, 2020: (The Assumption of the Blessed Mother)
The Blessed Mother said: "My dear children, I love all of my prayer warriors, and keep sending your rosary prayers up to my Son, Jesus. As you storm heaven with prayers, my Son will rain down His blessings on you, and He will send His angels to comfort and protect you. What looked like ribbons in the vision are really the bridge of your prayers from earth to heaven. I thank all of you for your prayers and devotions. I hear your prayer to watch over your children, grandchildren, and great grandchildren. My mantle of protection will be over them. This scene with St. Elizabeth is touching as each unborn baby greeted each other. This was St. John the Baptist announcing Jesus' coming into the world. I did not speak many words in the Scriptures, but my words of the Magnificat will always be remembered in the Canticle to me that is recited in the evening prayers. I thank you all for attending Mass on my feast day, and continue your rosary prayers with your bridge to heaven."
Jesus said: "My people, you are in the pre-tribulation and I am showing you how the demons are being unleashed on the earth in all of the chaos in your cities. This was seen in the vision of fire that came down on the earth. The only way to combat this evil, is to call on Me and I will unleash My good angels against the demons. In order to call on My angels, you need to storm heaven with your prayers, especially the long form of the St. Michael prayer. The reason the evil actions are causing chaos in your streets, is because there are not enough people praying for peace in your country. You are being faced with atheistic, communist anarchists that are trying to take away your guns, and get rid of your police, so these evil ones can have a communist takeover. All of your people's freedoms are being threatened by these anarchists who are looting and burning your businesses. These evil ones do not want your country to recover from this virus. They want a takeover at any price, even if they have to destroy your jobs and your economy. Think about it, without jobs and freedom, your country's economy will collapse. Your election is a turning point. You are voting for freedom or a communist takeover. Today, these anarchists are burning businesses. Tomorrow, they will be burning churches, because they are evil and hate Me. Your people need to stand up against the Black Lives Matter mob and support your police, if you want to be safe on your streets. When a takeover and a civil war occurs, your lives will be threatened, and you will need to come to the safety of My refuges. If there are not enough prayers, then soon you will be coming to My refuges where My angels will not permit the demons or evil people to harm you. Wake up America before it is too late."
Sunday, August 16, 2020:
Jesus said: "My people, when you look at nature, you can see love and harmony with the animals. When you look at your society, you see more hate than love, and you are beset by the evil people who spread viruses on purpose to kill people. Even in your hurricanes and tornadoes you see the evil of your society reflected in your weather. You need to pray for peace and love among your people to overcome the hate and fear. You need to trust in My forgiveness and have faith in My healing power. There are not enough people praying, so evil is being allowed to run rampant in your cities. Pray more for peace; and love your neighbor as you love Me."
Monday, August 17, 2020:
Jesus said: "My people, in today's Gospel a young man asked Me what must I do to gain eternal life? I told him the Commandments to follow, but he wanted to do more, since he already obeyed the Commandments. Then I told him, if he wanted to be perfect, he could give everything to the poor and follow Me. With this he went away sad, because he did not want to give away all of his possessions. Many people have difficulty with giving away everything and follow Me in daily trust like St. Francis did. If you need to support a family, and live your daily life in this world, I know you need to pay for your food, a place to stay, and a vehicle to move around. When you work for a living, or you are older and are on a fixed income, you need to provide for yourself and your family. If you are living in a religious life where your needs are provided, you can live a life of poverty and in total trust that I will provide for you. You have an expression: 'God helps those who help themselves.' This means that everyone is given a particular mission, and you each have skills to earn your own living. So you do need to get educated and find a job to provide for your needs. At this time with all of your accepted virus restrictions, it is harder to find a job and make ends meet in your finances. Pray for My help, and your families need to work together to help each other."
Jesus said: "My people, these Black Lives Matter (BLM) people are violent in hurting people, burning businesses, and throwing bricks at the police. The Democrat mayors and governors are supporting this violence by the BLM, and by defunding the police they are not enforcing law and order. These mobs are constantly destroying things, and they will not stop until they have a communist takeover. The Democrat Party by backing this violence, is intent on destroying your President by not allowing him to restore your economy. These mobs do not want order, but they want the forced takeover of your government. These mobs are paid by rich liberals to create as much chaos and damage as possible. You see pallets of bricks being given to the protesters to hurt police and break windows of businesses for looting. These cities will see My justice fall upon them for their atrocities. Pray for peace and a clearing of these evil mobs from your streets. If the opposition party supports constant violence, then they should not be elected to office. When your country is taken over by anarchists, I will call My faithful to the safety of My refuges with My angel protection."
Tuesday, August 18, 2020:
Jesus said: "My people, I told My apostles that it is more difficult for rich people to come into heaven because their wealth distracts them from Me. The rich not only lavish themselves with many possessions, but they enjoy controlling people with their power and influence. Some rich people are controlling the politics of various countries. When these rich people think they are like gods, then I will take their wealth away, and My justice will rule over them. You are not here on earth just to amass wealth from the stock market, but you have a mission to help people with your time, your talent, and your treasure. You are not misers or controllers of people's lives, but there is more to life than money and possessions. Money and the desire for money can be the root of all evil. It is better to trust in My power than your own means, because I can do the impossible to help people. Call on Me in prayer, and trust that I can provide for your needs."
Source: John Leary
Fr. Michel Rodrigue explaines The Events of the End Times
Do you want a quick overview of the end times? Then read "The great events of purification will begin this fall". If you want all the details of the unfolding events, then go to "Virtual Spiritual Retreat with Fr. Michel Rodrigue about the End Times".
Messages of Holy Love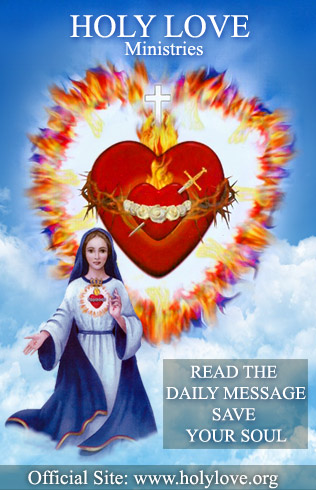 Read the daily messages
Catholics, we have entered the Pre-Tribulation, observe the Commandments, go to Confession; receive the Holy Eucharist; pray at least 3 Rosaries a day to keep your faith and save your loved ones. Prepare for the events that will devastate our planet: plagues, famine, WW3, cataclysms, antichrist's World Order