Please read these messages from beginning to end, pay attention to Our Lord Jesus' words on how to prepare and to be ready for refuges and for what is coming to the world … Also pay attention to the news from the USA to understand the end times.
Wednesday, September 2, 2020:
Jesus said: "My people, those people, who are healthy and can move about, should be thanking Me for their gift of good health. Those people, who are sick, need My healing power and your assistance to get them to a doctor or a hospital. It is also an act of mercy to visit the sick as well. When I prayed over the people, I was healing their physical sickness, and I healed the sin and sickness in their souls. So when you come to Me in Confession at least once a month, I can heal all of you of your sins and any sickness in your soul. In other words I heal the whole person, both body and soul. This is why the demons were forced out of any possessed persons. When you pray for your family and friends, pray that I will heal them in both body and soul."
Jesus said: "My people, you are well aware of how Black Lives Matter and Antifa have been causing all of the burning of buildings and looting for over three months. These people are all front groups that are supported by a billionaire liberal who is paying them to protest, putting them up in hotels, paying for their airfare to go to various cities, and providing the bricks and flammable devices. Many of the same arsonists are seen causing fires in multiple cities. Over half of the people who have been arrested for crimes, are from other cities and are not residents. This destruction is also laid at the feet of Democrat mayors and Democrat governors who are not stopping these mobs from burning the buildings. They are standing down the police, and reducing the police budgets by millions of dollars. Your President is willing to send in the National Guard to stop the riots, but these Democrat leaders refuse to call in the Federal troops. It would appear that these leaders are trying to make your President look bad and stop the reformation of your economy. I have mentioned before that you are on the edge of a civil war between these evil mobs and other Americans. Your President is discouraging vigilantes from fighting these mobs. This destruction is from Democrat run groups, and your people are swinging over to your President, who wants law and order. Pray that you can have a non-violent resolution of all of the rioting in your cities."
Thursday, September 3, 2020: (St. Gregory the Great)
Jesus said: "My people, in some instances I performed some miracles to enhance the faith of My apostles in My Word. In the Gospel I allowed My apostles to have a great catch of fish, despite them not catching anything fishing all night. I used this as an example to show them that they now would be catching people by evangelizing them to believe in Me. Even today, all of My faithful have been baptized and confirmed, so you all are called by Me to go out and evangelize people to have faith in Me. You were not just put on this earth for your own pleasures, but you were created to know, love, and serve Me according to your catechism. Soon you will be raking up the leaves in the fall. This is another example of how you can reach out and share your faith with those people around you."
Prayer Group:
Jesus said: "My people, Rochester, N.Y. got put on the map for the latest police treatment of an African American. There is sympathy for the loss of this life and for those in his family who are mourning this loss. It is proper to protest when a prisoner dies, even though he died in the hospital. This does not give license to burn buildings and cause riots. You need a balance of justice, and pray to stop the burning of buildings and riots so you can have peace among all of the people."
Jesus said: "My people, be thankful that your farmers are still able to harvest their crops, despite a hot summer and storms in various places. Unfortunately, in Iowa they lost nearly half of their crops from a derecho that had 110 mph winds. You also could see a rise in food prices and fuel prices because of the latest Hurricane Laura that caused severe damage in Louisiana. Pray for your farmers that they can save their crops to keep in business. Without this produce, you could easily face some food shortages."
Jesus said: "My son for many years your wife has spent many hours training her piano students. She has held many years of recitals, and it is sad to see this closing. Any kind of school education will be difficult this year because of this corona virus from China. There is a fear that when the students return in person at class, that you could see another outbreak of new virus cases. Your teachers and leaders are trying to prevent any more hot spots. Some schools and colleges are going with virtual classes using computers at home. There will be a lot of turmoil over the students coming to classes in person. Pray that your children will not get sick from the China virus, nor the seasonal flu."
Jesus said: "My people, your interest rates at the banks are near 0%, which is great for people who need loans for new homes and new cars, but this hurts anyone who is saving money outside of the stock market. Even some businesses, who had their buildings burned, are facing bankruptcy without some government backed loans to rebuild. The destruction in your cities by anarchists and arsonists is causing a problem for your economy to rebuild and provide jobs. Pray that your Congress and your President can find funds to help the unemployed workers and businesses to keep from going bankrupt."
Jesus said: "My people, you just suffered through a massive shutdown that caused your second quarter GDP to drop 31%. This follows the first quarter GDP that dropped 5%. In days past this described a recession. Based on the jobs lost, you are also coming close to a depression. It was your Federal Reserve that has backed up your economy with a 3.3 trillion dollar deficit. You cannot keep giving out benefits to the unemployed without causing a deeper deficit. This is why it is so important for your people to come together in supporting your businesses and new jobs, and stop the destruction in your cities. Pray for peace and for more jobs."
Jesus said: "My people, you are seeing more people having money shortages in their budgets, and some have to get their food from their local food shelves. Others are suffering from hurricanes or fires out West. It would be good to make some donations to help your local food shelves, and even help the Hurricane Laura victims. Your news reports are estimating this hurricane damage will cost $9 billion. I have been asking My faithful to store some extra canned foods because you could see more shutdowns that could even keep you from coming to your grocery stores. Pray that your people will be able to find enough food for their needs this winter."
Jesus said: "My people, this is a serious message when you see this symbol of death that will be coming over your land. You will be seeing more deaths from the mutated corona virus and a mutated seasonal virus with another possible pandemic shutdown. This will be more serious as you will be seeing more deaths than from your first virus attack. You could also see unrest continue from your evil mobs, and problems with people trying to find food for their families. If your people do not repent of their sins, you could see more of My justice fall on your people. If your lives are in danger, I will call you to the protection of My refuges. Pray for the saving of souls because you are about to enter the tribulation of the Antichrist."
Friday, September 4, 2020:
Jesus said: "My people, in the first reading St. Paul only wants God to judge him, and he advises his people not to judge others either. Many times you do not know all of the circumstances that cause people to act in a certain way. This is why I am asking My faithful not to judge others, but leave that up to Me. When you make gossip by judging others, you can hurt someone's reputation. This is definitely something you should confess to the priest in Confession. Even if some people call you names, or talk about you behind your back, do not return such bad behavior, and pray for your persecutors. Even the Pharisees criticized My apostles and Me for not fasting. Then I told them the reason for not fasting, was because I was still with My apostles. Some people are quick to judge others when the other people do not conform to their ways of thinking. Let Me be the judge of people, because you all are imperfect, and you need to take the large beam out of your own eyes. This is because those people, who judge others, have their own faults that they are forgetting. Pray for each other and leave the judging up to Me."
Jesus said: "My people, you have see tremendous damage in Louisiana from Hurricane Laura, and some damage from other hurricanes in Texas and the Gulf area. Pray that any further hurricanes do not strike the mainland. You also will be dealing with a mutated China virus and your mutated seasonal flu. You will still see further damage to your cities from the anarchist mobs and the arsonists. You will see heavy violence before the election. The opposition party will try anything to try and unseat your President. Pray for peace and less violence."
Saturday, September 5, 2020:
Jesus said: "My people, some people are concerned about this corona virus from China, and how they will find jobs and food. Do not worry or be anxious for I know all of your needs, so trust in Me. (Matt.6:26-33) 'Look at the birds of the air: they do not sow, or reap, or gather into barns; yet your heavenly Father feeds them. Are you not of much more value than they? … Therefore do not be anxious saying. 'What shall we eat? Or what shall we drink? Or what are we to put on? For your Father knows that you need all these things. But seek first the Kingdom of God and His justice, and all these things shall be given you besides.' In some cases of today's events it looks impossible how you will survive and get through the trials of this life. But have no fear because I can do the impossible to help you even through this pre-tribulation and the tribulation itself. By your trust and confidence in My power over the demons and the evil people, I will bring you into My Era of Peace. Be patient and bear the difficulties of this time, and you will have your reward."
Jesus said: "My people, these violent mobs are only focused on causing as much destruction as possible. This is not just a demonstration against the police, but they are using communist tactics to try and take over your government by breaking down any authorities against them. You are hearing rumors of more planned attacks setting fire to cars and buildings. You need to pray that your police can keep these mobs from destroying your city as they have done in other cities. Your people need to stand up against their destruction and put the leaders in jail. Do not let these mobs run free to do what they want. If your police are overwhelmed, then you need to call in the National Guard. Pray also that there are no killings, which could set off a civil war or backlash against this evil mob. You can be sure that these mobs will do anything to fight against people who support your President. Pray to keep the peace, or many will be killed with guns."
Sunday, September 6, 2020:
Jesus said: "My people, the love in marriage is the example I give as I have love for My Church. My Church is the bride and I am the Groom. Today's readings speak about love of Me and love of neighbor which is the greatest Commandment. I have directed My faithful to love all of your neighbors, both the good and the bad. I have even asked My faithful to reach out to save souls who are on the road to hell. By warning your neighbors about their sins on the wrong path, you have done your part to try and save their souls. It is the free will of every soul to choose between the narrow road to heaven, or the broad road to hell. So pray for all sinners to be converted, because I want all souls to come to Me for the forgiveness of their sins."
Monday, September 7, 2020: (Labor Day)
Jesus said: "My people, most of you are either working, retired, or are receiving some benefits. In your working years you make your most contribution to your society, but even retired people work around the house, and they help their children and grandchildren. There is dignity in working, and in this time you are fortunate to have a job. Pray for the unemployed that they can find enough income to keep going. It is good to have one last picnic with your family that is growing. It will be hard for your children to return to classes, as some will be at home with virtual classes on the internet. Pray for your society to find peace and love, even amidst this pandemic virus."
Jesus said: "My people, I know you are appalled that your Democrat leaders are allowing Antifa mobs to use guns and fire bombs to burn down your cities. These are communist thugs who have an intended purpose to take over your government, and they are trying to defund the police and burn down the police stations. Your Democrat leaders are communist sympathizers being used to help carry out a takeover of America. This is not just to fight your President, but Antifa wants to take away your freedoms and turn America into a communist state. When your people have no jobs in these gutted cities, when are they going to wake up that they are being taken over with no opposition? Antifa arsonists hide behind so called peaceful protests, then at night they fire bomb your buildings. If your people do not wake up and fight these evil mobs, you will have gutted cities with no businesses. At a certain point your government will need to stop this sham, and call these protests riots for what they are. If your leaders cannot protect your people, then they need to be fired and recalled for their allowing this destruction. If you do not allow law and order, there will be no safety on your streets. Pray to stop the mobs from destroying your cities. Those mayors, who do not stop the mobs, will lose funding from the Federal government. You could even see a civil war or martial law. If your lives are in danger, I will call My faithful to My refuges of protection."
Tuesday, September 8, 2020: (Nativity of the Blessed Virgin Mary)
The Blessed Mother said: "My dear children, today you are celebrating my nativity, nine months after you celebrated my Immaculate Conception. You know of my parents, St. Joachim and St. Anne. I want to comfort my children because you are suffering in this time of the corona virus that has shut down your economy and has forced you into wearing masks and all the other restrictions. Even though you are facing constant riots, do not lose your peace of my Son in your soul. Pray my rosaries daily for the conversion of sinners and for the poor souls in purgatory. It is the souls who are so important to save. So do not be disturbed by all the evil things going on in your world. It is better to use my weapon of my rosary to fight the evil abortions, riots, and destruction of buildings and statues."
Source: John Leary
Fr. Michel Rodrigue explaines The Events of the End Times
Do you want a quick overview of the end times? Then read "The great events of purification will begin this fall". If you want all the details of the unfolding events, then go to "Virtual Spiritual Retreat with Fr. Michel Rodrigue about the End Times".
The Rosary is the weapon of these times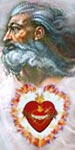 God the Father: "Children, the best way to change the conscience of the world and this country (U.S.A.) in particular is much prayer and many sacrifices. You may not see the effects of your efforts but persevere and do not be discouraged. Use your Rosaries as the mighty weapons that they are. A Rosary said from the heart is more powerful than any weapon of mass destruction. The Rosary is the weapon of these times. Do not let the daily news frighten you. Often, what you hear is not the Truth and only meant to influence your opinions..." (Read more..)
The truth about the Coronavirus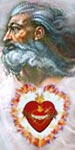 God the Father: "Today, I invite you to realize that this virus - the coronavirus - is no ordinary disease. It has been created from human ingenuity to specifically target the elderly and physically challenged. This is the plan of future generations to purify the human race around the world. It was released into the general population ahead of schedule - by accident. Those in charge were waiting for less capable government officials in your country (USA) to be in office. Nevertheless, proposed harm is being unleashed on the whole human race." (Read more...)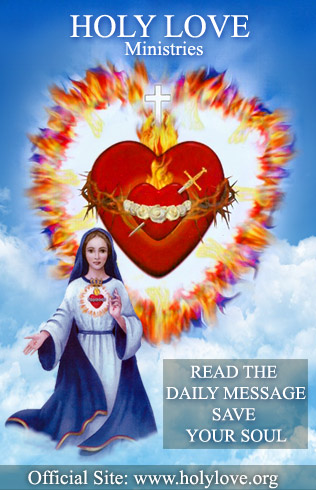 Read the daily messages
Help the Lord spread His voice, time is running out
Please help spread these messages of faith, hope, salvation, collaborate with God's Plan of Salvation. Who helps the Lord save a soul predestine his own, independently from the outcome.