October 26, 2015
Call from Jesus in the Blessed Sacrament to humanity.
 Your lust and licentiousness are driving many to perdition
"My children, peace be with you.
Faith is diminishing. In many countries my house are being closed or are being used to celebrate other types of cults. Many have been converted into museums where only tourists visit. The de-consecration of my houses continues to increase. My Sanctuaries are empty and there is no more respect in my enclosures. How sad I am to see the spiritual coldness of the great majority of humanity of these end times times!
They only seek to satisfy their ego, letting themselves be guided by a consume-based society, which is taking them to exchange God for the pleasures of the flesh and material things.
This is how my Word is filled: But understand this: in the last days, there will come difficult times, because people will more in love with the pleasures of the flesh than with God (2 Timothy 3. 1,5).
Oh worldly women. My adversary is using you as guinea pigs!
Your lust and licentiousness are driving many to perdition, including many of my elects.
Your indecent fashion, your sensuality and low instincts are an affront to God's Love; you no longer respect the married man nor his family; you have turned into instruments of sin at the service of my adversary.
Many families are being destroyed by your licentiousness.
Runaway foals, you are trampling the Sacrament of Matrimony, splitting what I joined with My blessing.
I assure you that the bowels of hell will be your eternal dwelling.
I tell you daughters of perdition: if you do not reconsider, repair and ask for forgiveness, I assure you that the bowels of hell will be your dwelling for all of the eternity.
My children, it hurts and saddens Me to see my young ones lost in drug addiction and prostitution, and to see their parents doing nothing in fixing this painful situation.
I say to you, silent dogs, your silence will be your condemnation. I gave you a family so that you would teach according to moral and spiritual foundations, but the anxieties and worries of this world are distancing you from what is more valuable than money, your family! Parents, reconsider, again I ask you, be shepherds and not wolves to the flock that I have given you to care for.
My children, my sixth and ninth commandments are broken and trampled on today by the immense majority of humanity.
The immense majority of couples are having sexual relationships before marriage and there is not a raising voice to tell them that this is a sin offending God.
My youth fornicates and prostitute themselves at early age. It is very sad to see how they come to my Holy Sacrifice on weekends as if it was not a sin and unworthily they receive My Body and Blood.
What a sadness I feel in My Heart to see all the moral, spiritual and social degradation in which this humanity has immersed itself.
My suffering and my Calvary are revived and My Head is pierced by the thorns of impure sexual sins. My body is scourged daily by lust, adultery, fornication and sodomy of this ungrateful and sinful humanity.
And what to say about the sins of impurity of many of my predilects which are like spears piercing my side again. The cross that I have to carry these days is much heavier that the one I carried on the way to Calvary; Its weight tear my flesh and the pain I feel is more intense in seeing that this humanity refuses to follow Me and persists to be in sin.
My Father, forgive them and have mercy on this humanity that forgot how to love!
Parents, listen to me, open your ears and pay attention because your children are being lost and your homes are adrift! Retake control of your homes, be more attentive with your families, listen to your children and guide them, reprimand with love. Take time out of your time and sit again at the table. Have a dialogue with your children and more than parents be friends with them.
What your children need the most is: love, respect, dialogue and understanding, and above all, what you and your families need the most is to return to God's love.
My peace I give you, my peace I leave to you. Repent and convert as the kingdom of God is at hand.
Your Teacher, Jesus in the Blessed Sacrament.
Let My message be known to all of humanity."
Source: mensajesdelbuenpastorenoc.org
Fr. Michel Rodrigue explaines The Events of the End Times
Do you want a quick overview of the end times? Then read "The great events of purification will begin this fall". If you want all the details of the unfolding events, then go to "Virtual Spiritual Retreat with Fr. Michel Rodrigue about the End Times".
Messages of Holy Love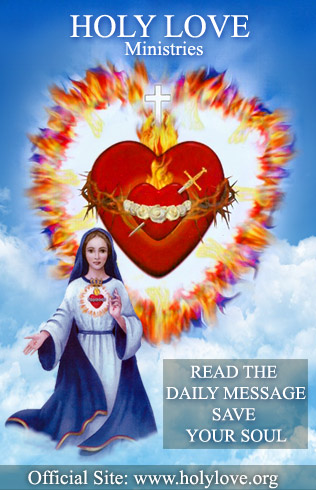 Read the daily messages
Catholics, we have entered the Pre-Tribulation, observe the Commandments, go to Confession; receive the Holy Eucharist; pray at least 3 Rosaries a day to keep your faith and save your loved ones. Prepare for the events that will devastate our planet: plagues, famine, WW3, cataclysms, antichrist's World Order