4 February, 2014
Immaculate Heart's of Mary call to God's children
Mother of God: Seal with the Blood of my Son your families and homes
"Little children of my heart, may peace of God be with you!
Testing has began for the people of God; do not lose faith, or hope; trust in Our Two Hearts and you will find peace and protection.  Pray at every instant because the evil forces have invaded earth, and they are stealing peace to men.
If you pray, the forces of evil cannot touch you, if you down your guard of prayers you will be attacked by wicked entities and many will be lost.  Mental deception spirits are perturbing your minds, and they are making the man be against man; father against son, son against father and daughter in law against mother in law.  My adversary has deployed all these wicked forces to bring chaos, confusion, division and death to the inhabitants of the earth.
All those souls who live in darkness will be taken by these evil entities to attack the people of God. Once again, I tell you: Seal with the Blood of my Son your families and homes, as well as the people with whom you will deal during every day. It is very important that you keep in mind these recommendations that I make so that not wicked spirits may hurt you.
Children, these are times of test which are living, and every day testing will intensify more.  If my father does not shorten these days, I assure you that the righteous would be lost.  My Father's creation is in full transformation, the whole universe will be shocked; fire chains from the bowels of earth are about to sprout; many nations will suffer, in many places the earth will tremble and sink.
The sun is cooling down, and the weather has begun to become unstable in many places.  Do not fear; remember that all this must happen for you to reborn the new creation and the new creatures.
Collect yourselves in home as soon as possible, because the night hours are the time where most active are the evil forces!  Households where do not pray will be exposed to attacks of this evil entities.  Households where pray and have devotion to my Holy Rosary will be households protected for thy Mother and I will not allow any spiritual wicked forces to hurt them.  These households and their families will also be protected by me, of catastrophes and unforeseen events.

Consecrate also your children, your family and your households to my Immaculate Heart, and I, thy mother, will place on a protector shield of light rays around you which will blind my adversary and his evil forces.  I give you this prayer of consecration to my Immaculate Heart so that you consecrate to me your family and household.
PRAYER OF CONSECRATION OF FAMILIES AND HOUSEHOLDS TO THE IMMACULATE HEART OF MARY.
O Immaculate Heart of Mary, I consecrate myself to thee, and I consecrate my family, my home and everything in it, to thy Immaculate Heart.  We consecrate to thee our physical, psychic, biological and spiritual being, and all that we are, have and do.

Protect us, dear Mother with thy light's rays that pour out from thy Immaculate Heart and hide us in thy lap.  Do not allow, sweet mother, none of the inhabitant of this home be lost; give us thy peace and strength in difficult times of our test.  May our faith in God and trust in thee, o sweet mother, be the passport to arrive us safe to the gates of new creation.  Amen.

Hail Mary most pure, without sin conceived most blessed Mary (3 times)

Thy refuge and shelter, The Immaculate Heart of Mary

Make known my messages to all mankind.
Source: mensajesdelbuenpastorenoc.org
The truth about the Coronavirus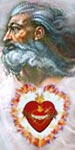 May 1, 2020 - God the Father says: "Today, I invite you to realize that this virus - the coronavirus - is no ordinary disease. It has been created from human ingenuity to specifically target the elderly and physically challenged. This is the plan of future generations to purify the human race around the world. It was released into the general population ahead of schedule - by accident. Those in charge were waiting for less capable government officials in your country (USA) to be in office. Nevertheless, proposed harm is being unleashed on the whole human race."
"I tell you these things to help you to realize the underlying evil at work and hidden in hearts these days. You cannot be confounded by any turn of events. Over all situations, I am in Dominion. No one will be given power over you that is more powerful than your Eternal Father. Therefore, be emboldened with this knowledge. If you persevere in Truth, you have loaded your weapons against what seems to be and discharged them with Truth." (Source: Holy Love)
Help the Lord spread His voice, time is running out
Please help spread these messages of faith, hope, salvation,
defense
against evil (by email, printing, Facebook, Twitter, and other media) to your loved ones, your friends, and all the people you may meet, who seek salvation or who are in danger of being eternally lost. The Lord gives great graces and blessings to those of goodwill who, according to their own possibilities, collaborate with His Plan of Salvation.
Who helps the Lord save a soul predestine his own
, independently from the outcome.