Saturday, December 31, 2016
Jesus said: "My people, you read from the Gospel of St. John that says: 'In the beginning was the Word and the Word was with God; and the Word was God.' This Word refers to Me, and how I would reveal Myself in the words of the Gospels of the four evangelists. As you will be starting another year tomorrow, you all could have a new beginning in how you live and proclaim your faith to people around you. Many of you have read the Word of My Gospels, and you could sum them up in My Commandments that call you to love Me, and to love your neighbor as yourself. This is what you should be pondering in your hearts for the New Year. How can you better express your love for Me and your neighbor in your actions, and not just in your words? It is your actions of helping people that speak much louder than your words. If you want to know if someone is a Christian, it is by the fruit of their actions that you will know if that person is living a Christian life. Can people tell that you are a Christian by your actions? You all could work on expressing your love for people, because you are loving Me in each person."
Jesus said: "My people, your country is about to see some major changes, as long as your new President is allowed to have his plans carried out. There are still many people in Congress who do not want so many changes. Just as your current President penned many Executive Orders, you may see your new President also use Executive Orders to get his agenda going faster. Every President has a particular style of governing, and it will take a while to see how many new laws he can get passed. There will always be disagreements among your parties, but the incoming Administration should not have many restraints. Keep praying for your President-elect and your leaders in Congress to put forth the laws that are needed to change your current socialist government back into a democratic republic."
Friday, December 30, 2016
Friday, December 30, 2016: (Feast of the Holy Family)
Jesus said: "My people, you are seeing the greatest example to follow in My Holy Family of Me, My Blessed Mother, and St. Joseph. Your society today is destroying the family which should be the basic unit for bringing up children in love. You have listened and tolerated the devil's call for same sex marriage, divorce, and couples living together in fornication without marriage. You know it is a mortal sin against the Sixth Commandment to commit homosexual acts and for having sex outside of true marriage in fornication. Yet by society tolerating these sinful actions with no shame, you are accepting the tearing down of marriage as an institution. If you wanted to destroy America in its love of God, love of country, and love of family, like the communists planned, you would destroy the family. The communists have planned to use sex exploitation in pornography, hard rock music, liberal teaching without God in the colleges, and drugs to destroy your country. You are seeing it happen before your eyes. Your country needs a spiritual renewal to put Me back into your society by coming to church every week, repenting of your sins, and praying more. You need to see sin and call it for what it is, without any 'political correctness'. By restoring your morals, you can save America. If you do not change, America will leave the face of the earth as you know it."
(Leonard Farnand Funeral Mass) God the Father said: "I AM WHO AM is visiting you today because I had to come to celebrate this life of Leonard, who was so dedicated to his God throughout his whole life. Leonard was always watching over his family in their faith for many years. He loves all of his family so much, and he will be praying for them, and watching over them as well. Today is the feast of The Holy Family and Leonard was a great family man, and he was a good example of faith to his family members. He is with Me now, and he will be a continual model of faith to all of you. He thanks all of you for coming to his funeral, and he wants you to remember him by posting his picture in your homes. I bless this family for having such a beautiful patriarch to lead all of you to Me."
Thursday, December 29, 2016
Jesus said: "My people, today's feast of St. Thomas Becket shows you a strong man of principle and faith who did not back down, even against the king's wishes on his divorce. He stood up for the Church and My laws, and it cost him his life. In today's world you also are faced with people who do not abide by My laws on abortion, gay marriage, and euthanasia. So stand up for your faith, because you may be tested by others who think you are not politically correct in voicing your faith in public. Do not let the worldly people dictate how you should act and believe. For now you have a free country to voice your own opinion in following My ways. A time will come when you will be openly persecuted for living a Christian life of love. Continue in your belief to stand up against the pagans and atheists who defy you. You will eventually need to come to My refuges so you can be protected from the evil ones who want to kill you for obeying My laws. Trust in Me and My angels to protect you and provide for your needs."
Prayer Group:
Jesus said: "My people, a resolution was put forth that would restrict Jewish settlements from being built on Palestinian lands. At the Security Council of the UN, your Ambassador to the UN voted to abstain on this resolution, instead of voting to stop it by a veto. This action was allowed against Israel by your President, and it was a change from your longstanding support of Israel. These Jewish people are still My people, and when you do not support them, you are calling down My judgment against America."
Jesus said: "My people, as you celebrate a Happy New Year, there is plenty of optimism that your new President will have a chance to improve and correct some of the problems facing your country. You still are seeing attempts by the one world people to cause riots and protests to try and stop the inauguration of your President-elect. You need to pray for your new President so he is not hindered from taking his oath of office. You could see some resistance to the plans of your new President as well. Pray for peaceful compromises so your government can move on with its agenda."
Jesus said: "My people, your new President will need to have his cabinet choices approved in the Senate. The majority of the Senate is the same party as your President-elect. The other party will try to stop some of these choices, but the Democrats set a previous precedent of only requiring a majority vote to approve candidates for the cabinet. This same precedent could approve your President-elect's choices. There will be many complaints by your media, but the chosen people could still be appointed. Again, pray that this process will not be divisive in your new Administration."
Jesus said: "My people of America, you have a chance to change your socialist government, that is against Me, back to a God-centered Democratic Republic as you had at the beginning. You have seen Christian worship of Me repressed by your current Administration. Now, you will have an opportunity for more religious freedoms if you can change your current atheist mind-set of what is 'politically correct'. Pray that your freedom to worship Me in public will be more fully accepted by your new Administration and your people."
Jesus said: "My people of America, your workers have not had any support to keep jobs here, and your corporations have sent jobs overseas for cheaper labor. Your new President is working to penalize corporations who send jobs overseas with tariffs on the products they send back to America. He is also trying to lower corporate taxes so our companies can be on a better competitive playing field with other countries. It is difficult to see how these plans will be carried out, but pray that your workers could have some good paying jobs as a result."
Jesus said: "My people, as you consider some new resolutions for the year, try to make some resolutions that are achievable, and that you will be able to keep. Your best changes could be to change your bad habits, and pray more for conversions and for the souls in purgatory. By improving your spiritual lives, you will be better prepared for your judgment when I call you home."
Jesus said: "My people, it is up to your political leaders if they really want to change the evil laws on your books. You need to pray for your leaders to change your atheistic ways back to My ways of love. If there is no spiritual renewal, then you will see more disasters befall your country. You still have the one world people controlling your lawmakers, so you need to pray hard and long for a renewal to take place. You will be seeing events move toward the coming tribulation, but I will protect My people at My refuges. Trust in Me to watch over you in all of your needs."
Wednesday, December 28, 2016
Jesus said: "My people, Herod killed the babies in Bethlehem to insure his kingship would not be threatened by the coming Messiah as King. In this time you have women killing their children for selfish reasons of convenience, saving embarrassment, or even financial problems. Life is too precious to be thrown away as human garbage. This is an act of killing, whether people want to admit it or not. It is against My Fifth Commandment, that you should not kill any human being, no matter what stage of life that person may be in. This growing baby is human, right from conception. There are many people who would want to adopt a baby, so even having the child for adoption is much better than an abortion. When you see the child, either born or in the womb, this child is too beautiful to kill. Continue praying to stop abortion, and pray for the mothers to have their children. Children should be born out of love, and not just out of lust for pleasure."
Jesus said: "My people, I am showing you this gallon jug of water because many of you have stored water at your refuges. For those people, who have room, you can also store water in your food grade 55 gallon blue barrels. If you do not have a source of water on your land, I could multiply your water in your barrels. I could also provide a shallow spring well if you have pipes and a mechanical hand pump. Water is precious, and you cannot survive long without water. You can also obtain wash water from your gutters, sump wells, hot water tanks, and melted snow. I was reviewing a few points of how to store and obtain your water. When you are on your own at a refuge, you may not have the water line coming into your house. You also will need your outhouse without flush toilets. Trust in Me to provide for your water, food, and fuels to survive during the tribulation."
Tuesday, December 27, 2016: (St. John, apostle and evangelist)
Jesus said: "My people, it is important to have the right priorities in life both for your physical and spiritual life. Your first priority is to your Lord and Master, who loves you and created you. If I am your greatest Love, then you need to show your love in return in the time that you give Me in prayer, every day. When you come to daily Mass, and pray your rosaries and Divine Mercy Chaplet, you may appear to take time away from others for a short while. If you are praying or doing My work, it is hard for some people to understand why you spend so much time for Me. You also need to show your love for your family and friends. Your second priority is for your spouse and family in helping them and supporting them in love. You do have some time restraints, and it is a challenge to balance your time for Me, your family, and when you are working for a living. By keeping your focus on the proper priorities in your life, then you will have peace and comfort with Me and your family. Keep in mind that it is love of Me and your neighbors as yourself, that should be guiding your decisions. I love all of you, and I ask that you love Me in return, and show it in your actions."
Monday, December 26, 2016: (St. Stephen)
Jesus said: "My people, immediately after the feast of My birth at Christmas, now you are remembering the martyrdom of St. Stephen who was stoned to death by the Jews. There have been many martyrs who died for their faith in Me, but they were determined not to deny My Name, even when they were threatened with martyrdom. I am showing you a river of blood from all the little martyred babies, who were killed by your doctors in abortion, even as the mothers allowed it. You do not even know the mission and accomplishments that I had planned for these lives who you have killed. It is for this killing of My babies that your country will pay dearly for such a crime. I will allow the one world people to take you over as your punishment. Pray for your country, and for the conversion of poor sinners. I love all of you, and I will protect My faithful at My refuges."
Jesus said: "My son, you know how the devil picks on your weak spots to try and distract you from your work on your next book and your next DVD talk. This is why you need to pray your St. Theresa Novena for the grace to accomplish your mission in getting My messages out to the people in your books and DVDs. You have had a lot of serious messages recently, and the people do not realize how I am about to assert My authority against the evil people with disasters and My Warning. Some people think life will continue on like you have it now, but you will soon see some dramatic changes in your lives. Evil will get worse, but I will protect My faithful at My refuges with My angels."
Sunday, December 25, 2016: (Christmas Day)
Jesus said: "My people, I was born in a stable in Bethlehem, as I would be known as the Son of David. I came in a humble setting, even though I am King of the Universe. I came as the Lamb of God so I could ransom My people with My death on the cross. I truly do want peace on earth, but the devil has stirred up trouble to defy Me, and steal souls away from Me. I offer everyone an opportunity to be saved, but each person needs to love Me, repent of their sins, and allow Me to be their Master, to get into heaven. When I bring My Warning, it will be the last chance for people to change their lives, and accept their Savior. Those people, who refuse to accept Me and refuse to repent of their sins, are on the broad road to hell. Come to your senses while you still have time to be saved in My love."
Saturday, December 24, 2016: (10 p.m. Mass of Christmas)
Jesus said: "My people, I have shown you several tidal waves on the East coast, and now you are also seeing tidal waves on the West coast as well. These are tsunamis that are being caused by major underwater earthquakes. Your people need to move inland to higher ground once you see the strong earthquakes occur. Along the coasts, many people could be drowned by the tidal waves, and there will be much destruction as well. My refuges will be protected, and they will be your only safe havens from the evil ones and the disasters. Trust in My angel protection at all of My refuges during the tribulation."
Friday, December 23, 2016: (Nancy Leitten's Funeral Mass)
Jesus said: "My people, you are celebrating the life of one of My suffering servants in Nancy Leitten. She was a prayer warrior and a Carmelite, and she suffered her purgatory on earth with her illness. She is coming to heaven after her time to say goodbye to everyone. She loves her family, and she also loves her friends and her fellow Carmelites. She will be praying for all of you, and she is finally free of all of her suffering. I am grateful for all she did for Me."
Jesus said: "My son, you had a little miracle in finding your lost church keys in the snow of your driveway. You need to thank Me and St. Anthony for helping you to find your lost keys. You need to keep them in a safe place until you need them for prayer group time. You are sharing your gifts with your children and your grandchildren for Christmas. Your sharing is a way of showing them how much you love them, and how you try to help them. By reaching out to help people in the little things of life, you are making life easier for the people around you. I bless you for all that you do for Me and your neighbors."
Thursday, December 22, 2016:
Jesus said: "My people, My Blessed Mother is not quoted very much in the Bible, and today's reading of her Magnificat is the longest quote that is recorded. This prayer is recited every evening in the Liturgy of the Hours. She is giving thanks for her mission as My mother, just as Hannah gave thanks for being able to have the birth of Samson. Giving thanks for My gifts is a good lesson to all of My faithful. I give everyone all that is necessary for your survival. By listening to My Word in quiet prayer, you can receive My direction for your life. Rejoice as you are about to celebrate the anniversary of My birth at Christmas."
Prayer Group:
Jesus said: "My son, after losing your keys to the church for the second time, you now are realizing how valuable these keys are. You can pray to St. Anthony to materialize your keys, and you could make a thorough search of your house. If you cannot locate your keys, you may need to have your prayer group back in the house again. This may be another sign to you that the time to come to My refuges could be very soon."
Jesus said: "My people, you have seen this tidal wave against your East coast in a previous message. This would be a serious disaster that could kill many people, and could easily trigger a martial law. When the next major disaster occurs, your people will not be prepared, because it will happen suddenly. Trust in Me that I will protect My refuges from any harm."
Jesus said: "My son, I am preparing many of My messengers with the same message of some serious events that are about to cause a major disaster. The Warning will be the leading event that I will bring to signal the beginning of the tribulation. I have warned My refuge builders to be ready to accept the people that I will send them. Do not be afraid because I will have My angels protect you from those people who want to kill you."
Jesus said: "My people, your sins of homosexual marriage and transgender problems, along with your abortions, are calling out for My wrath to fall against areas of great sin. You have seen the fire and brimstone that I sent upon Sodom and Gomorrah, and you will see some more disasters fall on areas of great sin. I have heard your prayers to put an end to these blatant sins against Me. This evil has to be answered at this time in order to prepare your people for the coming tribulation. I am more powerful than these evil ones, and I will soon show you My justice after your year of mercy."
Jesus said: "My people, as you have a sense of the Warning and the tribulation coming, your people need to prepare their souls with frequent Confession. If you have a pure soul and pray every day, you will be better prepared to face your Warning experience. You have been preparing your refuge for this time of tribulation, and your preparations will not be in vain. Your time is short and your persistent prayers are needed now more than ever to help save souls."
Jesus said: "My people, I am calling all of My people to repent and change their evil ways to pray more and come closer to Me. Time is growing short for the evil one, but it is also growing short before you will be praying constantly at My refuges. My people have grown lax in their faith, and fewer people are coming to Sunday Mass. This weakening of faith is another sign of the end times. It is also a sign to My faithful, that they need to strengthen their spiritual lives in preparation for the coming tribulation."
Jesus said: "My people, many of your relatives and friends are coming together to celebrate My feast of Christmas. You are just passing the winter solstice, so your days will be coming longer again as My Light of the Star of Bethlehem is affecting the light of your days. You are seeing many miracles in My star, and how the shepherds and Magi were led to find Me. The evil in Herod tried to kill Me, but My angels led our family to safety in Egypt. So it is when the evil of the Antichrist comes, because I will be leading My faithful to the safety of My refuges with My angels. As you celebrate My feast of Christmas, know that I will bring peace and My grace of protection upon you."
Wednesday, December 21,2016: (St. Peter Canisius)
Jesus said: "My people, these visions show people trapped in a deep water well, and in a deep snow crevasse. These people were pulled to safety by some kind rescue men, and it represents how you can help pull souls out of purgatory with your prayers. One feels hopelessly trapped in these holes when you cannot help yourself out. It is the same way for souls in purgatory, who cannot pray for themselves, and they need people on earth to come to their rescue. It is even more frustrating when the souls' own relatives do not have Masses said for them, or they do not pray for their deceased relatives. This is why when Masses are said for souls in hell, or souls already in heaven, the merits of these Masses goes to help any deceased relatives of that family. Prayers and Masses are never wasted, but they help other souls in purgatory. Pray for your relatives, and for all the poor souls in purgatory in your daily prayer intentions."
Jesus said: "My people, you are seeing a lot of terrorist activity and some policemen are being killed. After the latest attack in Germany, there is now a call to stop bringing in refuges from Syria until they are approved. There is still a concern about the one world people in how they are still trying to prevent your President-elect from taking office. You have never seen recounts and threats to your electors as in this election. You need to continue praying for the safety of your President-elect, and that you do not have any serious events that could cause a martial law. Once your new President takes office, you could see a flurry of activity that could make your country safer from terrorism. Your deficits and balance of trade need to be addressed because they are dragging down your economy. Trust in Me to watch over My people so you will be protected from the evil ones."
Tuesday, December 20, 2016:
Jesus said: "My people, the readings of today are full of wonder and mystery, because man does not understand My ways and miracles. It is even hard to imagine how I, as the Second Person of the Blessed Trinity, could take on being a God-man. My Incarnation has to be taken in faith, because it is beyond your understanding. Then I allowed My Blessed Mother to not have any original sin, and by her free will, she had no sin and accepted being My mother. My miraculous conception by the power of the Holy Spirit, is another miracle as My Blessed Mother became the 'virgin with child' as foretold by King Ahaz. I am fulfilling the Scriptures, because I became the promised Redeemer, who would come as a Lamb to sacrifice My life for all the sins of mankind. After My death, the gates of heaven were opened, and the worthy souls could enter. This all seems impossible for man, but for God, all things are possible."
Jesus said: "My people, the two suns in the sky will be a comet on the day of the Warning, and this will be the other event that could happen within a year or so. This comet will trigger major earthquakes around the world, and they could kill people and cause much damage. During the Warning and for six weeks, this will be a time for conversions, and the evil ones will not be able to take over. After this time, you will need to get rid of all of your electronic devices so you do not see or hear the Antichrist. Do not take any chips in the body for any reason. My refuges will be protected from any damage of the earthquakes. You will have martial law declared after the six weeks, so My people will be called to My refuges. At My refuges, I will multiply your food, water, and fuels so you can stay warm in the winter. My angels will protect you at My refuges with invisible shields. The tribulation time will be shortened for the sake of My elect, and you will not run out of food, water, or fuels for your survival. Your people need to trust in Me, and you will need to help each other in all of your needs. My refuge builders need to be prepared soon to receive My faithful with the crosses on their foreheads."
Monday, December 19, 2016:
Jesus said: "My people, for Christmas many of you share gifts and money at your households. I give you many gifts as well, and the most precious gifts are your babies, and the continuation of your very lives. You wake up every morning and move on with your lives, but give Me thanks that you can continue to see the next day, instead of dying in your sleep. Life is very fragile, and you can die from any number of causes. So you need to keep your soul pure by frequent Confession, because you do not know when you will face Me at your judgment in death. In the readings you are seeing two more gifts of babies in Samson and St. John the Baptist. These people are preparing you for the greatest gift of Myself at Christmas. It was My coming as a God-man that fulfilled the many prophecies that were promised when I would come as the Redeemer of your sins. I died on the cross as My gift of My life so all of you could have an opportunity to be saved from your sins, and come to heaven, for those who love and accept Me."
Jesus said: "My people, My refuge builders need to walk through how they intend to heat and have light in their buildings during the winter months, when it is very cold in the Northern states. You have to assume that your gas and water lines will not be working, and your electricity will be turned off. You will need a source of heat with a wood fire or a kerosene heater with the needed wood and kerosene available. I will multiply your fuels, but you will need a fireplace and other heaters. For light you will need oil lamps with lamp oil, and some windup flashlights. For survival you will also need some water and food sources that I will also multiply. When you lost power with your ice storm, you had a lesson in how to keep warm and fed during the winter. This should also remind you to burn some wood in your fireplace, and make sure your kerosene burner is in working order. Trust in Me to help you survive through the tribulation with My angel protection. You also need to be close to Me in daily Holy Communion and perpetual Adoration, as well as your daily prayers."
Sunday, December 18, 2016:
Jesus said: "My people, in today's Gospel St. Joseph was in doubt whether to take his betrothed into his house as his wife, because she was already pregnant with Me. An angel came in a dream to tell him that My Blessed Mother conceived Me by the power of the Holy Spirit. My Blessed Mother was also trying to understand how she would have a child when St. Gabriel told her that she would conceive Me, and I am the Son of God. My Blessed Mother was always obedient to God and His plan, and she immediately gave her 'fiat'. Once she was pregnant, she would risk criticism and possible stoning. But I protected her with St. Joseph, and My plan of salvation continued. So both St. Joseph and My Blessed Mother took risks to follow My Will, but they gave their 'yes' of their own free will. By their cooperation and the power of the Holy Spirit, I was allowed to come on the earth as a God-man. Give praise and glory to Me for My plan to offer My life as a ransom for your sins."
Saturday, December 17, 2016:
Jesus said: "My people, you believe that I created the earth and the rest of the universe according to the Book of Genesis. There are some people who believe in the big bang theory, but it does not explain where all the hydrogen came from to make up the stars. I am the First Cause of everything. In today's Gospel reading you are seeing My genealogy from Abraham down to St. Joseph according to St. Matthew. In St. Luke's Gospel you see all the generations from St. Joseph down to Adam, the first man, who I created. You have also seen Darwin's theory of evolution, but there is no way that mutations can change the chromosome counts. If evolution was true, you would still be seeing changes in the animals. But there are no leaps in chromosome counts, because I created everything from the beginning. Scientists, who promote these theories, are mostly atheists who do not believe in My existence. I am still providing miracles for you every day in your births, where I create the life spirit in the soul of every baby at conception. There are so many things that man does not know about life, and when you cannot explain something in reality, you develop strange theories that have no proof. This is why you call the big bang and evolution theories because there is no proof. My believers understand that I am their Creator, and I am worthy of their thanks and their love for creating them. I love all of mankind and all of My creations, because you are My sons and daughters that I love enough to die for on My cross."
(4:00 p.m. Mass) Jesus said: "My people, in the first reading you are seeing a prophesy of My coming that was given by King Ahaz when he said: 'A virgin shall conceive a son, and His Name will be called Emmanuel.' In the Gospel you are seeing a dilemma for St. Joseph when he saw his betrothed was with child. He was going to quietly divorce her, but the angel came to him in a dream to say that it was by the power of the Holy Spirit that I was conceived in My Blessed Mother's womb. The angel urged him to take Mary into his home, which he did. St. Joseph was to be My foster father to protect our family. Rejoice in My plan of salvation, which I offer to all the people."
Jesus said: "My people, the manna of the Israelites in the desert was a prefigure of My Eucharist that I share with all of you at Mass, and at Adoration of My Blessed Sacrament. I died for all of you on Mt. Calvary, and I share My love with you in My Real Presence in the consecrated Host. When you look upon My Host in the monstrance, you can feel My love that I am sharing with each of you. When you come to Mass and Adoration, you are seeking the One you love in Me. You should share this faith and love of Me with those people who do not know Me. Love needs to be shared to be fully appreciated. When you love Me and your neighbor as yourself, you are living My Commandments that were meant to guide you to Me. Keep close to Me with a pure soul by frequent Confession, and you will enjoy My love constantly."
Friday, December 16, 2016:
Jesus said: "My people, buying gifts for people can be difficult if you do not know what they could use. This is why many people buy gift cards for stores or restaurants. Those people, who want to show their care for people, go to the store to pick out something a person could wear or use. It is a lot harder to find just the right gift. This is why when you receive a gift on Christmas, you need to thank that person for spending the time and money for getting your gift. You can also pray some prayers for people as an added gift from your heart. You may add this comment of prayer on your card to show them how much you care about them, even for their soul."
Jesus said: "My people, you are spending a lot of time and money on gifts for your relatives and friends, but they probably will be giving you gifts as well. This is why you should give some donations and prayers for the poor. You are fortunate that they cannot return the favor, and you will gain treasure in heaven for your charity and kindness. Sometimes you may be able to help the poor directly by giving them gifts or giving them food at your food shelf or soup kitchens. Pray for the poor as well, so they can get by on a place to stay and food to eat. Pray also for the homeless at the shelters, especially during your cold weather."
Thursday, December 15, 2016:
Jesus said: "My people, in the reading from Isaiah, you see how My anger lasts but a moment, and then I move to help sinners get restored to My graces. My coming at Christmas is all about bringing salvation and My forgiveness to all sinners. I offer this chance for all of you to repent and change your evil ways. You may forget Me, but I will never stop loving all of you. You always have a choice of loving Me or not by your free will. Those people, who repent and seek My forgiveness, are on the right path to heaven. But those people, who do not repent and do not love Me, are on the road to the pit of hell. When you choose your eternal destination, remember that eternity is a very long time, and you do not want to see anyone go to hell, let alone be burning there for all eternity. I have created all of you, and I am calling all of you to love Me and accept the mission I have for each soul. The devil and I are battling for every soul, and neither one of us lets up on this battle. As long as you all are alive, you will have to defend yourself from the devil with My help."
Prayer Group:
Jesus said: "My people, you are seeing a potential increase in manufacturing jobs in America that have been leaving your country for cheaper labor. Your new President is planning to try and bring back jobs to your country, and keep new jobs from leaving your country. If your new President is allowed to act, you will see great opportunities for your workers."
Jesus said: "My people, you have seen several recounts in several states that have failed to show any problems. If anything, the recount uncovered fraud for some Democratic precincts. Other attempts were to blame Russia for hacking the votes, but this also was not confirmed. Attempts were also made to have the electors change their votes. You have never seen an election result with so many attempts to stop a President-elect from taking office. I have answered your prayers to allow a fair election, but you need to pray that there is no more foul play or danger for your President-elect."
Jesus said: "My people, all of these gambling casinos are taking advantage of gambling addicts that are ruining some families with their bad habits. They are taking money away from families who need food and to pay the mortgage. Your increasing marijuana use will also be causing people to have addiction problems, and a possible increase in car accidents. The medical permission is the beginning of recreational use that will cause more problems than it will solve. Pray that people do not get involved with drugs that can harm their health."
Jesus said: "My people, some of your business people are hoping that your new President-elect will improve your economy before he is even made President. This is what has caused some dramatic rises in your stock markets. The actual outcome can still change, and there could be a downturn before the needed changes can be put into place. Your new business environment still needs to be defined. Pray that the one world people do not harm your new President, and that they do not sabotage your economy to make him look bad. There will be great changes in your economy and your government. Pray that there is no martial law, or any other planned destruction of your economy or your grid."
Jesus said: "My people, you will see some new additions to your Supreme Court that could change some of your current laws. Planned Parenthood and your Health Care Plan could see financial disruptions as the party in power wants to change these plans. Pray that there will be a peaceful transition."
Jesus said: "My people, you have seen in other countries where holy statues and Nativity scenes have been outlawed in public. Christians and your public worship will be coming under more attacks from Muslims and atheists. You will eventually have to have more private services in your homes, and then at your refuges as the tribulation time comes upon you. Be prepared to come to My refuges when your lives are in danger. Call on My angel help to protect you."
Jesus said: "My people, Advent and Lent are special times of preparation for Christmas and Easter. It is an opportunity for people to reflect on their spiritual lives, and how they could be improved. Just as during Lent, you could make an extra effort to come to daily Mass and pray more prayers for poor sinners and the souls in purgatory. You could give some donations to help people, and even doing some fasting for your prayer intentions. Advent goes by very quickly, so take advantage of this time for prayer, penance, and the confession of your sins."
Wednesday, December 14, 2016: (St. John of the Cross)
Jesus said: "My son, you were fortunate to have Father Klem directing you in the beginning of your ministry with My messages. He was approving of putting your messages in book form with Queenship Publishing Co., and he helped you to discern about My messages about the Era of Peace. He did not want you to put in the visions until after the books were published. Father Klem had a great love for St. John of the Cross, and he used St. John's approach to testing the authenticity of people who are receiving messages. Father Klem reasoned if the messages are not from the devil, and you are not mentally ill, then there is a possibility that they are truly from God. You also can test people by the fruit of the messages, and how long they last. Your spiritual director always encouraged you to keep praying each day, and to use My healing gifts for body and soul. St. John of the Cross is a good inspiration for many of you to follow, even as he helped establish Carmelite monasteries. Learn about his teachings so you can apply them to your life."
Jesus said: "My people, today is the feast day of St. John of the Cross, so you are seeing Me in the vision handing out crosses for people to carry. Every person has their own cross that only that person can carry. I have mentioned in the Scriptures that I want people to pick up their cross and carry it through life. Each cross is unique, and it takes patience to endure life's trials. You can call on Me to help you carry your cross. I will never test you beyond your endurance. When I ask you to do things for Me, I may take you to places outside of your comfort zone. You will see My grace will help you along the narrow road to heaven. Be patient and trust in Me to lead you on the right path to heaven. You will face problems in life, but I will help you to solve them. You need to trust in My help, and have hope that your reward will be given to you in heaven. My burden is light, and you will be happy to evangelize souls for Me."
Source: John Leary
Urgent Prayer Alert Request!
2020 U.S.A. PRESIDENTIAL ELECTION
(November 25, 2020) Seer John Leary: At the Eternal Father Chapel we were praying before our Adoration DVD. I could see Jesus suffering on the cross and He wants us to double our prayers for President Trump to win this election.
Jesus said:
"My people, I cannot stress enough how important it is to pray for your President to win this election. The demons and evil people have gone all out with every fraud possible to beat your President. There are not enough people praying for this intention. This is why I have to depend on My prayer warriors to step up and stand your ground, if you want to keep your freedoms. PLEASE DOUBLE YOUR PRAYERS FOR YOUR PRESIDENT TO WIN. If you pray three rosaries a day, then you need to pray six rosaries a day. You are dealing with cheating, crooked people, so you are in a spiritual battle. Your rosary is your best weapon against this evil, fraudulent election, so you need more prayers to allow the courts to overturn the illegal ballots. Give thanks for your freedoms, but keep doubling your prayer efforts until the Trump lawyers can secure a victory." -
Learn more...
Fr. Michel Rodrigue explaines The Events of the End Times
Do you want a quick overview of the end times? Then read "The great events of purification will begin this fall". If you want all the details of the unfolding events, then go to "Virtual Spiritual Retreat with Fr. Michel Rodrigue about the End Times".
The Pope's approval of homosexuality
Beware of the 'New World Order'
The Rosary is the weapon of these times
The truth about the Coronavirus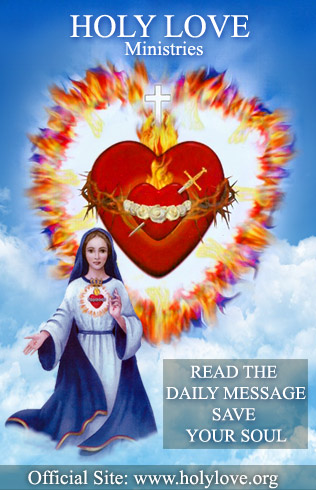 Read the daily messages
Catholics, we have entered the Pre-Tribulation, observe the Commandments, go to Confession; receive the Holy Eucharist; pray at least 3 Rosaries a day to keep your faith and save your loved ones. Prepare for the events that will devastate our planet: plagues, famine, WW3, cataclysms, antichrist's World Order