April 15, 2021 – Message from Our Lady of the Sacred Heart to Julián Soto Ayala, the Disciple.
"My son, I bless you with My Heart. It is a great joy for your Mother to accompany you during the prayer of the Holy Rosary.
I have a great sadness that I want to communicate to you, I, your Lady of the Sacred Heart, that makes the Heart of My beloved Son sad, and it goes to all the young people who have piercings and tattoos on their bodies.
They are indirectly consecrating themselves to the devil, even if it is a rose or a cross. If it were a snake and a death that you have on your skin, in any part of your body, you are consecrating yourself, children, indirectly to the power of the spirit of evil in the world.
And there are two other things that I want to point out to you, my children, that reject the holy and pleasing life to the Father: which is to comply with the Holy and Sacred Commandments.
And the third is that they bring the cell phone all day and do not pray.
Say this to My children, do not use face masks, or spend time with your cell phone, and that young people give up tattoos, even if it is a flower, a death, a cross or whatever on any part of the body. It is an indirect condemnation from satan. And My priest sons must free these young people with their prayers. And you too, My children.
I will be happy if you obey and pay attention to My messages."
Source: Sagrados Corazones
Messages of Holy Love
Prayer given by God the Father to recite each morning at the beginning of your day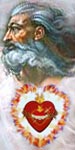 January 31, 2022
– God the Father says: "Children, I come to you today, to dictate to you this prayer which I desire you recite each morning at the beginning of your day... This prayer is peace-giving if you mean what you say in your heart."
"Heavenly Father, today, I surrender to You my heart. Help me to be Your instrument in the world. Cover me with the Precious Blood of Your Divine Son. Guard me against all evil. Protect me from any evil plan Satan may have for me today. Clothe me in Your Divine Will. Amen."
Daily Prayer to Mary, Protectress of the Faith
"Most Holy Mother of God, Mary, Protectress of the Faith, shelter my faith in the refuge of your Immaculate Heart. Therein, protect my faith from any marauder. Expose to me the threats to my faith and help to overcome them. Amen."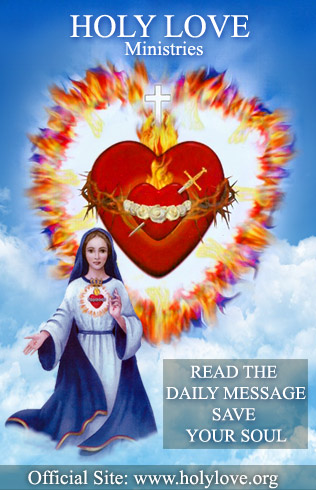 Read the daily messages
Prepare your soul for the End Times, increase and strengthen your faith. Learn and obey the Ten Commandments so that God can protect you and your loved ones from the evil one.
Fear is lack of faith. Fear does not come from God.
Learn to trust in God the Father, Jesus, The Holy Spirit and the Blessed Mother, by reading the daily Messages of Holy Love.
(Read more...)
Fr. Michel Rodrigue explaines The Events of the End Times
Catholics, we are in the Pre-Tribulation, obey the Commandments, go to Confession; receive the Holy Eucharist and pray at least 3 Holy Rosaries daily to protect your faith and save your loved ones. Prepare for the events that will devastate our planet: plagues, famine, WW3, cataclysms, antichrist's World Order