December 5, 2020 – Message from Saint Michael the Archangel to Luz de Maria
Do not forget the food to sustain you during famine
"Dearly beloved People of God:
IN THE NAME OF THE MOST HOLY TRINITY AND OF OUR QUEEN AND MOTHER, I BLESS YOU.
I come to call you to urgent conversion out of love for the Holy Trinity and for Our and your Queen and Mother, desiring Eternal Salvation and not the soul's perdition in the eternal fire.
I STAND WITH MY SWORD HELD HIGH IN DEFENSE OF THE FAITHFUL PEOPLE, but I do not violate human will. I pity those who do not want to be defended and make no effort to change the course of their lives, work and action.
I COME TO CALL YOU TO THE MISSION TO WHICH EACH ONE OF YOU HAS BEEN ASSIGNED BY DIVINE WILL. Continue being obedient to the Divine Will in the place where it has led you. Return to the Divine Will for the good of your soul and in order to help your brothers and sisters. Human pride and arrogance are part of the creature's ego that you must convert so that it would not fight against you, but rather help you and make your path easier.
You must remain faithful in your quest, thirsting for Divine Love, and repay it for everything that it constantly offers you. You need to find the Peace that is only enjoyed by souls who are truly on the way to conversion; train your thoughts and tame your mind so that you would strive to resemble Our Queen and Mother.
What lamentation rises up from the flames of hell from those who used to attend Holy Mass daily and committed sacrilege by receiving communion in a state of sin!
How many who devoted themselves to judging their brothers and sisters are groaning in hell because of the predominance of pride and envy that poisoned them from within!
PEOPLE OF GOD, BE CAREFUL IN YOUR WORKS AND ACTION…! BEWARE OF THE PHARISEES!
Great events are continuing to occur at this time when humanity is living in Tribulation. Man has separated himself from the Most Holy Trinity and from Our Queen and Mother: he does not love, does not forgive.
IT IS THE DESIRE OF OUR KING AND LORD JESUS ​​CHRIST THAT A WORLDWIDE TRIDUUM BE OFFERED TO OUR AND YOUR MOTHER OF GUADALUPE, AND THAT ON DECEMBER 12 YOU WOULD CONSECRATE YOURSELVES TO HER UNDER THIS TITLE, PARTICULARLY CONSECRATING THE MEXICAN PEOPLE, HANDED OVER TO SATAN BY SOME OF THEIR REPRESENTATIVES.
It is very important for humanity to unite so that, thanks to the prayer of the children of God with due spiritual preparation, this beloved people would be liberated from the oppression of the Devil.
People who are loved and protected by Our and your Mother of Guadalupe:(*)
BEAR IN MIND THAT WHERE THE QUEEN AND MOTHER APPEARS, THE DEVIL ACTS WITH FORCEFUL OPPRESSION.
PEOPLE OF MEXICO, OUR QUEEN AND MOTHER LOVES AND BLESSES YOU.
This form of Invocation causes the stars to be imprinted upon the Vault of Heaven, illuminating it and telling humankind to prepare for the arrival of a celestial body that will keep humanity in general in suspense (1). A FORM OF INVOCATION THAT SPEAKS, SINGS OF AND SHOWS THE ANGEL OF PEACE (3) WHO WILL COME TO EARTH TO HELP THE FAITHFUL PEOPLE IN TIMES OF ATROCIOUS PERSECUTION.
Pray, People of God, pray. Many tectonic faults have been activated by the influence of the Sun and of celestial bodies that are approaching the Earth, allowing underwater volcanoes to appear with a great roar.
Pray, People of God, pray and offer up. Spain will be stirred up and suffer: its soil will shake. France will be severely shaken. Holland will weep at the earthquake.
Pray, People of God, pray for Puerto Rico: it will weep and suffer, it will be forcefully shaken.
Pray, People of God, pray for Nicaragua, Costa Rica, Guatemala: the land will be severely shaken.
Man has spilt the evil that he commits over the Earth, and it has already awakened, paving the way for the suffering of humanity.
Prepare yourselves, do not remain deaf to My Word…
Prepare yourselves spiritually and do not forget the food that Our Queen and Mother has given to sustain you during shortages, without forgetting food that you can preserve, knowing that Heaven assists the faithful.
DO NOT FEAR: FEAR IMMOBILIZES THE CREATURE.
KEEP THE FAITH AT ALL TIMES. DIVINE HELP WILL BE PRESENT.
As Prince of the Heavenly Armies I defend and bless you.
WHO IS LIKE GOD?
THERE IS NONE LIKE GOD!
Saint Michael the Archangel."
HAIL MARY MOST PURE, CONCEIVED WITHOUT SIN
HAIL MARY MOST PURE, CONCEIVED WITHOUT SIN
HAIL MARY MOST PURE, CONCEIVED WITHOUT SIN
(1) About Comets, Asteroids and Meteorites: Read…
(2) Revelations concerning the Angel of Peace: Read…
(*) The prophetic message of Guadalupe: Read…
Prepare the Blessed Grapes for the times of famine
10.27.2014 – Jesus: "I do not abandon you. Do not forget to keep in your homes the blessed grape in My Name for the moments of famine."
Revelations given to Luz de María: Brothers: in the face of the constant Calls from Heaven to prepare for the incoming moments such as food shortages, we share with you once again the calls to prepare the blessed grapes as a means to alleviate famine. Faith and trust that Heaven gives us what we need at the right. Let's not wait for tomorrow, let's prepare what is asked of us to help our fellow men, let's not think only of ourselves. Amen.
09/27/2015 – Our Lord Jesus Christ: "My people: WHEN FAMINE GETS WIDESPREAD, remember that My Mother previously thought of you and She blessed grapes so that at that moment it would appease your hunger, at the same time, I have called you to pray NOW! for those moments and to prepare spiritually so that you face with Faith, strength and perseverance the moments of trial that everyone faces without distinction. "
10/27/2014 – Our Lord Jesus Christ: "I do not abandon you. Do not forget to keep in your homes the blessed grape in My Name for the moments of famine."
Instruction how to prepare the Blessed Grapes
On the request of Christ related to the blessed grapes, Luz de María commented:
1. Christ tells us that we should look for a priest and ask him for the blessing for a bunch of grapes or for a single grape, since with a blessed grape two people can be fed and thus resist without food for a day, if the creature has Faith and if it is properly prepared spiritually, this will serve for times of food shortage.
To bless other grapes:
2. With the grape already blessed by the priest, the remaining ones are blessed as follows:

3. Each grape must have a piece of stem from which it was attached to the bunch, so it is advisable to cut them with scissors to separate them from the bunch.

4. The remaining ones should be blessed with the blessed grape, one by one, by saying: "In the Name of the Father and of the Son and of the Holy Spirit, amen." While rubbing the blessed grape with which it is being blessed.

5. Then the blessed grapes are stored in sterilized glass containers (fill ¾ parts of the bottle with grapes) and then fill with brandy or cognac each bottle, no other type of liquor or wine, since liquors with high concentration of alcohol like brandy or cognac are needed. The jar is closed and there the grapes will be preserved for as long as necessary, until they are going to be consumed. Of these already blessed grapes, you can share them with your brothers, since they already carry the blessing and thus others will be able to prepare their own blessed grapes.
15 years ago Christ had asked us to bless grapes and they are still in good condition. The type of grape that is used preferably is the dark one, in case you do not find it, the green grape can be used. If grapes are not found in any country, you can use another fruit that is abundant and small, like grapes.
When Christ again mentioned this request for the blessed grapes to me, I also remembered the Grapes of San Damiano, which I share below:
During one of the apparitions of the Blessed Virgin Mary to Mamma Rosa Quattrini, seer of San Damiano (1964-1970), Italy (now deceased), Our Lady blessed a bunch of grapes, indicating that these grapes would sustain all those who have faith in the nutritional value of these grapes and feed on them during the days of the antichrist (the "mark of the beast", wars, famines, droughts, plagues, catastrophes, calamities, and diseases).
Below the Blessed Virgin Mary indicates how to transfer the blessing of the grapes from a Blessed Grape to a new bunch of grapes, so that more people will benefit from them.
6. While the grapes are still attached to the bunch, they are thoroughly washed with a solution of water and one or two drops of liquid soap; then they are rinsed off. Then the grapes are cut from the bunch with scissors; trying to leave a piece of stem on each grape. A Blessed Grape is taken and rubbed against a fresh grape making the Sign of the Cross, while saying: "In the Name of the Father and of the Son and of the Holy Spirit. Amen". Have a clean glass container ready with a tight-fitting lid.
The blessed grapes can be eaten by sick people who cannot retain food. People who fast with the Blessed Grape will be protected from plagues, terrible diseases and other catastrophes. People will receive nutrition equivalent to food, water, vitamins and minerals that the body needs.
7. The brandy used to preserve the grapes has medicinal value (if you are sick take a teaspoon which, taken with FE, will cure).
One grape will sustain two people throughout the day. A supply should be kept for up to six months or more (approximately 180 grapes).
8. The Blessed Grape will not sustain any person who mocks or does not believe.
Certain prophecies have come to light in which it is said that the soldiers who go to fight under the banner of Jesus and Mary against the forces of the antichrist will be led by Saint Michael the Archangel.
These men will be full of strength, yet they will require no food. This fact will amaze other people who will join these soldiers, growing the small Marian forces into a gigantic army. They will fight to overthrow the forces of the antichrist. The Blessed Virgin Mary has communicated to many saints and seers that these troops will be fed from Heaven. Perhaps the Blessed Grapes are one of the many end-time miracles referred to by the saints of past times in their visions.
Source: Revelaciones Marianas
Fr. Michel Rodrigue explaines The Events of the End Times
Messages of Holy Love
Prepare your soul for the End Times, increase and strengthen your faith. Learn and obey the Ten Commandments so that God can protect you and your loved ones from the evil one.
Fear is lack of faith. Fear does not come from God.
Learn to trust in God the Father, Jesus, The Holy Spirit and the Blessed Mother, by reading the daily Messages of Holy Love.
(Read more...)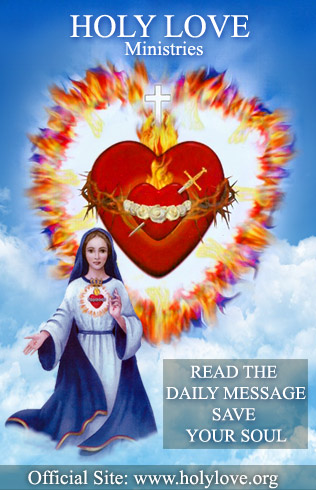 Read the daily messages
Catholics, we have entered the Pre-Tribulation, obey the Commandments, go to Confession; receive the Holy Eucharist and pray the Holy Rosary daily to keep your faith and save your loved ones. Prepare for the events that will devastate our planet: plagues, famine, WW3, cataclysms, antichrist's World Order