MESSAGE FROM THE BLESSED VIRGIN MARY
TO HER BELOVED DAUGHTER LUZ DE MARIA
FEBRUARY 12, 2018
With speed the Schism of the Church is approaching
"Beloved children of My Immaculate Heart:
MY MATERNAL BLESSING IS POURED OUT UPON ALL HUMANITY.
The People of My Son are the fruit of Divine Love and as such, they must respond and resume the definitive path towards conversion.
BELOVED CHILDREN OF MY HEART, LENT IS BEGINNING: THEREFORE, I INVITE YOU TO BE RENEWED, BEING THE BEARERS OF AND EMANATING GOOD WHERE YOU ARE.
In order to be witnesses, you must live in the Truth, and in this way work and action attached to the Divine Will will well up spontaneously. You succeed in this by distancing yourselves from occasions for sin. Some make excuses to Me, telling Me that they do not know what sin is because it covers too much.
SIN IS EVERYTHING THAT STANDS APART FROM THE DIVINE WILL EXPRESSED IN THE COMMANDMENTS, IN THE SACRAMENTS, IN WORKS OF MERCY, IN THE BEATITUDES AND IN THE SPIRIT OF TRUTH.
I am addressing you, child, who at this instant are reading this Word of Mine by Divine Will: man can do nothing without the human will permitting it. Therefore, what moves you away from the duties of your state is contrary to good.
Some of My children dismiss My Calls; they read them, but they do not bring them to life, and this causes great pain to My Son's most Loving Heart. This instant is for each person to reflect on the knowledge that they possess regarding My Son's Love for Humanity.
Therefore, they cannot claim that you sin out of ignorance: FROM THE ONE TO WHOM MORE IS GIVEN, MORE IS ASKED (Lk 12,48).
Heaven's Calls do not penetrate hardened hearts or minds saturated with filth, therefore they do not change, since they love the world more than God.
I see so many of My Own gathering and feeling fervent for a few instants and then, when the activities in the different religious groups pass, that ardor, that rejoicing, those promises, that longing for the things of Heaven, die out and leave as if you would take water and try not to let it drain between your fingers.
THE HUMAN MIND HAS NOT PREPARED ITSELF TO TAKE SERIOUSLY AND RESPONSIBLY MY SON'S COMMANDMENTS, NOR HIS REQUESTS, NOR MY REVELATIONS FOR HUMANITY.
Humanity is putrefied by living with so many sins that emanate from the misuse of free will…
Humanity has corrupted itself and justifies its wrongful work and action with more sin, with which it is sinking the whole time into the dark chambers of the enemy of the soul and opening the way for him to take Humanity unprepared because man has allowed it this way…
THEY ARE NOT WORTHY TO CALL THEMSELVES MY SON'S CHILDREN WHO, KNOWING THE VALUE OF A SINGLE SOUL, IMPEL SOULS TO SIN IN ITS DIFFERENT FORMS.
HUMAN NATURE IS ALTERED, TRAMPLED UPON AND DEGRADED WITH THE ACQUIESCENCE OF THOSE WHO HAVE THE DUTY TO PRESERVE THE LAW OF GOD, GOOD HABITS, AND TO PROTECT THE FAMILY AND HUMAN LIFE.
Beloved children, you find yourselves facing the great betrayal that has emerged from the Mystical Body of My Son in order to hand My Son's People over to the usurper, so that they are shaken, persecuted, tormented and martyred as the infernal enemy's spoils.
CHILDREN, SEE HOW THE INSTANT PASSES QUICKLY; WITH THIS SPEED THE SCHISM OF THE CHURCH IS APPROACHING YOU, BELIEVERS IN MY SON, BECAUSE OF MAN'S DISOBEDIENCE TOWARDS THE DIVINE LAW.
I am a Mother and I grieve at so much disobedience by My children towards every Call, and at the indifference towards the signs of My remaining with you.
You do not advance if you do not convert…
You do not bear fruit if you are dry logs …
Renew yourselves, children, commit to being better children of God, do not continue walking against the nature with which God created you.
This instant of confusion is opportune for My Son's enemies: they usurp His People and confuse them due to the human creature's lack of conformity to the Divine Word.
Today's man takes wrong paths; some demand answers from Heaven, others covet what does not belong to them, others envy the spiritual goods of their brothers and sisters, and in order to possess apparent gifts and virtues, they enter into the ways of the devil.
BELOVED PEOPLE OF MY SON, CONFUSION DOES NOT ALLOW YOU TO SEE WITH CLARITY: COME BACK AND BE FULFILLERS OF GOD'S LAW AND FIND CALM ONCE MORE, SEEK RECONCILIATION WITH THE FATHER'S HOUSE AND WITH YOUR BROTHERS AND SISTERS SO THAT YOU MAY WALK RIGHTLY.
At this instant, approach the Eucharist, keep the days of fasting, offer what will most make you sacrifice yourselves for the greatest spiritual benefit.
Humanity's errors are making the present course continue towards surprising events in the Earth and above It.
Prayer is indispensable for you, My children. Assist one another, do not allow yourselves to live without helping your brothers and sisters. Keep in mind that My children do not deny God, they do not betray God, they are fulfillers of His Word and are therefore defenders of God's Law.
Spiritual confusion will be greater as the instant goes on and men will increasingly be executioners of the defenseless with their acts of terrorism.
Bacteriological threats will be a reality. They will mercilessly attack the weakest and the tensions in the world will increase.
You, My children, fulfill My Son's Love, be obedient and humble, without denying the Faith.
ALL MUST RETURN TO THE TRUE PATH URGENTLY. WELCOME THIS INSTANT OF LENT FOR CONVERSION.
Save the soul!
I bless you, I love you.
Mother Mary."
HAIL MARY MOST PURE, CONCEIVED WITHOUT SIN
HAIL MARY MOST PURE, CONCEIVED WITHOUT SIN
HAIL MARY MOST PURE, CONCEIVED WITHOUT SIN
Source: Revelaciones Marianas
Fr. Michel Rodrigue explaines The Events of the End Times
Do you want a quick overview of the end times? Then read "The great events of purification will begin this fall". If you want all the details of the unfolding events, then go to "Virtual Spiritual Retreat with Fr. Michel Rodrigue about the End Times".
The Rosary is the weapon of these times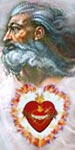 God the Father: "Children, the best way to change the conscience of the world and this country (U.S.A.) in particular is much prayer and many sacrifices. You may not see the effects of your efforts but persevere and do not be discouraged. Use your Rosaries as the mighty weapons that they are. A Rosary said from the heart is more powerful than any weapon of mass destruction. The Rosary is the weapon of these times. Do not let the daily news frighten you. Often, what you hear is not the Truth and only meant to influence your opinions..." (Read more..)
The truth about the Coronavirus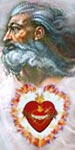 God the Father: "Today, I invite you to realize that this virus - the coronavirus - is no ordinary disease. It has been created from human ingenuity to specifically target the elderly and physically challenged. This is the plan of future generations to purify the human race around the world. It was released into the general population ahead of schedule - by accident. Those in charge were waiting for less capable government officials in your country (USA) to be in office. Nevertheless, proposed harm is being unleashed on the whole human race." (Read more...)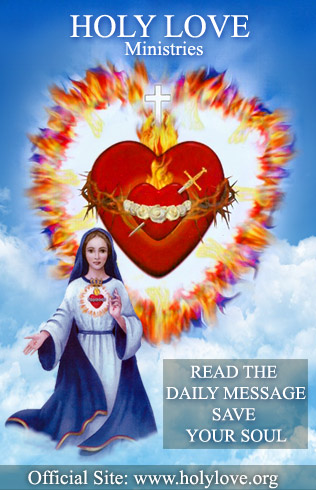 Read the daily messages
Help the Lord spread His voice, time is running out
Please help spread these messages of faith, hope, salvation, collaborate with God's Plan of Salvation. Who helps the Lord save a soul predestine his own, independently from the outcome.