Please read these messages from beginning to end, pay attention to Our Lord Jesus' words on how to prepare and to be ready for refuges and for what is coming to the world … Also pay attention to the news from the USA to understand the end times.
In this section: Faith, Sins; State of the Church; Punishments, Abortion, Warning (Illumination of Consciences); Virus; New Pandemic; Vaccines; micro-chips; US Presidential Elections; Deep State; Uprisings; Possible Civil War, Tribulation, Kingdom of the Antichrist; Refuges …
Tuesday, October 20, 2020: (St. Paul of the Cross)
Jesus said: "My people, a time is coming when you will see a worse virus attack and all the churches will be closed again. When this happens, you may be in a lock down with problems getting to any stores. I will send My Warning before a worse virus strikes, so have your souls prepared with frequent Confession while you can still see a priest. Pray that your families will convert to believers in Me, so they can enter My refuges at the proper time. My refuges will be your safe havens from the evil ones and all of their diseases. I will warn you when it is time to come to My refuges. There, you will have My angel protection and all that you need to survive."
Wednesday, October 21, 2020:
Jesus said: "My people, your time is running out before you will see a worse virus, and there will be a battle to defend your freedoms from the socialist communists. You all need to stand up against all of the Marxist principles that the left want to inflict on you. Choose freedom by supporting and voting for your President, because the opposition wants to overthrow your government and make you a part of the New World Order led by Satan. You will first endure My Warning when you will see your soul as I see it with all of your faults and sins. Come to Confession now so you will not see the flames of hell. Those people, who are away from Me, will see their destination in hell if they do not change their lives to love of Me. The more gifts you have been given, the more that will be expected of you. After you see your mini-judgment, you will have six weeks of conversion time to give all sinners a chance to repent of their sins, and become a believer in My Word. After this time, you will see many events that will test your faith. When your lives are in danger, I will call you to the safety of My refuges. Trust in My angel protection and have no fear of the evil ones because I am more powerful than any of them."
Thursday, October 22, 2020: (St. John Paul II)
Jesus said: "My people, you all are faced with the same spiritual and human needs in this life. I have given you many skills and I provide the means for you to feed yourself, house yourself, and I even give you the air to breathe and the light to see. I have enabled you to have a job and buy your needed possessions for travel and living a normal life. Because you have been gifted with your faith and your needs fulfilled, you need to thank Me in your prayers and help your neighbors. This is how you show Me how you love Me and love your neighbor. I even give you My sacraments and the Mass, along with your own guardian angel to give you a spiritual life of My graces. Your very life and soul are your daily blessings that I keep in existence. I give you free will to love Me or not, because I do not force My love on you. I want you to love Me by your own free will. It is in your actions and your way of life that you can witness your love for Me and your love for your neighbor. Trust in Me because I am all love itself."
Prayer Group:
Jesus said: "My people, part of the d*eep S*tate leaders are led by Satan in the Masonic order. Those people, who are in the higher levels, actually worship Satan and they carry out the devil's plans. You are seeing the eye on the pyramid that you see on the back of the one dollar bill. Many of the Mason's buildings are located close to My Catholic churches. The Masons support many evil groups as Planned Parenthood. These people also support abortion and the Democrats. Pray that My angels can counteract all of their evil deeds."
Jesus said: "My people, you are about to see a debate between two candidates. Your President supports your Constitution and he is pro-life to stop abortion. B*iden is supporting the liberal socialists and he supports abortion. If B*iden wins, you could be at risk to lose your freedoms, and you could be facing a communist government. If you want to keep your freedoms, then you need to vote for your President. Pray for his victory and that he is not shot by the liberal anarchists."
Jesus said: "My son, you had another Zoom conference of over 450 people and it lasted four hours. This gave many people an opportunity to hear your messages and ask questions for two hours. The people were eager to hear My messages that you put out on your internet website. Today, your website was again shut down and it appears the d*eep S*tate was trying to keep your messages quiet. The d*eep S*tate does not want any messages out against B*iden. Several messages spoke of how the B*idens took money from foreign countries for favors. This scandal shows how the Democrats use their position for power and money. Keep praying for your President to win this election."
Jesus said: "My son, you are seeing how the evil ones are fighting for power and a takeover of your country. They want to strip your freedoms and control all of your communications. You already see how the left controls much of your newspapers, your television programming, and even what is taught in your schools. The left also controls your health programs, and they will try and force everyone to take a vaccine or a chip in the body. Refuse to take such a vaccine shot for the corona virus, or a chip in the body so you are not controlled by the Antichrist. My angels will protect you at My refuges from any attempts by the evil ones to put you in prison, or any plans to kill those people who refuse to take the vaccine."
Jesus said: "My people, I have been preparing My people to set up refuges where My faithful will come for My angel protection from any virus or flu. Before your lives are in danger, I will send My Warning experience to give all sinners an opportunity to convert their lives. Take advantage of My Warning to change your lives and repent of your sins in Confession. When you come to My refuges, you will be healed by looking on the luminous cross. Trust in My protection as I will soon bring My victory down on the evil ones."
Jesus said: "My people, I have warned you that you could see an EMP attack on America when your enemies will send many nuclear missiles that will stop all of your cars and shut down your electricity. This will enable your enemies to take over your country. Before this happens, I will send out a warning for My faithful to come to My refuges of protection. My angels will shield you from any harm from these missiles. This shield will also protect you from My Comet of Chastisement. Trust in Me, My people, for your severe punishment is coming because of your abortions that you have refused to stop."
Jesus said: "My people, only the people at My refuges will survive the evil that will be brought on the people of the earth. This is why it is absolutely necessary to try and convert your families, or they could be lost in hell. They have free will to choose Me or not, but they will see what it would be like if they went to hell at My Warning. Pray for your family's conversions to help save their souls from hell."
Friday, October 23, 2020: (St. John of Capistrano)
Jesus said: "My people, as you approach the end of the Church Year, you will be reading more Scripture passages that refer to the end times. Even since January or earlier, you have seen how evil the d*eep S*tate is, because they let China develop a deadly virus that could kill people all over the world. This is Satan's plan to try and reduce the population. This is truly the pre-tribulation because the evil leaders of the d*eep S*tate are planning further virus threats along with a mandatory vaccine that will destroy your immune system. This is why I have warned you to refuse to take a vaccine for corona virus or a flu shot. When the authorities make it mandatory to take a vaccine, this will be a time to come to My refuges, if they want to kill you or imprison you for not taking the chip in the body. Trust in My protection from the evil people who want to control your lives."
Jesus said: "My people, you have seen the destruction of your cities from the communist anarchists in Antifa and Black Lives Matter mobs. I have given you messages that these groups will try a coup to take over your government after the election, like they promised. There is also a danger from a million UN foreign troops who are already in your country. In addition, thousands of Chinese troops have been seen massing on the Canadian and Mexican borders. This is why your President is calling your troops home, and calling up the National Guard and the Marines to protect your people from a possible invasion or civil war. These stories are being hidden from your media, but your President is preparing to fight them by pulling back some of your aircraft carriers. My faithful need to be prepared to leave for My refuges if you see bombs coming, or a full scale invasion. I will warn you when your lives are in danger, so you can come to the safety of My refuges."
Saturday, October 24, 2020: (St. Anthony Claret)
Jesus said: "My people, this vision of St. John Paul II reminds you of how My Church was a few years ago. Now, you need to hold on to the truths of the faith in the Catechism of the Catholic Church put forth by St. John Paul II. In the Gospel I am teaching My faithful to repent of their sins, especially in at least monthly Confession. You need to confess your venial sins as well as your mortal sins. My faithful also need to bear fruit as your charity donations, your good deeds for family and neighbors, and evangelization of sinners. You need to do more than call Lord, Lord to get into heaven. Daily prayers as your rosary, good deeds, and saving souls need to be the fruit to fill your hands at your judgment. Follow My Commandments and confess your sins for your heavenly requirements."
Jesus said: "My people, you are seeing your President telling you all of his accomplishments, but the most important thing to Me is how he fights against abortion, and he praises Me as he defends 'Under God' in your pledge of allegiance to your flag and country. The Democrats support abortion, take out 'Under God', and they support the communist Antifa and Black Lives Matter mobs who are destroying your cities. The Democrats want to take over your government and make it socialist which is close to communism which supports atheism. There is so much evil on the left and B*iden is now caught in many lies taking money from China and the Ukraine. It is time that your people need to start doing a Novena of prayers for your President to win re-election and pray for his physical health that he will not be killed. If there are enough prayers, and you vote for him, he will win and stay alive. Pray a Novena of your 24 Glory Be prayers of St. Therese for a victory for Trump and for America. This is found in the Pieta prayer book: pray a Glory Be to the Father followed by 'St. Therese pray for us' twenty-four times. Make sure you plan another prayer group meeting on the night before the election, so you can counter all the witches' hexes and curses on Halloween. With your belief in My answering your prayers, you can see a Trump victory. Later on you will see My final victory over all of the evil people who will be cast into hell."
Sunday, October 25, 2020:
Jesus said: "My people, your country is on a precipice in danger of falling into a communist takeover if your President does not get re-elected. The opposition party only offers a road to socialism and a Chinese communist takeover. In addition B*iden is taking money from China and the Ukraine. Keep praying for your President to win re-election by voting for him to insure your freedoms, including the right to worship Me in church. Keep praying also that Judge Amy Coney Barrett is confirmed by the Senate to be put on the Supreme Court. Do not give the atheist communists a chance to take over your country. If your President wins, you still may have to fight for your freedoms, if the left mobs and the Chinese troops want to invade your country. With enough prayers your President and your country can win, but if not, then you truly will fall off this cliff into a communist hell. If you see such an invasion or takeover, then you will have your Warning, and a call to My refuges. Trust in My protection, no matter what happens."
Jesus said: "My people, you have seen some close incursions of your country by Russian bombers, and now Chinese troop movements in Canada and Mexico. There could be a nuclear missile attack before any invasion. You will see an EMP attack with missiles, but My Warning will come first. A more serious attack could happen if your President wins his re-election. The next few months could determine if you keep your freedoms or not. Be ready to leave for My refuges, when I call you to come."
Monday, October 26, 2020:
Jesus said: "My people, you are seeing yet another hurricane, Zeta, heading toward the Gulf Coast. You have had more land falling hurricanes hit your Gulf Coast than any other year. You are well into the Greek alphabet to name so many storms. All of these storms are a punishment for your abortions, and even for your clergy who are limiting Masses and places for people to sit. The water coming down the aisle of a church is like a flood of evil from your virus restrictions, where your bishops are telling people they are not obligated to come to Sunday Mass. Instead of having more Masses because of less capacity, some churches are having even less Masses. This evil control created by the China virus, is an attack on My churches to take away your freedom to worship Me. The cleansing of church services is another evil attack by the d*eep S*tate. Your prayer groups are now being forced to meet in the homes because you cannot use the churches. The left leaders are using the virus to scare people into submission, even though very few people are dying from Covid-19. Continue praying your 24 Glory Be Novena prayers for your President to win his re-election."
Jesus said: "My people, your prayers have been answered in that now you have Justice Barrett confirmed by the Senate and sworn in on the Supreme Court. This is the third Justice that your President has put on the Supreme Court. This went against all the Democrats who were trying to stop her confirmation. In the second vision you are seeing your own military preparing for any coup attempts, or any Chinese invasion. You have been weakened by your virus attack, but your military will stand firm against any foreign troop attacks. Your President has called up a million National Guard troops to deal with any coup attempts by Antifa and any Black Lives Matter mobs after the election. Continue to pray for your family, and for your President to win his re-election."
Tuesday, October 27, 2020:
Jesus said: "My people, the family of husband, wife, and children are the basic units of your society. I made Adam and Eve to be an example of how I started mankind. It is unfortunate that you have many broken families from divorce. You have other relationships as some living in fornication without marriage, and others living in homosexual relationships. These last ones are living in sin according to My Ten Commandments. In a husband and wife marriage, this is a true example of the love that I desire, because I am like the Groom to My Bride in the Church. I encourage you to have children in a married environment of love. It is hard for the children to be brought up with only one parent. Pray for your families to stay together when possible, and pray for the souls of your family to be saved. I love all of you as My children, and I wait for you to seek pardon for your sins in Confession."
Source: John Leary
Fr. Michel Rodrigue explaines The Events of the End Times
Do you want a quick overview of the end times? Then read "The great events of purification will begin this fall". If you want all the details of the unfolding events, then go to "Virtual Spiritual Retreat with Fr. Michel Rodrigue about the End Times".
The Pope's approval of homosexuality
Beware of the 'New World Order'
The Rosary is the weapon of these times
The truth about the Coronavirus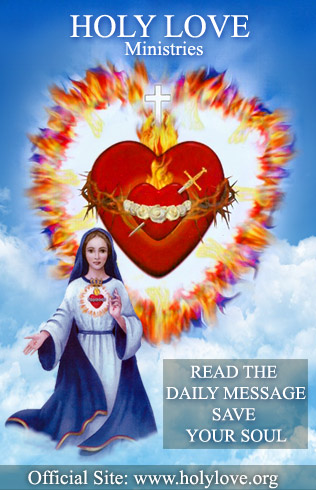 Read the daily messages
Catholics, we have entered the Pre-Tribulation, observe the Commandments, go to Confession; receive the Holy Eucharist; pray at least 3 Rosaries a day to keep your faith and save your loved ones. Prepare for the events that will devastate our planet: plagues, famine, WW3, cataclysms, antichrist's World Order