This great light that will be seen in the sky, will be a precursor for World War III
(Please read all from begin to end – From Oct. 25 to Nov. 6)
Tuesday, October 30, 2018 (Fr. Michel Rodrigue message)
IMPORTANT!!
PROTECT YOUR HOME WITH THE HOLY FAMILY
JOSEPH, JESUS and MARY
From the Eternal Father: "My son, Listen and write. I recommend (translation) that this message be communicated to everyone and everywhere that you have preached in United States and in Canada.
Remember the night when Padre Pio brought you into Heaven to see the Holy Family. It was a teaching for you and for the people who have heard you. It was also a sign to recall the night when my Beloved Son Jesus was born into the world.
Remember how my Evangelist Matthew wrote by the divine inspiration of the Holy Spirit how the star stopped over the place where My Baby Son Jesus was born. It was a sign for the Wise men. Today, it is a sign for you and for all Christians and for all the nations.
The Holy Family is a sign for every family, and we should model ourselves after them. I recommend (translation) that every family, who receives this message, should have a representation of the Holy Family in their home. It can be an Icon or a statue of the Holy Family, or a permanent Manger in a center place in the home. The representation must be blessed and consecrated by a priest.
As the star, followed by the Wise men, stopped over the Manger, the chastisement from the sky will not hit the Christians families devoted and protected by the Holy Family. The fire from the sky is a chastisement for the horrible crime of abortion and the culture of death, the sexual perversion, and the cupidity (lust) regarding the identity of man and woman. My children seek their perverted sins more than Eternal life. The increasing blasphemies and persecution of my just people offend Me. The Arm of my Justice will come now. They do not hear my Divine Mercy. I must now let many plagues happen in order to save the most people that I can from the slavery of Satan.
Send this message to everyone. I have given Saint Joseph, My representative on earth, as a protector of the Holy Family, the authority to protect the Church which is the body of Christ. He will be the protector during the trials of this time. The Immaculate Heart of My daughter Mary and the Sacred Heart of my Beloved Son Jesus, with the Chaste and Pure Heart of Saint Joseph, will be the shield of your home, your family, and your Refuge during the events to come.
My Words are my blessing over all of you. Whoever will act according to my Will, will be safe. The powerful love of the Holy Family will be manifested to all.
I AM your Father,
These words are Mine!"
Jesus said: "My people, today's first reading speaks of how everyone should be under My authority. A husband and wife are under a bond of love to love each other in marriage in the Church, but they also answer to My love. The single person also is under authority to Me and My Church. The priest is under authority to the bishop, the Pope, but also to Me in his ministry. My prophets are under authority to their spiritual directors and Me. By living under authority, you are living in obedience to Me and to those who you are under. Always recognize that you live in obedience to a higher authority than yourself. Do not think you can rule over just yourself or others. You need to live every day in humble obedience to Me and My laws. Every person is united in My love, as I love all of you, and by your free will, you could love Me as well. Give praise and thanks to Me for living according to My control of all creation."
Jesus said: "My people, some people enjoy accumulating money for themselves so they can control people, buy the latest gadgets and cars, and some use money to buy drugs. Too much money can be a source of sin. Money can also be a source of killing people for inheritances. You need some money to buy your food, and money for a car or a house. Do not treat money as a god, and do not desire money for its own sake. Instead, you should be willing to give 10% of your money to charity in helping your neighbor. By sharing your money, you are storing up treasure in heaven. So be satisfied with your lot, without seeking to be rich. I told you how hard it is for the rich man to gain heaven, because he does not want to part with his wealth. You are better to trust in Me to give you what you need, and you will have the necessities because I love you. You are here to know, love, and serve Me, and not to accumulate as much wealth as you can. Money is cold and it can be lost or stolen, so do not put your trust in money. Instead, put your trust in Me and that will be enough for you."
Sunday, November 4, 2018:
Jesus said: "My people, you have been praying your 24 Glory Be Novena to St. Therese for the pro-life people to win the elections. Now My Blessed Mother wants you to pray to her through her Guadalupe image for your people in your elections. You remember when President Bush was re-elected on December 12th with a Supreme Court decision. This image of My Blessed Mother also is connected with stopping abortions, which is what is at stake for your pro-life candidates. It is to your candidates' credit to stand up and fight to save My babies from abortion. Bring this image to your prayer group to help win the coming elections."
Jesus said: "My people, I am showing you a power surge that will cause areas of power outages much like you had some years ago when the Northeast grid went down. In the vision you were seeing sparks and transformers exploding as the power grid will go down. Such a massive power outage will take a long time to repair. The vision was not in the winter, but it will be difficult to have lights at night, and power to run your natural gas burners. Generators and solar systems will be working, but there will be gasoline and food shortages if the pumps are not able to pump gasoline. Such a long power outage could cause a famine. This is why I have encouraged My faithful to have 1 yr's supply of food for each person in your household. You may also need a source of water. Such a power outage will be the means for a takeover of America, so be prepared for such a disaster. Trust in Me to send you to My refuges, if your lives are in danger."
Wednesday, October 24, 2018: (St. Anthony Mary Claret)
Jesus said: "My people, I am showing you how all of heaven is looking down on all of your actions, so you need to be on your good behavior in all that you do for Me in My Name. I want you to take to heart the words of the Gospel where the more that is given to you, even more will be expected of you. This means that it is the duty of My faithful to always preach how I was crucified, the glory of My Resurrection, and how I will come again in victory over the evil ones. You recite this in the Mass, but you need to live it, as you need to be prepared for My coming every day. You also need to keep your soul ready and pure by frequent Confession. Just as in My parable, you always must be waiting for the bridegroom to come, by having your lamps ready with extra oil, as the five wise virgins. I will bring My Warning first to give all sinners an opportunity to repent and be saved. Then during the tribulation My refuge builders will have My refuges ready to receive My faithful, and they will distribute the food that I will multiply at the proper time. Be grateful that My faithful, who have crosses on their foreheads, will be protected from the evil ones by My angel of the refuge. Do not be concerned about when or how this will happen, but trust that I will be separating the lambs from the goats, and My faithful will then be brought into My Era of Peace, and later into heaven."
Jesus said: "My people, you have seen one of your worst hurricane seasons with Florence and Michael in the Atlantic Ocean, and many storms and typhoons in the Pacific Ocean. Each year your storms have taken a toll of damage on your buildings and your economy. Even your stock market is having its own problems. There is an increase in global warming that can enhance these storms, but it is happening on account of your decreasing magnetism of your magnetosphere, and from the HAARP machine. These storms are also a punishment on America for your many abortions as portrayed in the Gosnell movie. Your laws and decisions in your courts still allow legal abortions which are against My laws. You know deep down in your soul that abortion is murdering My babies, even if you do not want to admit it. This callous killing of babies I told you needs to stop, or I will stop it with even more serious disasters or wars. Listen to My words that America needs to stop killing a million of My babies every year. Keep praying to stop abortion and pray for pro-life candidates to win and change your evil laws. Keep praying your 24 Glory Bes to St. Therese so the mid-term elections can save your country from further destruction."
Thursday, October 25, 2018:
Jesus said: "My people, you are surely living in the end days. As in the vision, the curtain is opening on the last act of the evil ones. During the tribulation, it may seem that evil is winning, just as I was being crucified seemed to look like evil was winning as well. But fear not because this evil time will be shortened for the sake of My elect. At the Warning I will give every sinner a chance to repent and change their lives. You will have a life review and a mini-judgment to wake you up to how you have offended Me with your sins. Some people will be converted, but there could be divisions in families where some will believe, and others may not be converted. Work to have your family members believe so they can have a cross on their foreheads. Only those people with such crosses will be allowed to enter My refuges. You will see chaos and evil so bad after six weeks from the Warning, that it will be necessary to come to My refuges. The angel of your refuge will protect you and multiply your food, water, fuels, and even your buildings. After this trial, you will have your reward in My Era of Peace, and later in heaven."
Prayer Group:
Jesus said: "My people, I want you to pray for Pope Francis and for all the priests who are being accused of any improper activity with children. You are seeing several cases being brought forward for civil trials in various states. It is sad that some priests, who have committed crimes, are giving a bad name to all the good priests. So pray for all of your priests so they could continue in their proper ministry to provide you Mass and the sacraments."
Jesus said: "My people, you have seen thousands of people intent on coming into America despite your border laws. This is not the proper way to enter any country without an invitation, and they should be waiting their turn for entry. There are even reports that terrorists from other countries are joining this invasion of your laws. America is within its rights to refuse entry for this caravan. Pray that no violence will occur."
Jesus said: "My people, these actions appear to be focused on disturbing the upcoming elections by their timing of a few weeks before your elections. There could be some devious people who are trying to steal the current headlines for political purposes. Pray that the perpetrators can be brought to trial for such crimes."
Jesus said: "My people, many of your markets are manipulated for gains, or even for political reasons. Some traders appear concerned about interest rates and the latest tariffs. Earnings have driven some moves, but there appears to be some unusual reasons for the latest down trend. Pray for your country's economy which is doing better than some people are not admitting."
Jesus said: "My people, I have warned you before to beware of illegal use of your voting machines to change votes. There also are some people who are not citizens or dead people's names being used to vote that is illegal. A closer inspection should be made to verify if any people are voting twice or more. It is such manipulation of your voting process that is being used to put some people into office in close elections. Pray that you will have a fair election without such cheating."
Jesus said: "My son, call on My angels of protection to guard you from any harm from the weather at your talks. Have your people pray for your safety, as you reach out to share My messages with the people at your venues. It is important to help save souls, and I will help protect you and keep you in good health. The evil ones will try to throw stumbling blocks in front of you, but go forward in faith because My power is stronger than any evil demons. I will go before you to protect your travel."
Jesus said: "My people, you are seeing how important the upcoming elections are for your country's survival. The opposition party continues to support abortion, and some are promoting a socialism takeover. Your country will decide whether you will choose a democratic republic or a socialist government. Getting out to vote is important to preserve your country's freedoms. Remember to pray the 24 Glory Be Novena to St. Therese for your pro-life candidates to win, and keep praying this prayer every day up to election day."
Friday, October 26, 2018:
Jesus said: "My people, there are many people who do not believe in the existence of the devil, but there truly are many demons on the earth tempting people with sin and addictions. All addictions have a demon attached to it, and that is why it takes deliverance prayers, exorcisms, or miracles to break any addictions. During the coming tribulation, if the demons had physical bodies, they would blot out the sun. I am more powerful than all of the demons, so have no fear of them, and call on Me and My angels to protect you from their attacks. It is only when souls give their assent that they are opening portals for the devil to enter and control them. So bring souls to Confession so I can heal them and close any portals to the devil. I love all sinners, and I want to save every soul. It is by the soul's free will choice to choose to follow Me that will help save that soul. Those souls who reject My love, are risking hell, if they do not change before they die. Pray for your soul, the souls of all sinners, and for the souls in purgatory."
Saturday, October 27, 2018:
Jesus said: "My people, soon I will bring the Warning experience that you have been patiently waiting for. Everyone will have their life review at the same time all over the world. Your soul body will come up out of your physical body, and you will be outside of time as you will come to My Light. You will know that I truly exist, and you will have a life review where you will be able to remember all of your unforgiven sins. You will see your individual mini-judgment of heaven, hell, or purgatory. You will have a taste of whatever judgment you will be given. You will be placed back into your body so you could decide to follow Me or not. You will be given six weeks of time to convert your lives, and an opportunity to try and bring your family back to the sacraments. Those people, who are converted, will receive their cross on their forehead, and they will be able to enter the refuges. This Warning is a part of My Divine Mercy for all sinners to change their lives and be saved. Give thanks and praise to Me for all the gifts I give to all of My faithful."
Sunday, October 28, 2018:
Jesus said: "My people, you have heard the Gospel of how Bartimaeus, the blind man, called out to Me to be healed. He called out to Me as the Son of David. When you listen to the Gospel of My genealogy, you see the line of succession passing through King David. I healed Bartimaeus of his blindness, and he rejoiced that he could see Me, and he danced around. He had faith that I could heal him, and so his request was answered. I love all of My people, and I want all of My people to love Me from their hearts. I want you to take away this brick wall image, so you can see My loving Heart, and you can join My Heart in love with your own heart. Once you have established this daily love relationship with Me in prayer, I will protect you from any attacks and addictions of the devil. Once the scales of your spiritual blindness have been removed, you will see Me clearly, and you will want to be with Me always in your prayers, Mass, Adoration, Confession, and in your good works. Once My love envelops your heart, you will want to share My love with all of the people who desire to love Me. So take away this brick wall of your spiritual blindness, and rejoice in your love relationship with Me."
Jesus said: "My people, you are so used to hearing breaking news on your TV or in your newspapers, but this news is temporary, and the truth could be different. It is My Good News of My Death and Resurrection that is forever, and forever true. If you have My Word of love in the Bible, then why are you not reading the Bible every day? You would rather read the bad news in your papers, than My Good News in the Scriptures. When you read the Bible, you should read it slowly in your prayer room, and meditate on it, as well as acting on it. Do not just leave your Bible on the table to collect dust, but you should read a few pages at least every day. My words are forever, but your words are thrown out and discarded the next day. Remember My words of love that should be imprinted on your hearts forever. I love all of you so much that I died to save your souls. Give praise and thanks for all the gifts and blessings I bestow on you."
Monday, October 29, 2018:
Jesus said: "My people, you are blessed to be visiting an old Abbey of St. Benedict that dates back to the 1860's. The priest gave you some history of this Abbey. Every viable monastery is a blessing and a place of refuge. These monasteries may not all be preparing for the end times, but My angels will bring food and water for the people to survive. The angels will also provide bedding when needed. My people need safe havens for protection during the tribulation, and these monasteries will fulfill this role. Pray that the monks will have sufficient funds to survive this time. I will bless them, and put My angels of protection around them. My people can also pray for them and help support them where possible."
Jesus said: "My son, you are seeing how I was persecuted by the religious leaders of My day in the Pharisees. They chastised Me for healing a woman with a back problem on the Sabbath. I called them hypocrites because they preached the Mosaic law, but they themselves did not obey My laws of loving Me and loving their neighbor. My son, you also have been rejected and even criticized for proclaiming My words and My laws. You have been rejected by some priests to talk in their parishes because they fear the truth, or being against some bishops. Do not be afraid, My son. I want you to continue giving your talks, but you may have to avoid speaking in the churches, who do not want to hear My words. Pray for your priests that they could be healed of any addictions. Pray for the souls of the priests who are constantly being attacked by the demons. I love My priest sons, who are offering Mass and providing the sacraments for My faithful."
Wednesday, October 31, 2018:
Jesus said: "My people, in today's Gospel I am telling My faithful to enter heaven through the narrow gate. I call everyone to be reconciled for your sins, and work on loving Me in all of your actions. Those people, who repent of their sins, and seek My forgiveness, will be recognized by My Father in heaven. But those sinners, who refuse to repent, and refuse to accept Me as their Savior, I will not witness to them before My Father in heaven. My faithful will be welcomed into heaven, because many are called, but few are chosen. The unfaithful sinners will shout out Lord, Lord, but I will tell them I do not know you, and they will be cast into the flames of hell. Now is the time to get your soul right with Me in frequent Confession. Establish a love relationship with Me by your prayers and good works, and you will become My worthy disciples. Go out to all the nations and share My Good News, so people can believe in Me, and be saved by your evangelization efforts."
Jesus said: "My people, some people treat Halloween as a time to think of witches and demons, but you saw some cute little children asking for trick or treat candy. I have mentioned before not to use ugly, scary costumes for your children, and indeed the children you saw were dressed well. This is not a day for demons, but it should be a preparation for All Saints' Day. You could use the lives of My saints as models to follow for your own lives. It is not easy to strive to be a saint with all the evil distractions of today's possessions and desires for earthly things. It is better to desire heavenly things and perform good works, than to focus on pleasures and comforts of this world. So do not let the demons mislead you with their lies, but focus more on My love and the beauty of My creations."
Thursday, November 1, 2018: (All Saints' Day)
Jesus said: "My people, today there is a great celebration in heaven among all the saints, which includes all the people who have made it to heaven. Many of you have favorite saints, and you call on their help with prayers of intercession. Everyone in heaven is looking down on all of you, as My faithful are 'saints in progress'. Continue to follow Me, and keep on the right path, so you can come to heaven one day. You are tested on earth among all the demons, and most faithful need purification in purgatory. Those faithful, who live through the tribulation, will suffer their purgatory on earth at My refuges. Once I purify the earth of the evil people and the demons, I will renew the earth, and bring My faithful into My Era of Peace. There you will be perfected as saints, and on your death, you will be brought into heaven."
Prayer Group:
Jesus said: "My people, I have warned you how the persecution of prophets and good priests will get worse, as the demons gain more power. Some of your persecution will even come from within the Church. If you see unusual and heretical things being said in a church, then leave that church for a more traditional church. Eventually, many churches will not be teaching properly, and you will need to come to the safety of My refuges."
Jesus said: "My people, I have told you in previous messages how there will be a schism in My Church that will be divided between a schismatic church and My faithful remnant. If you see New Age teachings and Reiki healing being taught, then leave this church that is infested with demons. My faithful remnant will teach what the apostles taught, and if you see the churches teaching another Gospel, then you will need to come to My refuges."
Jesus said: "My people, you are seeing the darkness of the demons spreading all over the world in some churches, schools, and in the media. Persecution will come to My faithful, so be prepared to come to My refuges when I give you the word. Once I tell you, call on Me and I will have your guardian angel lead you with a flame to the nearest refuge. Your angel will put a shield of invisibility over you for your protection. Angels will protect you at My refuges and they will multiply your food, water, and fuels. Trust in My power which is greater than all the demons. You will have daily Holy Communion given to you at every refuge."
Jesus said: "My people, you read in today's reading from Revelation how the faithful people will be marked with a cross on their foreheads. You will see these crosses during the tribulation. Only those people, who believe in Me, will receive their cross from My angels. At the Warning those people, who are converted to the faith, will also receive their cross on the forehead. Work to bring your families back to the faith so they can have a cross on their foreheads. Only people with crosses on their foreheads will be allowed to enter My refuges. Those people without a cross on the forehead, will not be allowed by My angels to enter My refuges."
Jesus said: "My people, you are aware of those media who are supporting abortion, euthanasia, and homosexual lifestyles. I tell you these media will collapse under the weight of their own evil weight. I will punish those people who are teaching and promoting evil lifestyles. My faithful may be persecuted now by these evil ones, but soon I will bring My justice down against these evil ones, as they will be cast into the eternal flames of hell."
Jesus said: "My people, you will encounter evil people in all of their evil lifestyles. They will criticize you for not following worldly ways, but disregard their taunts, and continue to follow the faithful ways of My saints. When you face evil attacks, call on My saints and angels to protect you and support you in your battle against evil. My power is greater, and I will come to your aid in any situation. In the end I will win the victory over all of the evil ones, so be patient for you will be with Me in the glory of heaven."
Jesus said: "My people, there are some people who may doubt how I will provide enough food for all of My faithful at My refuges. You know in the Scriptures how I multiplied the fish and bread for 5,000 and 4,000 people. Nothing is impossible for Me. I only ask that you store some food, water, and fuels, so I can multiply what you have. I will provide you daily Holy Communion at My refuges, and you could survive even with My Eucharist alone. Fear not, because I know what you need to survive, and you will have it in abundance, even as they collected seven and twelve baskets of fragments from the original two fish and five barley loaves."
Friday, November 2, 2018: (Funeral Mass for Peggy Spiegelman)
Jesus said: "My people, it is always hard to lose a mother, but she was a good woman and faithful to Me. Peggy needs prayers and Masses, and she will be praying for her family and friends. Pray for peace in the family, as life is too short to not love each other."
Jesus said: "My people, I am showing you a massive corona discharge from the sun that could harm your communication satellites. Such an effect on the earth will cause a large aurora borealis at both poles. This will be like the strange light that was seen before World War II started. The Blessed Mother told the people then to pray the rosary and change their bad lifestyles. They did not listen to heaven's warning, and a strange light appeared in the sky, followed by World War II breaking out. A while back the Blessed Mother also called the people of today to pray the rosary and change their lives, or a grave punishment would come upon the earth. This great light that will be seen in the sky, will be a precursor for World War III. Your prayers could minimize the deaths, but this war will happen in the Middle East similar to the descriptions of the Battle of Armageddon. Keep praying for peace and for less people being killed, but this will be a punishment for your abortions and your sexual sins."
Saturday, November 3, 2018: (St. Martin de Porres, First Saturday)
Jesus said: "My people, I performed My first miracle of converting six large jars of water into the best wine in Cana. I am always generous in My miracles, and I fulfilled My Blessed Mother's request, for they had no more wine. My Blessed Mother leads you to Me with her rosaries that you pray every day. She also was a strength for My apostles after I rose into heaven. The Holy Spirit emboldened My apostles to have no fear, as My apostles went out to spread My Good News. From the cross I gave My Blessed Mother over to the care of St. John the Evangelist. Give thanks for My Blessed Mother to lead you."
Jesus said: "My people, your society has reached new lows in your morals. Few people are coming to Confession, and few people are living in a proper married state. Many couples live in fornication and adultery, instead of proper marriage of a man and a woman. Some continue to use birth control devices and abortion to control the live births. Your elections are coming in a few days, and America has a choice between voting for a socialist, communist government, or a Constitutional democratic republic. You have heard the lies and false accusations by the opposition party, but now your people can vote for those people who are speaking the truth. Your election will determine which way your government will be run. Pray for your country to correct its morals, or you will see more punishment in your natural disasters."
Monday, November 5, 2018:
Jesus said: "My people, you are living in an armed camp where many nations could use enough nuclear missiles to destroy most of your land all over the earth, and cause a nuclear winter. Most of your weapons are for a deterrent, and you hope they never have to be used. You even have anti-missiles to try and take down offensive missiles. When a major war breaks out, it is a threat to your human survival if you resort to using these nuclear missiles. This is why you need to pray for peace every day so such a catastrophic war does not come about. Trust in Me to warn you of such a danger, so you have time to get to a refuge for protection from a nuclear or virus attack."
Jesus said: "My people, I thank you for all of your prayers to elect pro-life candidates. This small house represents how there will be a close election for who will control the House of Representatives. If you pray in faith, you can have the House remain in the hands of the current party. This vision of the unfinished house, represents how it still remains to be decided. It is your people who will decide the direction of your country. Continue to pray your 24 Glory Be Novena to St. Therese for the pro-life candidates to win. Pray also for a fair election without any cheating at the polls. I will send My angels to protect your votes from any cheating."
Tuesday, November 6, 2018: (Election Day)
Jesus said: "My people, today your country has an opportunity to vote in the pro-life candidates to protect your rights in a democratic republic. It is your civic duty to get out and vote for the persons of your choice. America stands at a crossroads between socialism and your Constitutional way of life. Your abortions are the worst sins of your country, and that is why you need to vote for pro-life candidates to help stop the abortions that are causing your punishments in your natural disasters. Continue to pray for a fair election with no manipulation of votes, and no votes from people who should not be voting. Pray for My angels to guard your votes against the evil ones who are trying to falsify your election."
Source: John Leary
Fr. Michel Rodrigue explaines The Events of the End Times
Do you want a quick overview of the end times? Then read "The great events of purification will begin this fall". If you want all the details of the unfolding events, then go to "Virtual Spiritual Retreat with Fr. Michel Rodrigue about the End Times".
Messages of Holy Love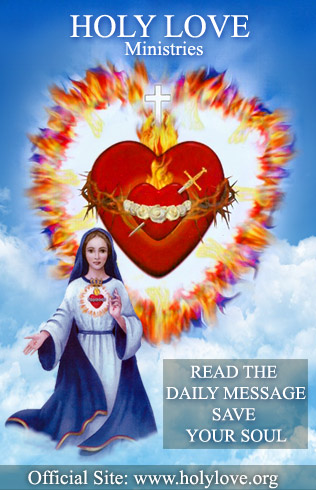 Read the daily messages
Catholics, we have entered the Pre-Tribulation, observe the Commandments, go to Confession; receive the Holy Eucharist; pray at least 3 Rosaries a day to keep your faith and save your loved ones. Prepare for the events that will devastate our planet: plagues, famine, WW3, cataclysms, antichrist's World Order