MESSAGE OF THE BLESSED VIRGIN MARY TO HER BELOVED DAUGHTER LUZ DE MARIA
AUGUST 2, 2020
Pray: communism advances, leaving agony upon Rome
"Beloved children of My Immaculate Heart:
Receive My Love.
DO NOT FEAR, CHILDREN, BE ONE WITH MY SON.
As you find yourselves in these serious times of change for all humanity, I have called you to look inside yourselves so that you might take the decision to prepare yourselves to convert in order not to renounce My Son.
HUMANITY FINDS ITSELF IN A TIME FOR THE AWAKENING OF CONSCIENCE, FOR LOOKING AT YOURSELVES IN THE INTIMACY OF YOUR INNER BEING, AND FOR TAKING THE PATH OF GOOD, BEFORE THOSE WHO DOMINATE HUMANITY BECOME YOUR MASTERS.
Time is moving towards the imposition of a single power that will come to govern humanity, and without reaction on the part of My children, they will find themselves in the hands of others.
Remain united in prayer (cf. Mt 26:41; I Thess 5:17): I have warned you to return to the true path at this time when misused science is being spread throughout the Earth with the aim of mentally controlling you.
Beloved children, persevere in prayer, do not hastily take paths that lead you away from the good; be cautious, do not hurry on the spiritual way – you must go slowly, surely and deliberately so as not to fall.
Pray, prostrate yourselves in reparation for those who have exceeded the limits of sin, surrendering to the devil and worshiping him through profanations and heresies against My Divine Son present in the Holy Eucharist, in the Blessed Sacrament of the Altar, committing offences against everything that reminds them of the Father's House.
Pray and make reparation, People of My Son, make reparation. The scales have tipped towards the Earth without humanity taking seriously what is happening. The measure of sin has increased just as the scourge of nature is increasing on the Earth, which is being purified, and My children together with it. Therefore, be Love for your brothers and sisters: the Love of My Son should be recognizable in My true children. Only in this way will My Son's People attract Divine Mercy, and in the end, the pain of this generation, in which what My Divine Son and this Mother we have revealed will occur, will remind you of these Appeals.
Pray My Children, pray that Love would not be extinguished within humanity.
Pray My children, pray: communism advances, leaving agony upon Rome.
Pray My children, pray, do not lose Faith: instead, do not let a moment go by without being the very Love of My Son.
Beloved children of My Immaculate Heart:
BE MY SON'S LOVE: HE IS THE BARRIER AGAINST EVIL. ADVANCE ON THE SPIRITUAL PATH WITH DIVINE LOVE, SO THAT FAITH MIGHT INCREASE WITHIN YOU, AND BE A TESTIMONY OF DEVOTION FOR YOUR BROTHERS AND SISTERS.
People of My Son:
BE THE HOPE OF A GLORIOUS DAWN where the Blood of My Divine Son will make the oppressors bow.
BE CHARITY TO ALL WITHOUT MAKING DISTINCTIONS (cf. I Cor 13).
BE CHARITY WHEREVER YOU ARE, wherever you go, until My children are all found within the Divine Heart of My Son.
Beloved children of My Immaculate Heart, do not fear, I will not abandon you, I stand before you.
I bless you, I love you, I cover you with My Mantle.
Mother Mary."
HAIL MARY MOST PURE, CONCEIVED WITHOUT SIN
HAIL MARY MOST PURE, CONCEIVED WITHOUT SIN
HAIL MARY MOST PURE, CONCEIVED WITHOUT SIN
Source: Revelaciones Marianas
Fr. Michel Rodrigue explaines The Events of the End Times
Do you want a quick overview of the end times? Then read "The great events of purification will begin this fall". If you want all the details of the unfolding events, then go to "Virtual Spiritual Retreat with Fr. Michel Rodrigue about the End Times".
Messages of Holy Love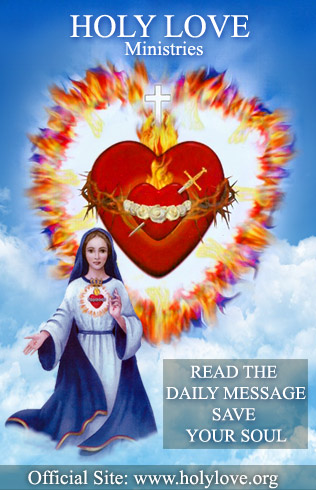 Read the daily messages
Catholics, we have entered the Pre-Tribulation, observe the Commandments, go to Confession; receive the Holy Eucharist; pray at least 3 Rosaries a day to keep your faith and save your loved ones. Prepare for the events that will devastate our planet: plagues, famine, WW3, cataclysms, antichrist's World Order