Please read these messages from beginning to end, pay attention to Our Lord Jesus' words on how to prepare and to be ready for refuges and for what is coming to the world … Also pay attention to the news from the USA to understand the end times.
Wednesday, August 19, 2020: (St. John Eudes)
Jesus said: "My people, by your Baptism and Confirmation, you are called to be evangelists and shepherds. You normally think of bishops as the true shepherds who are taking My place. Some bishops are weak in using their authority, so they need your prayers to pasture My sheep. You all will have to answer to Me for your good and bad deeds in your life at your judgment. Call on My help to carry out your everyday mission."
Jesus said: "My people, I have told you to be prepared for the events in the fall which goes from September 21 to December 21, 2020. You already have see some hurricanes hit your country with even more to follow. You saw a 110 mph storm ruin almost half the crops in Iowa. You are seeing many fires out West and record high temperatures all summer. On top of this you are still dealing with the China corona virus and all of its restrictions. You will be facing even more virus attacks as the weather gets cooler. You are also seeing man-made chaos and destruction by the communist anarchists in your cities. This pre-tribulation will quickly turn into the evil tribulation of the Antichrist once the deep state starts forcing mandatory vaccines with mandatory chips in the body. When the viruses are about to be released in the chemtrails and mandatory chips in the body are put in place, I will be calling My faithful to My refuges with My angel protection. Be ready to leave for My refuges with your backpacks ready, and your souls ready with frequent Confession. At My refuges My angels will protect you from the evil ones, and you will be healed of your ailments by looking on My luminous cross in the sky. Be thankful that My refuge builders and My angels will provide for your needs. Once most of My faithful are separated from the evil ones at My refuges, then I will bring My justice of fire down on the evil unbelievers. Pray to save souls before it is too late, and they are lost in hell."
Thursday, August 20, 2020: (St. Bernard)
Jesus said: "My people, not only are you preparing your souls with Confession, but you need to be ready for more serious weather events, in addition to the fall viruses. In the vision you are just coming into the Light of My Word, and then you will be tested with flooding from your hurricanes. You are entering into the heart of your hurricane season, and America will be tested because of your abortions, sexual sins, and the violence in your cities. You could also see more restrictions that will be forced on you by the authorities and the deep state because of the viruses. Refuse to take any vaccine or chip in the body when it becomes mandatory. When your lives are threatened, I will call you to the safety of My refuges. Fear not, because My angels will make you invisible to the evil ones who want to kill you in the death camps."
Prayer Group:
Jesus said: "My people, caves are one of the places of refuge that My angels will lead you at the appointed time. I have given you messages about coming to My refuges when you receive My inner locution. When I call you, you can call on Me and I will have your guardian angel lead you with a small flame to the nearest refuge. On the way to My refuges your angel will place a shield of invisibility over you so the evil people cannot see you. My angels will also shield you from any demons on the way to My refuge. Trust in Me that I will protect My faithful from all evil."
Jesus said: "My people, during this time of virus restrictions, your churches are making it difficult in some cases to even attend Sunday Mass. Some churches require you to register and still wear masks and keep social distancing. Because you are only using every other pew, the spaces are limited. It is only after the virus cases are low that your churches were allowed to open. My priests and bishops should be encouraging people to fill the churches as much as possible. Some churches are having more Masses, so every parish member will be able to attend Sunday Mass in person. Pray that all of the faithful will be able to attend Sunday Mass at all of your churches."
Jesus said: "My people, in days past, processions of My Blessed Sacrament were carried around neighborhoods, especially on the feast day of Corpus Christi. Your neighborhoods need more prayers and blessing with My Eucharist. My faithful need to witness to My Real Presence as a blessing against all the chaos and violence in your streets by the evil anarchists. Pray for peace in your cities to fight against this mob violence. I love all peoples, and I want to share My love even with those people who are causing riots. I am more powerful than these protesters, and you need to stand up for your religious freedom to worship Me."
Jesus said: "My people, I need My faithful to reach out to save all the souls whom you meet in life. You may be the only witness of My Word that some souls will only see in this life. By converting souls for Me, you can keep some souls from going to hell. Many souls are falling into hell by their own free will because no one has reached out to save them with My Word. Keep praying for poor sinners to help save as many souls as you can from going to hell. Every soul you save, will thank you later for sharing your gift of faith. After the Warning you will need to work at a fever pitch to save souls while you can, because souls will be seeking Confession."
Jesus said: "My people, your most important mission on earth is to save as many souls as you can while you are alive on the earth. You do not have to be a theologian or a teacher, but just share your faith and My love with those people who are open to My Word. Walk with them in faith and give a good example of a holy life to those around you. My parents need to lead their children to My sacraments, and teach them the faith so they can be saved. Have your children baptized and confirmed, along with Confession and Holy Communion. The parents are responsible for helping their children to have a good spiritual life. Take them to Sunday Mass and monthly Confession. When you come to your judgment, I will ask you how many souls were you able to save. When you love Me, you will share your love and faith with all those people around you."
Jesus said: "My people, you are in a troubled time where evil is rampant all over the world. Now more than ever you need as many priests as you can find to offer Mass and confess people's sins. Pray for your priests and bishops to help convert souls and bring people to My sacraments. My faithful need to come to Mass on Sunday despite all of your virus restrictions. Obey My Commandments and keep your soul clean by coming to Me in the priest at Confession. I love all souls, and I need My priest sons and My faithful to bring as many souls to Me as you can."
Jesus said: "My people, in the coming Warning I will let people know how they need to avoid taking any vaccine and any mark of the beast. Do not let the Antichrist control you by avoiding his eyes where he could cause you to worship him. You will be told not to worship the Antichrist, and you will need to come to a place of refuge to be protected from the evil ones. You will have six weeks of conversion to save souls after My Warning. All sinners will have an opportunity to be saved, but they must love Me by their own free will and seek My forgiveness of their sins. This will be your best time to save yourself and others, before the Antichrist will try and bring souls to hell. Trust in My power over the evil ones, and show Me your love in your prayers and your good deeds."
Friday, August 21, 2020: (St. Pius X)
Jesus said: "My people, in the first reading from Ezekiel, you read how I brought life back to the bones in the field to form a vast army. You know that I can do the impossible, so do not worry about what you will eat and drink at My refuges. I will have My angels provide any needed buildings to expand the existing refuges. I will also provide any needed multiplication of food, water, and fuels. You will need multiplied latrines for all the extra people. My angels will protect My faithful from harm, and you all will be helping each other to survive the coming tribulation. Trust in My power to defeat the evil ones, and provide for your physical and spiritual needs."
Jesus said: "My people, on the news you see the mob violence in your cities which is being paid for by your liberal rich people. Many shows on TV are showing the conflicts between your two parties. It is better to relax in prayer and read spiritual books, rather than be upset by the constant political infighting. You know there are evil people who are doing everything to try and take down your President. So if you want to keep your peace, you can avoid watching the latest news. It is better to focus on My peace than be curious about the arguments of both parties. Follow My Commandments of loving Me and loving your neighbor, and that will be enough for today."
Saturday, August 22, 2020: (Michael Macaluso memorial Mass)
Jesus said: "My people, in the vision you can see there is plenty of wheat to harvest, but the laborers are few. This also relates to the number of souls that need to be saved, but there are only a few who are working to convert souls. (Matt. 9:37) I am calling on My faithful and My prophets to go out to bring in My sheep. Your publisher, Queenship Publishing Co., is also out helping to save souls by putting out the books of My authors and prophets. They are to be commended for putting out My messages in your books for many years. They have been faithful to you even amidst many trials that they have gone through. Keep praying your 24 Glory Be prayers to St. Therese to continue getting out My Word so the people can prepare for the Warning and the tribulation."
Sunday, August 23, 2020:
Jesus said: "My people, I asked My apostles who do they think I am, and St. Peter said: 'Thou art the Christ, the Son of the living God.' I told St. Peter that this was revealed to him by My Father in heaven. Later, I told My apostles not to say this to others. This was My messianic secret that I tried to keep from the people until I told the Sanhedrin at My trial. I also told St. Peter that he was the rock on which I would build My Church. St. Peter was the first Pope in a succession of Popes up to today. I also warned you that there would be a division in My Church between a schismatic church and My faithful remnant. When you receive Me in Holy Communion, you receive God the Father and God the Holy Spirit as well, because We are One, and indivisible. So when you give thanks and praise to Me for My gifts, you are also addressing all Three Persons in the Blessed Trinity. Remember this when you make the Sign of the Cross."
Monday, August 24, 2020: (St. Bartholomew)
Jesus said: "My people, there is a lot of symbolism in the description of the New Jerusalem coming down from heaven with all the gleaming gemstones, the twelve gates, and the twelve courses of brick walls. This all represented the twelve tribes of Israel and the twelve apostles, of which St. Bartholomew was one. In the Gospel Nathanael was introduced by St. Philip to Me. I told St. Bartholomew that I saw him under a fig tree, but he would see greater things than that. At another time he would see My angels ascending and descending between heaven and earth. The guardian angels are descending to earth with the souls of the new babies. Other guardian angels are ascending to heaven with the souls of the dead."
Jesus said: "My people, you are being presented with two candidates: your President upholds life and your freedoms vs. the opposition party that supports the death culture. Your abortions are your single most important issue, which will decide if your children are going to live or die. Your President promotes life against abortion. He is against euthanasia, and he supports your freedom to worship Me without shutting down churches. Your President is against socialism and its associated atheism. He is strengthening your defenses against a communist takeover. I have allowed your President to win his election despite the left's cheating and lies. You have a choice in November to vote for America's freedoms. You may have several factors that could stop your election with more virus attacks and more destruction from your weather and your riots in your cities. Pray for America to keep your freedoms and keep praying to stop your abortions."
Tuesday, August 25, 2020: (St. Louis IX)
Jesus said: "My people, I have been giving you messages to prepare for My coming in the end times. You need to keep your souls clean with frequent Confession and help your neighbor with good deeds. Eventually, I will call My faithful to come to My refuges of protection by My angels. In the Gospel I called out woes to the Scribes and Pharisees because they followed human rituals, but their hearts were far from Me. I called them hypocrites because outwardly they claimed the law and cleansed the outside of their bodies, but in their souls they did as they pleased. I call everyone to cleanse their souls with Confession on the inside, and put into action the faith you believe in Me. Be humble in your actions, and follow what you preach so you cannot be criticized as hypocrites."
Source: John Leary
Fr. Michel Rodrigue explaines The Events of the End Times
Do you want a quick overview of the end times? Then read "The great events of purification will begin this fall". If you want all the details of the unfolding events, then go to "Virtual Spiritual Retreat with Fr. Michel Rodrigue about the End Times".
The Pope's approval of homosexuality
Beware of the 'New World Order'
The Rosary is the weapon of these times
The truth about the Coronavirus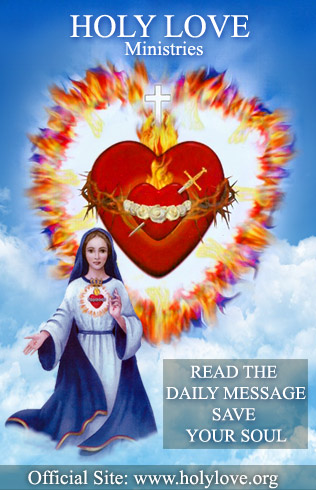 Read the daily messages
Catholics, we have entered the Pre-Tribulation, observe the Commandments, go to Confession; receive the Holy Eucharist; pray at least 3 Rosaries a day to keep your faith and save your loved ones. Prepare for the events that will devastate our planet: plagues, famine, WW3, cataclysms, antichrist's World Order