(CEV) "The Notebooks 1945-1950",  p. 170
The Angel Azariah says:  "Jesus is the Compendium of the love of the Three. Jesus is the Compendium of what the Most Holy Trinity and Unity of God is. He is the Perfection of the Three summarized in One alone. He is infinite, multiform Perfection summarized in Jesus. An abyss of Perfection before whom the heavenly forces and the blessed multitudes of Paradise prostrate themselves in adoration. An abyss of Love that could and can be comprehended and accepted only by those who possess love.
Consequently, we can here explain how the archangel who was a benign, holy spirit -but not holy to the point of being entirely love- was able to become the Spirit of Evil. It is the measure of love, which one possesses in oneself, that provides the measure of one's perfection and refractoriness to all corruption.
When love is complete, nothing more can come in to corrupt. The molecule which does not love is an easy breach for the infiltration of the first elements which are not love. And they force, distend, invade, and submerge the good elements, to the point of killing them. Lucifer had an incomplete measure of love. Self-satisfaction occupied a space in him, a space in which there could be no love.
And it was the breach through which his ruinous depravation came in. Because of it, he could not comprehend and accept Christ-Love, the Compendium of the infinite, single, Triune Love. And the fact that nowadays the heresy denying the Divine Humanity of the Second Person and making Him a simple man who is good and wise is vaster may be readily explained with this key: lack of love in the human heart, incapacity for love, poverty in the possession of love.
Observe, […] that in both the time of Christ and your era, there have always been two points concerning which man's arrogant intellect, which cannot believe unless it is humble and loving, has been most obstinate: that Christ was God and Man, performing exclusively spiritual actions because of which He was hated even by those closest to Him and thus betrayed, and that He created the Sacrament of Love. Then, now, and always, the 'loveless' heretically said and will say that God cannot be in Jesus and that Jesus cannot be in the Most Holy, Adorable -Eucharist.
Maria Valtorta: I later reread, meditated, and concentrated on the phrase "Lucifer, not holy to the point of being entirely love." With my sublime idea of the angels, I was unable to grasp how a spirit like the spirit that is an angel could have committed faults. I had always been invincibly astonished at the angels' sin! And no one had ever offered me an explanation as to how spiritual beings created by the perfect will of God, in a creation lacking the element of "Evil," which had still not taken shape -contemplating Eternal Perfection, and that alone, had been able to sin. Now the phrase "not holy to the point of being entirely love" halted me, again prompting my "How could this be so?"
The Angel Azariah says: The angels are superior to men. I say 'men' to refer to all the beings designated in this way, composed of matter and spirit. We are, then, superior, entirely spirit. But remember that when Grace lives in man and the Blood of the Mystical Body, whose head is Christ, circulates, while the seven Sacraments confirm him from birth to death, in every state and every stage of life, we then see the Lord in you, 'living temples of the Lord,' and worship Him in you, and you are then superior to us -you are 'other Christs'- and have what is called the 'Bread of angels'; but Bread is for men alone. A mystical, insatiable hunger for the Eucharist which is in you and makes us cling to you, when you feed on It, to perceive the divine fragrance of this perfect Food!
But, to go back to the initial point, I tell you that in the angels, different from you in nature and perfection, there is free will, as in you. God has created nothing as a slave. At the origin there was only Order in the creation. But Order does not exclude freedom. Rather, in Order there is perfect freedom. Nor is there in Order fear -as a constraint- of an invasion, an intrusion, or the anarchy of other wills which may produce secret pacts and ruins penetrating into the orbit and trajectory of other beings or created things.
The whole Universe was like that before Lucifer abused his freedom and by his own will introduced the disorder of passions into himself to create disorder in the Universe. If he had been entirely love, he would have had no room in himself for anything that was not love. He instead had room for pride, which might be termed 'the disorder of the intellect.'
Could God have impeded this event? He could have. But why violate the free will of the very handsome, intelligent archangel? Wouldn't He, the Most Just, then have introduced disorder into his orderly Thought by no longer willing what he had previously willed -that is, the archangel's freedom? God did not oppress the disturbed spirit by violently making it impossible for him to sin. His not sinning would then have lacked any merit. For us, too, it was necessary 'to be able to will the Good' in order to go on deserving to enjoy the vision of God, infinite Blessedness!
God, since He had wanted the sublime archangel to be at his side in the first operations of creation and wanted him to be aware of the future of the creation of love, so he wanted him to be aware of the adorable and painful necessity which his sin would impose upon God: the Incarnation and Death of a God to counterbalance the ruin of Sin which would be created if Lucifer did not overcome pride in himself. Love could only speak this language. The first annihilation of God is in this act of wanting to induce the proud one gently almost begging him, with the vision of what his pride would impose upon God not to sin so as to lead others to sin.
It was an act of love. Lucifer, already turned into a devil, took it to be fear, weakness, and offense, a declaration of war; and he waged war against the Perfect One by saying, 'You are? I, too, am. You made what You made through me. There is no God. And if there is a God, I am. I worship myself. I hate You. I refuse to recognize one who is unable to overcome me as my Lord. You should not have created me so perfect if you did not want rivals. Now I am and I am against You. Defeat me, if You can. But I do not fear You. I, too, will create, and because of me your Creation will tremble, for I will shake it like a bit of cloud seized by the winds because I hate You and want to destroy what is yours to create what will be mine over the ruins. I do not know or recognize any other power except myself. And I will no longer worship, I will no longer worship anyone but myself.'
Truly, in the Creation, in the whole Creation, down to the very depths, there was then a horrendous convulsion out of dread at the sacrilegious words. A convulsion the likes of which will not be seen at the end of the Creation. And from it there arose Hell, the realm of Hatred.
[…] Do you understand how Evil arose? From free will-respected as such by God of one who was not 'entirely love.' And believe that upon every sin committed since then there stands this judgment: 'Here love does not exist entirely.' Complete love forbids sinning. And without effort.
Whoever loves does not labor to reach justice! Love takes him high above all mire and danger and purifies him minute by minute of the barely perceptible imperfections which are still present in the final degree of consummate holiness, in that state wherein the spirit is so advanced that it is truly a king, already united by spiritual marriage to its Lord; God gives and reveals Himself to such a point to his blessed son, who enjoys only a single degree less than what the life of the blessed in Heaven is.
"Glory be to the Father and to the Son and to the Holy Spirit."
Maria Valtorta: The Notebooks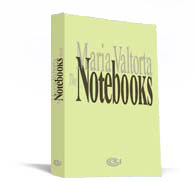 "These Notebooks belong to a category of mystical literature which the Catholic Church has long been familiar with: that of so-called "private revelations." A private revelation is not binding for the faith of Christians, but its value is to be measured by its capacity to instruct and inflame souls, spurring them to love God more and apply divine teachings to their everyday lives. In the confidence—and the conviction—that this work superabounds in these inspired qualities, we offer it for the spiritual nourishment of readers. —
David Murray
Content taken from the works of Maria Valtorta with the permission of the "Centro Editoriale Valtortiano Srl"- Viale Piscicelli, 89/91 – 03036 Isola del Liri, (FR – Italy),
www.mariavaltorta.com
, which has all the rights upon Valtorta's Works.
Fr. Michel Rodrigue explaines The Events of the End Times
Do you want a quick overview of the end times? Then read "The great events of purification will begin this fall". If you want all the details of the unfolding events, then go to "Virtual Spiritual Retreat with Fr. Michel Rodrigue about the End Times".
The Pope's approval of homosexuality
Beware of the 'New World Order'
The Rosary is the weapon of these times
The truth about the Coronavirus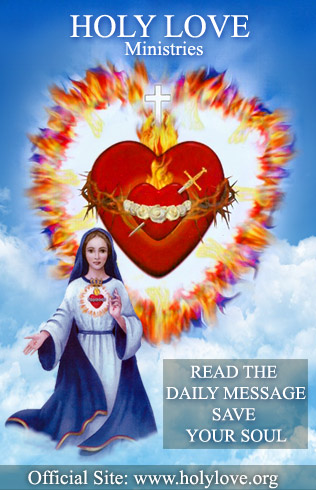 Read the daily messages
Catholics, we have entered the Pre-Tribulation, observe the Commandments, go to Confession; receive the Holy Eucharist; pray at least 3 Rosaries a day to keep your faith and save your loved ones. Prepare for the events that will devastate our planet: plagues, famine, WW3, cataclysms, antichrist's World Order