4,851 – Message from Our Lady, Queen of Peace, transmitted in 9/7/2019

"Dear children, ye are the Chosen People of the Lord and He loves you. This is the time for the separation of the tares and the wheat. Whom do ye want to serve? I ask you to be of my Son Jesus. Do not allow ye the mire of false doctrines to contaminate you. Stay ye with the true Magisterium of the Church of My Jesus. The day will come when many of My poor children will walk like blind people, for they will be contaminated. Seek ye the Light of God in truth, for only in this way can ye keep yourselves away from all the evil that will come. I suffer for what comes to you. Do not stray ye from prayer. Seek ye Jesus in the Eucharist and let the Holy Spirit guide you. After all tribulation, the Victory of God will come to the righteous. Go ye forward in defence of the truth. This is the message that I transmit to you today in the name of the Most Holy Trinity. Thank you for permitting me to reunite you here once more. I bless you, in the name of the Father, of the Son and the Holy Spirit. Amen. Stay ye in peace."
4,850 – Message from Our Lady, Queen of Peace, transmitted in 9/3/2019

"Dear children, seek ye strength in the Eucharist. My Jesus loves you and awaits you with Open Arms. Do not allow ye the light of faith to extinguish within you. Bend ye your knees in prayer. Only by the power of prayer can you bear the weight of the trials that will come. Do not retreat. My Jesus needs your public and courageous witness. Ye walk into a future of great spiritual confusion and many will depart from the truth. There will be great persecution of men and women of faith. I am your Sorrowful Mother and I suffer for what comes to you. Pray ye a lot for the Church of My Jesus. In the Great Division, few will remain in the truth. Whatever happens, stay ye with Jesus and with the true Magisterium of His Church. This is the message that I transmit to you today in the name of the Most Holy Trinity. Thank you for permitting me to reunite you here once more. I bless you, in the name of the Father, of the Son and the Holy Spirit. Amen. Stay ye in peace."
4,849 – Message from Our Lady, Queen of Peace, at Itaberaba, Bahia, transmitted in 9/1/2019

"Dear children, bend ye your knees in prayer. Painful times will come for the Church of My Jesus. The Holy will be despised and there will be great profanation in the House of God. Do not retreat. My Jesus is with you. Do not get discouraged. There is no victory without the cross. Love and defend the truth. Proclaim the Gospel and defend the Teachings of the true Magisterium of the Church of My Jesus. The silence of the righteous strengthens the enemies of God. Be ye men and women of courage. My Jesus needs each one of you. Ye walk towards a future of pain. Those who love and defend the truth will be persecuted by the false church and the pain will be great for the righteous. Whatever happens, stay ye with Jesus. He alone is your Way, Truth and Life. Do not forget ye: in your hands the Holy Rosary and Sacred Scripture; in your heart, the love of truth. I am your Mother and I suffer for what comes to you. Pray. Pray. Pray. An astonishing fact will happen on this land and many will have their faith shaken. I ask you to keep the flame of your faith burning. After all tribulation, the Lord will wipe away your tears and you will be rewarded generously. Go forward with courage and joy. This is the message that I transmit to you today in the name of the Most Holy Trinity. Thank you for permitting me to reunite you here once more. I bless you, in the name of the Father, of the Son and the Holy Spirit. Amen. Stay ye in peace."
Source: apelosurgentes
Prayer Alert Request!
2020 U.S.A. ELECTION
Seer John Leary: At the Eternal Father Chapel we were praying before our Adoration DVD. I could see Jesus suffering on the cross and He wants us to double our prayers for President Trump to win this election.
Jesus said: "My people, I cannot stress enough how important it is to pray for your President to win this election. The demons and evil people have gone all out with every fraud possible to beat your President. There are not enough people praying for this intention. This is why I have to depend on My prayer warriors to step up and stand your ground, if you want to keep your freedoms. PLEASE DOUBLE YOUR PRAYERS FOR YOUR PRESIDENT TO WIN. If you pray three rosaries a day, then you need to pray six rosaries a day. You are dealing with cheating, crooked people, so you are in a spiritual battle. Your rosary is your best weapon against this evil, fraudulent election, so you need more prayers to allow the courts to overturn the illegal ballots. Give thanks for your freedoms, but keep doubling your prayer efforts until the Trump lawyers can secure a victory."
Fr. Michel Rodrigue explaines The Events of the End Times
Do you want a quick overview of the end times? Then read "The great events of purification will begin this fall". If you want all the details of the unfolding events, then go to "Virtual Spiritual Retreat with Fr. Michel Rodrigue about the End Times".
The Pope's approval of homosexuality
Beware of the 'New World Order'
The Rosary is the weapon of these times
The truth about the Coronavirus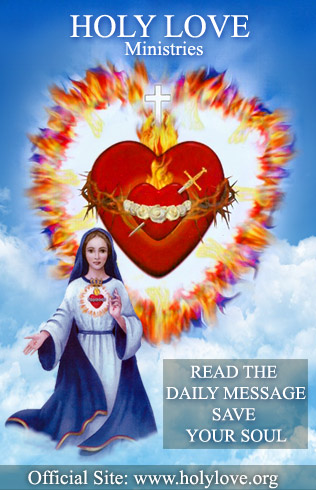 Read the daily messages
Catholics, we have entered the Pre-Tribulation, observe the Commandments, go to Confession; receive the Holy Eucharist; pray at least 3 Rosaries a day to keep your faith and save your loved ones. Prepare for the events that will devastate our planet: plagues, famine, WW3, cataclysms, antichrist's World Order