Please read these messages from beginning to end, pay attention to Our Lord Jesus' words on how to prepare and to be ready for refuges and for what is coming to the world … Also pay attention to the news from the USA to understand the end times.
In this section: Faith, Sins; State of the Church; Punishments, Abortion, Warning (Illumination of Consciences); Virus; New Pandemic; Vaccines; micro-chips; US Presidential Elections; Deep State; Uprisings; Possible Civil War, Tribulation, Kingdom of the Antichrist; Refuges …
Wednesday, November 18, 2020: (Dedication St. Peter, St. Paul Basilicas)
Jesus said: "My son, I know you are praying for vindication of this contested election, where Biden's people changed Trump's votes over to Biden votes to put Biden the winner by using cheating software. This is the ultimate in fake news, and it rises to a point of treason and criminal behavior. This information will be revealed in the light in the courts for all to see. The deep state has even used these rigged machines for other dictators to win in other countries. I hear your prayers, and you will soon see the outcome in the courts. Pray for your President to win, and for his physical protection. Be prepared to come to My refuges."
Jesus said: "My people, you are seeing several Democrat governors trying to shut down your activities, including discouraging your Thanksgiving dinner meetings. These governors are showing increased positive tests which have many false positives. There are more hospital cases that are more from the flu. Some deaths are up, but they are claiming many deaths that are not from covid-19. These governors are acting as dictators, but they are over reacting to the people who are sick. Soon Pfizer and Moderna will be offering vaccines for the corona virus, but do not take them. These vaccines are using nano technology that will change your DNA, and people could have bad reactions and possibly die. The 95% effectiveness is a lie, and should not be believed. With Moderna's high dose treatment, 100% of patients had bad reactions. The deep state is using this corona virus as a means to control people and prepare them for the coming communist takeover. When shutdowns and mandatory virus vaccine and flu shots threaten your lives, I will call My faithful to My refuges to be healed and protected from the evil ones."
Thursday, November 19, 2020:
Jesus said: "My people, I am giving this message to clarify that the coming mandate for a chip in the body is for buying and selling according to the Bible. You should absolutely refuse to take the chip in the body. There is also another possible mandate coming to take the virus vaccine and the flu shot. You should not take either shot because they will harm your immune system, and they are not that effective. The virus vaccine uses nano technology, and this will attack your DNA and threaten your health. Not that many people are dying from only the corona virus. Your media accentuates the numbers of deaths from the corona virus because they secretly are including other means of death. When the authorities threaten your lives for not taking the chip or the shots, then I will call My faithful to My refuges."
Prayer Group:
Jesus said: "My people, you have seen the ultimate in a fixed election that gave votes to Biden by stealing them from Trump. This is such an injustice to your people, and the Democrat leaders should go to jail for their treasonous mischief. I will allow the courts to bring these evil deeds into the light, even if it has to be resolved in the Supreme Court. Pray for your President to win and be vindicated amidst all of this cheating."
Jesus said: "My people, you need to pray and fast that at least one of these Georgian Republicans can win a seat in the US Senate that would prevent total Democrat control of the Senate. You need to double your prayers if you want to prevent a communist takeover of your government. These votes will also be under great scrutiny to count the legal ballots. Trust in Me to guide your country."
Jesus said: "My people, many are cheering to obtain a vaccine for the recent corona virus. Do not listen to the media hype, and do not take any virus vaccine because the nano technology will ruin your DNA. The high rate of effectiveness for these vaccines is a lie, and there are many severe side effects with these vaccines. This current virus is not that deadly, so you do not need this vaccine. If they make this vaccine mandatory, then you will be called to the safety of My refuges where I will heal you and protect you."
Jesus said: "My people, your President should have won this election, but the evil ones have hacked these voting machines to change thousands of Trump votes into Biden votes. The evidence of this fraud will be revealed in court, but you need prayers that judges will do the right thing, and review these fraud claims. Once this information is revealed, you could see some people go to jail for their crimes. Trust in Me that justice will be done, or you will see great consequences brought down on the evil ones for their crimes."
Jesus said: "My people, in the next month or so your country will make a big decision whether to keep your democracy, or allow the communists to take everything away from you in a communist state. If Biden wins, he will quickly be replaced by Harris, who will become a communist leader. Keep praying harder that your President can claim victory, and save your country from going communist."
Jesus said: "My people, when you see a more deadly corona virus get spread, you will be seeing dead bodies all around you. I will warn My faithful when they will spread this deadlier virus. I will tell you to come at once to My refuges, where you will be healed of any virus and protected from the evil ones who want to kill you. Fear not, My angels will make you invisible, and the evil ones will not be allowed into My refuges. Trust in Me to provide for your needs at My refuges."
Jesus said: "My son, you can see a possible civil war coming when your patriots will fight the communist mobs for your freedoms. During this chaos I will bring My Warning and My conversion time. After the six weeks of conversion, I will call My faithful to come to My refuges to protect their physical and spiritual lives. This is why you need to have your refuges ready soon, when you will receive My faithful. You will have sign up lists for each person to tell their skills, so you can assign the various jobs needed to run your refuge. You will receive Holy Communion every day, and you will assign people Adoration hours around the clock every day. Trust in My protection and the multiplication of all of your daily needs. You will endure the shortened tribulation of the Antichrist, and you will enter My Era of Peace after all of the evil ones will be cast into hell."
Friday, November 20, 2020:
Jesus said: "My people, your events and time are moving quickly. Soon you may be traveling to be with your family for Thanksgiving, despite all of the virus hype for restrictions. This vision of cars traveling is for coming to Thanksgiving Dinner. In addition, this vision of traveling is about people traveling to My refuges, when you could see a communist revolution from the Antifa and Black Lives Matter mobs. You will see a confrontation of patriots with the communists as you will be fighting to keep your freedoms. When your lives will be in danger from a civil war, or a worse corona virus, I will call you to My refuges. My refuge builders need to be prepared to handle all of My faithful who I will send to My refuges for protection. Trust in Me to multiply what you need for My believers."
Jesus said: "My people, you are seeing in this car accident how an air bag can help protect the passenger from serious harm. When you have a Presidential election, it is important to have a fair election without cheating on the ballots. There should be more protection from fraud in your elections. This means sending out ballots to everyone can be fraught with cheating. When ballots are added after the election day, no signatures are compared, and dead people vote, these are the problems when the election law is not followed. When Republicans cannot verify ballots, and they do not catch wrongful votes, this is more chance for cheating. Again the worst fraud is the hacked machines that changed thousands of Trump votes into Biden votes. The Dominion software and the Hammer-Scorecard software, both have been seen to change many votes. When all of this proof comes out in a court case, your election will be seen for the corrupt cheating that was allowed. Pray that your courts will allow your President to claim victory with the real legal ballots. Pray that your country will not be controlled by communists."
Saturday, November 21, 2020: (Blessed Virgin Mary Presentation)
Mary said: "My dear children, you are distraught at the cheating in this election, as your President has witnessed how his opposition has secretly stolen this election. Biden has even admitted that he has the fraud team working for him. There will be a fight in the courts over all of this cheating. After the decision is made for this election, you could see the beginning of a possible civil war, as your patriots will be fighting the communists to keep your freedoms. Keep praying for peace in your country that the communists do not take over your government. My Son, Jesus, will see to your safety, even at his refuges."
Jesus said: "My people, in the 2016 election I had My angels defy the planned cheating. In the 2020 election the Democrats made sure of their cheating using an overload of false and illegal absentee ballots. All of this cheating will come out in the courts to vindicate your President. Despite the certification of the states, the fraud will be uncovered for all to see. Such cheating is a crime, and many of these people counting illegal ballots, could go to jail. Your President is bearing his cross from three years of the empty Mueller report, the impeachment attempt, and now a grossly, fraudulent election. If the courts do not change the illegal ballots, then they should be impeached for dereliction of their duty to uphold the law. Pray for the President's win, and a win in the two Georgia US Senate runoff elections."
Sunday, November 22, 2020:
Jesus said: "My people, it is unfortunate that after you die, people soon forget to pray for your soul. This is why your grandparents were still in purgatory. With this Mass for them, they are now out of the flames, and your prayers and Masses will help them more now. In the Gospel you are seeing how people are judged on their good deeds as well as their sins of omission. There are times when you could have helped someone, but you were too lazy to act. Your judgment will be based on how much you love Me and your neighbor. You need to show your love for Me in your actions. If you did not have many good deeds, you could risk deep places in purgatory, or even hell if you did not show Me your love. Come to Mass on Sunday, monthly Confession, and do your daily prayers to show your love for Me."
Monday, November 23, 2020: (St. Columban)
Jesus said: "My people, in the Gospel I spoke about how the widow contributed all that she had to live on, but the others gave donations out of their surplus wealth. There is a custom in the Bible that speaks about donating ten per cent of your income for charity. This would be a noble goal for everyone to show Me your willingness to share the many gifts that I have given to each of you. There is another Bible quote that I love a cheerful giver. You are coming up on Thanksgiving Day, and you have many calls for your donations. You can help your church's donation, your Bishop's donation, a donation to your local food shelf, and any other needs to your family and friends. When you share your donations, you are showing Me how much you love Me, and how you love your neighbor. This will be remembered at your judgment. The more you give, the more it will be appreciated."
(Bl. Miguel Pro) Jesus said: "My people, Bl. Miguel Pro lived under a communist regime where they killed the priests and the Christians. If the courts do not turn over this fraudulent election, you could soon see your government taken over by a communist regime. With China's help the new Biden/Harris regime could take away your property and possessions, and your life could be in danger. Even if Trump wins, you will have a civil war, and an eventual communist takeover. This loss of your freedoms will be a punishment for all of your abortions. Keep praying for peace, but your lives will not be the same. I have told you often that when your lives are in danger, you will be called to the safety of My refuges. Trust in My protection and be patient, for I will soon destroy the evil ones, and cast them into hell. Then I will renew the earth, and bring My faithful into My Era of Peace."
Tuesday, November 24, 2020:(St. Andrew Dung Lac, Vietnam martyrs)
Jesus said: "My son, I know foul play was used to help Biden win this election, but I will allow evidence to be testified to show this criminal behavior. Biden did not campaign hard because he knew the Democrats were going to rig the votes for him to win. It was evident to those who saw the data, how millions of votes were changed and added to Biden so badly that many districts had more votes than were registered. It will be up to Democrat leaning judges to rule on this fraudulent election. I will allow overwhelming evidence to be shown in court, but it will be up to the judges to decide to accept it or not. I will even allow appeals to go to the Supreme Court. If you cannot trust your hacked machines and your left leaning judges, then your conservative people will never be elected. It is only your prayers and fasting that will allow your President to win. Keep praying your novenas, and you will see some miracles. You will still eventually need to come to My refuges for your protection."
Source: John Leary
Fr. Michel Rodrigue explaines The Events of the End Times
Do you want a quick overview of the end times? Then read "The great events of purification will begin this fall". If you want all the details of the unfolding events, then go to "Virtual Spiritual Retreat with Fr. Michel Rodrigue about the End Times".
Messages of Holy Love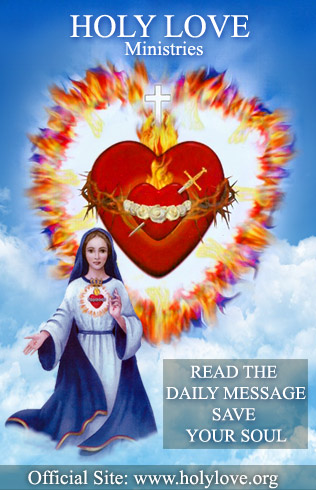 Read the daily messages
Catholics, we have entered the Pre-Tribulation, observe the Commandments, go to Confession; receive the Holy Eucharist; pray at least 3 Rosaries a day to keep your faith and save your loved ones. Prepare for the events that will devastate our planet: plagues, famine, WW3, cataclysms, antichrist's World Order