One, One Science Alone, is Necessary
(CEV) "The Notebooks 1943", p. 257
Jesus says: "I told you one day that the eternal envious one seeks to copy God in all God's manifestations. God has his faithful archangels. Satan has his. Michael-God's witness-has a hellish imitator; and so does Gabriel-God's strength. The first beast, on coming out of the sea -who with a blasphemous voice has the deluded proclaim, 'Who is like the beast?'- corresponds to Michael.
Vanquished and wounded by the latter in the battle between God's hosts and Lucifer's, at the beginning of time, healed by Satan, he feels deathly hate towards Michael, and love, if love can be spoken of among the demons -but it is better to say "absolute subjection" -for Satan.
A faithful minister of his accursed king, he uses intelligence to do harm to the descendants of man, God's creature, and to serve his master. Limitless, measureless force is used by him to persuade man to cancel out my sign on his own, which horrifies the spirits of darkness. Once it is removed, by sin which takes away grace, the luminous chrism upon your being, the Beast can approach and induce man to worship him as if he were a God and serve him in crime.
If man reflected on the kind of subjection he gives himself over to by wedding sin, he would not sin. But man does not reflect. He looks at the moment and the joy of the moment, and, worse than Esau, he exchanges God's fatherhood for a plate of lentils.
Satan, however, does not use only this violent seducer of man. No matter how little man reflects, in general, there are still too many men who, not out of love, but out of fear of punishment, do not want to sin seriously. And then the other Satanic minister appears, the second beast. In the guise of a lamb, he has the spirit of a dragon.
It is the second manifestation of Satan and corresponds to Gabriel, for he announces the Beast and is his strongest force: the one that dismantles without seeming to and persuades with lying sweetness that it is right to follow in the Beast's footsteps.
It is useless to speak of political power and of the earth. No. If anything, you can apply to the former the name of human Power and to the latter that of human Knowledge.
And if Power by itself produces rebels, Knowledge, when it is only human, corrupts with­out producing rebellion and leads a boundless number of initiates to perdition.
How many are lost through mental pride causing them to scorn the Faith and kill the soul with the pride which separates them from God! For if I will reap the harvest of the earth on the last day, there is already a reaper in your midst. And it is this spirit of Evil, who cuts you down and doesn't turn you into ears of eternal grain, but into straw for the dwelling places of Satan.
One, one science alone is necessary. I will repeat a thousand times: to know God and serve Him, to know Him in things, to see Him in events, and be able to distinguish Him from his adversary so as not to fall into perdition. Instead, you are concerned about increasing human knowledge to the detriment of superhuman knowledge.
I do not condemn Knowledge. Rather, I am pleased that man should deepen the insights he has gradually been building up by knowledge, so as to be able to comprehend increasingly and admire Me in my works. I have given you intelligence for this. But you must use it to see God in the law of the star, in the formation of the flower, in the conception of a being, and not use intelligence to violate life or deny the Creator.
Rationalism, Humanism, Philosophism, Theosophism, Naturism, Classicism, Darwinism-you have schools and doctrines of all kinds and are concerned about them all, no matter how much Truth is very distorted or suppressed in them. You do not want to follow and deepen knowledge of the school of Christianity alone.
A natural resistance, moreover. In deepening knowledge of religious culture, you would be obliged either to follow the Law-and you do not want to do so, or to confess openly that you want to trample upon the Law. And you don't want to do this either. You thus do not want to become learned in supernatural Knowledge.
But, poor fools! What will you do with your little schools and your little words when you have to take my examination? You have extinguished the infinite light of true Knowledge in yourselves and have believed you are illuminating your souls with substitutes for light, just like some poor madmen seeking to put out the sun by making a lot of little lamps into a new sun.
But even if mists hide the sun, the sun is always in my firmament. But even if with your doctrines you create mists concealing Knowledge and Truth, Truth and Knowledge always exist, for they come from Me, who am eternal.
Seek true Knowledge and you will understand Knowledge as it should be understood.
Free your souls of all the artificial superstructures and lift up the true Faith therein. Like spires of a spiritual cathedral, Knowledge, Wisdom, Intellect and Fortitude and Humility and Continence will bloom thereupon, for the true sage knows not only what is humanly knowable, but knows what is hardest of all: how to master himself in the passions of the flesh and make his lower part the pedestal to lift up his soul and launch his spirit tow the Heavens, to meet Me, who come and am in all things and who love to be the true and holy Master of my brothers and sisters."
Maria Valtorta: The Notebooks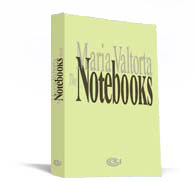 "These Notebooks belong to a category of mystical literature which the Catholic Church has long been familiar with: that of so-called "private revelations." A private revelation is not binding for the faith of Christians, but its value is to be measured by its capacity to instruct and inflame souls, spurring them to love God more and apply divine teachings to their everyday lives. In the confidence—and the conviction—that this work superabounds in these inspired qualities, we offer it for the spiritual nourishment of readers. —
David Murray
Content taken from the works of Maria Valtorta with the permission of the "Centro Editoriale Valtortiano Srl"- Viale Piscicelli, 89/91 – 03036 Isola del Liri, (FR – Italy),
www.mariavaltorta.com
, which has all the rights upon Valtorta's Works.
Fr. Michel Rodrigue explaines The Events of the End Times
Do you want a quick overview of the end times? Then read "The great events of purification will begin this fall". If you want all the details of the unfolding events, then go to "Virtual Spiritual Retreat with Fr. Michel Rodrigue about the End Times".
Messages of Holy Love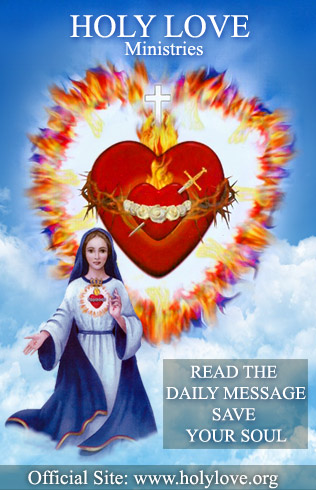 Read the daily messages
Catholics, we have entered the Pre-Tribulation, observe the Commandments, go to Confession; receive the Holy Eucharist; pray at least 3 Rosaries a day to keep your faith and save your loved ones. Prepare for the events that will devastate our planet: plagues, famine, WW3, cataclysms, antichrist's World Order