Please read these messages from beginning to end, pay attention to Our Lord Jesus' words on how to prepare and to be ready for refuges and for what is coming to the world … Also pay attention to the news from the USA to understand the end times.
In this section: Faith, Sins; State of the Church; Punishments, Abortion, Warning (Illumination of Consciences); Virus; New Pandemic; Vaccines; micro-chips; US Presidential Elections; Deep State; Uprisings; Possible Civil War, Tribulation, Kingdom of the Antichrist; Refuges …
Wednesday, November 11, 2020: (St. Martin de Tours, Veterans Day)
Jesus said: "My son, this image of Noah's Ark is symbolic of how My refuges will be your arks of safety during the tribulation of the Antichrist. With this election fraud you could be facing an attempted revolution to take over your government. You could see a clash of Antifa and Black Lives Matter mobs with your National Guard and armed patriots. You could see people dying from the fighting, and possibly others dying from the virus and the flu. This will endanger your lives, and I will call My faithful to My refuge arks with My inner locution. Be prepared also for My Warning and time of conversion during this chaos. Trust in Me to protect you from the evil ones who want to kill you."
Jesus said: "My people, you have seen some proof of how dead people were voting. The Democrats wanted mail-in ballots delivered to every registered voter, but they did not cleanse the registry of dead people, and those people who did not vote in the last Presidential election. The Dominion voting machines were used to change Trump votes into Biden votes. This was not a glitch, but a planned vote manipulation. It was so bad that the election people stopped using the machine, and had to hand count ballots. The last minute ballots were not checked for signatures, and some districts had more votes than were registered. Your President's people will have a chance to audit the count of legal ballots. No matter the outcome, your country will truly see how ruthless the Democrats are at producing criminal illegal ballots to try and steal this election. Pray for peace because this recount could cause a revolution. Trust in Me to call you to My refuges when chaos begins, and your lives are in danger."
Thursday, November 12, 2020: (St. Josaphat)
Jesus said: "My son, you have done well in preparing your refuge as I instructed you in every phase of your work. You have prepared beds, a chapel, cookware, heaters, food, and a well for water. You have solar panels for some electricity, and lights for the night. I told you that you will be using all of your preparations for the people who I will send to your refuge. My angels will make you invisible to your enemies, and they will shield you from bombs, an EMP attack, and a comet. The evil ones will cause a revolution because they want to destroy your government with a communist takeover. Evil will have a brief hour, and then I will bring My Comet of Chastisement that will send all the evil ones into hell. Be patient through the tribulation because My power will reign all over the earth. My justice will reign supreme over all of the evil people and the demons. Trust in My protection of My faithful at My refuges."
Prayer Group:
Jesus said: "My people, with your prayers I was able to help your President win by having My angels change back the votes that the Democrats tried to rig the first time in 2016. Now in this present 2020 election you have been hearing all manner of cheating that the Democrats are using. The voting machine software changed many Trump votes to Biden votes. My people need to double your prayers so these illegal actions can come into the light to show how evil and desperate the Democrats are to fix an election. They want power, and they will cheat with crime to grab power. Pray that this election can be overturned. Be prepared for a coming civil war between the communists and the patriots. You will need to come to My refuges when your lives are in danger."
N.B. There is a CIA software called Hammer-Scorecard which was used to change hundreds of thousands of votes from Trump to Biden where the votes are sent for collection. If the real votes are compared to the changed numbers, you would see the fraud. If this program is not stopped, you will never have a fair election again.
Jesus said: "My people, the radical Democrats are so angry at your President that they want to make lists of his supporters so they can hurt them financially. They are planning to tear down your border wall and welcome Muslims and drug lords to enter your country. They will work with China for a communist takeover. Pray hard to help your President win, or you will soon be a communist state. If you are taken over, I will call you to the safety of My refuges."
Jesus said: "My people, you need to pray hard again that the Republicans can win one of these seats in Georgia, or you will face a possible dictatorship. Pray also that the votes are not rigged again as in the general election. There will be challenges on these votes. Without prayer and fasting you could see more illegal votes. Trust in Me to guide your country."
Jesus said: "My people, you have many people being brainwashed with socialism or communism in the college schooling of your students along with the controlled media. You have seen many abortions that have taken the lives of millions of My babies in the womb. This coming revolution, an EMP attack, and more virus and flu cases are all punishments on your nation for all of your abortions. I will protect My faithful in My refuges, but your country will suffer through the tribulation. Have trust in My justice because I will bring My victory over the evil ones who will be cast into hell."
Jesus said: "My people, I will separate My faithful into My refuges from the evil ones where My angels will not allow the evil ones to enter. Once I have divided My faithful from the evil ones, I will then bring down My Comet of Chastisement that will kill all of the evil ones and send them into hell. I will then renew the earth and bring My faithful into My Era of Peace. Have patience while you are protected at My refuges."
Jesus said: "My people, some of your governors will be dictating more serious restrictions on your people, when your churches will be closed and your prayer groups could be harassed for having too many people in your houses. You could even have difficulty in coming to your grocery stores. You need to have extra food for this time of dictatorial control. If your lives are threatened, you will be called to My refuges."
Jesus said: "My people, you have seen a record number of hurricanes this year as part of your punishment for your abortions. These severe storms will continue into your winter weather. The violence and hatred among your people is being reflected into your weather. I am in control of everything, and man is but a reed blowing in the wind compared to the power of nature. You will be
praying for this destruction to stop, but you will continue to suffer for your sins. Trust in Me to protect My faithful, but you must endure the tribulation of the Antichrist."
Friday, November 13, 2020: (St. Frances Xavier Cabrini)
Jesus said: "My people, I have given you this account several times, how I separate the good people from the evil people. Then I brought destruction down upon the evil people, so I did not kill My faithful. In the case of Noah, I had him build a huge ark for his family and all of the pairs of animals, male and female. Once they were in the ark, I brought the flood that killed all of the evil people. At Sodom I directed My angels to lead Lot and his family out of the city. Then I brought down fire and brimstone on the evil people that killed them all. Now in these end times, I have called people to set up refuges for My faithful. At the proper time I will give My faithful an inner locution to come to My refuges of safety. Your guardian angels will lead you with a flame to the nearest refuge. My angels will put a shield of invisibility over My refuges, and even a shield to protect you from bombs, an EMP attack, and even My Comet of Chastisement. Once My people are separated, I will bring destruction down upon the evil ones who will be killed and cast into hell. My faithful will have their reward in My Era of Peace, and later in heaven."
Jesus said: "My people, I want you to be praying in earnest that Trump can win his case over the software Hammer-Scorecard that changed the votes, or you will never have another fair election. The more prayers you pray for this case, the more miracles I can work to defeat the deep state. The judgement seat in the vision is a sign that this case will be settled in the courts, and possibly in the Supreme Court. My justice will fall on the evil people who are committing treason by changing the votes of your people. Keep praying until the final decision is made."
Saturday, November 14, 2020: (Requiem Mass for Don Hill)
Jesus said: "My people, Don was a good man in all that he did for Me, and he is in upper purgatory. I know you are praying hard for your President to overturn the CIA's programming (Hammer-Scorecard) that hacked the voting numbers by 3% in the battleground states by changing Trump votes into Biden votes. The other absentee problems and dead people voting are a distraction from the big story, because they were only a small amount of votes. The CIA program was used to hack the vote numbers on the internet overnight on election day so the vote tallies put Biden a winner in the battleground states in the morning. Unless this crime is thoroughly investigated, the deep state will keep using this program to bring their candidate victory every time. Pray for your President to win over this treasonous, fraudulent election."
Jesus said: "My people, once the communists take over your country, you will see an ethnic cleansing of religious people and those people who followed your President Trump. The evil ones will try to remove any pictures of Me or My cross, as well as permanently closing down all of your churches. The communists are atheists, and they will cleanse all religious people, and burn the churches and religious books. When the communists take over, you will be worse than Venezuela. The only safe place for My believers, will be at My refuges where My angels will protect you from the evil ones. Have patience through the shortened tribulation of the Antichrist. After this tribulation, I will destroy all of the evil ones and cast them into hell. Then I will bring My believers into My Era of Peace.
Sunday, November 15, 2020:
Jesus said: "My people, I give everyone certain talents for providing a person's income and for helping people. In the Gospel parable there is a day of reckoning or a judgment. It is what you do with your talents that you will be judged on. I will judge people in how they loved Me and their neighbors. The one person, who buried the master's money, was held accountable for doing nothing, and the money was taken away. That person suffered for wasting the God-given talents. I give My faithful both physical and spiritual gifts. You can earn your living by working, and you can share your money with those who are in need in your family, or helping your neighbor. You can share your gift of faith by teaching the children in CCD classes, or you can help people at the food shelves. You will be judged by your actions throughout your life, so be busy using your talents all of the time."
Monday, November 16, 2020: (St. Margaret, Scotland, St. Gertrude)
Jesus said: "My people, in today's Gospel you are reading how I healed the blind man as he received his sight. So also you are seeing how these manipulated votes occurred in the dark of night, but soon these evil deeds will be revealed in the light for all to see how the Democrats cheated to try and steal this election from your President. Many of the battleground states were using Dominion machines and software, and you have learned they came from Canada, and the server for counting your votes was located in Germany. You will see this amounts to foreign interference that will come into the light. Be patient, My faithful, that events could change the circumstances of your election outcome. Keep praying for your President to win, but also pray for the protection of his life from the deep state. You will still see some violence that could kill some people, and I will eventually call you to the safety of My refuges."
Jesus said: "My people, I have asked My faithful to pray and fast that your President could win his case before the courts. He will need the court to give him a chance to present his case and show the fraud committed by the Democrats. There were software programs on the Dominion machines that deleted Trump votes and switched them to Biden votes. Then the new vote totals were saved to a new file over the old data. There was another program, 'Hammer-Scorecard', that changed hundreds of thousands of Trump votes to Biden votes. There also were truckloads of false ballots that were all for Biden without any choice marked for Senate or House votes. Many of these false ballots were delivered without signatures or proper postmarks. With all of this cheating exposed in a court, you could have votes given back to Trump to win enough states to win. If the courts do not rule in Trump's favor, there could be consequences. Pray that Trump will be vindicated so he could win this election. You will see much violence after the election is certified. Be ready to come to My refuges for your protection with My angels."
Tuesday, November 17, 2020: (St. Elizabeth of Hungary)
Jesus said: "My people, many of My faithful have taken advantage of stocking up on your canned foods for the next possible shutdown from a recurring virus and flu. You have also made donations to your local food shelf to help those people who are unemployed. As you approach Thanksgiving Day, you need to think about helping those people who cannot buy food. You also may have to help those people in your family who are not well off. In the second vision you are seeing more attacks from Antifa and Black Lives Matter mobs as they are striving to take over your government to make you into a communist state. America has treasured its freedoms so long that there will be a clash between the patriots and the communists. If the fighting is severe, you could see many deaths from a shooting revolution. The evil ones will use increased virus cases to control you with more shutdowns. This control that is forced on you, is a precursor for setting up a communist state. During this chaos, I will bring My Warning and conversion time. After that, you will soon be called to My refuges, as the evil ones will try to kill My believers. My angels will protect My faithful at My refuges. Trust in Me to protect you during the coming tribulation."
Source: John Leary
Fr. Michel Rodrigue explaines The Events of the End Times
Do you want a quick overview of the end times? Then read "The great events of purification will begin this fall". If you want all the details of the unfolding events, then go to "Virtual Spiritual Retreat with Fr. Michel Rodrigue about the End Times".
The Pope's approval of homosexuality
Beware of the 'New World Order'
The Rosary is the weapon of these times
The truth about the Coronavirus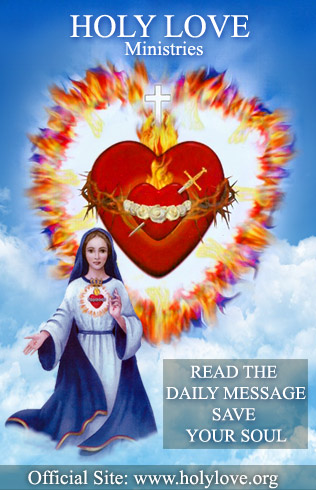 Read the daily messages
Catholics, we have entered the Pre-Tribulation, observe the Commandments, go to Confession; receive the Holy Eucharist; pray at least 3 Rosaries a day to keep your faith and save your loved ones. Prepare for the events that will devastate our planet: plagues, famine, WW3, cataclysms, antichrist's World Order