JUNE 26, 2019 - Jesus, Your Savior
To love means even to suffer. I have given you the example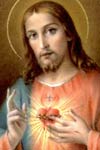 "My daughter, why do you say, "My heart does not know how to love one hundred percent"? Do you not yet understand that in your heart it is I? Reassured, then, love like I let you love your brethren, be always sincere, speak in My name, evangelize like you know how with all your limits and I will continue to suggest to you what I want you to say. Be serene, then, and remember that what issues from your mouth is my suggestion. Love your brethren and continue to take them aside when they are in error because it is what I want. Be truthful and assured in speaking. My suggestions will not lead you to say inaccurate things. Give Me the responsibility when someone reproves you for being too self-assured in speaking. Write and continue to bring forward my suggestions. So many of my children do not love enough; for this reason they doubt what I tell you. To love means even to suffer. I have given you the example. Live even in suffering, my Will, and all will go in the right direction. Offer me you sorrows, above all those on the spiritual level, in the certitude that they will not be lost. How many of your brethren will be saved by your offerings! Have you never thought of this? Dear children, I ask from all of you this kind of offering. You will soon see the fruits from it that will ripen in you and for love, only for love. I am near you, I support you, I bless you so that your strength multiplies for the good of your brethren. My Mother loves you and always intercedes for you."
JUNE 19, 2019 - Jesus, He Who Will Return
I recommend to you, each of you, to be obedient to my words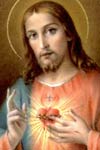 "Have you understood, dear children, what I told my disciples? Why do you look [up] at me? Just as I have ascended into heaven, so will I return descending among you. My children, so dear to me, I am your Jesus and will come, or rather, will return among you on your earth. All the signs that I have been giving you to believe in Me and in my second coming are not enough for you, but I tell you: pray, repent, and with a good confession I will remit your sins. Then you will be ready, like a bride who awaits her spouse. My dear children, your earth has been destroyed by your own hands. Not even the animals have disobeyed the Creator like you have. Unfortunately, you will no longer be able to set things right, not even a bit. I love you and do not want to lose you; it is for this reason that I can no more protract my coming among you. I recommend to you, each of you, to be obedient to my words. If I come again to you it is to plead with you to change your life, to love my Father, to respect and follow all the messages that my Mother has been leaving you for a long time. You follow every fashion, but you do not understand that to follow my way no changes are needed? My Word Is and will remain one. There is no before and after. The "Word" is one and there is no question. The sun rises and sets, but my Word will never set. Dear children, believe me when I tell you that no one will be able to love you like I love you. I have given my life for all of you. Each of you is unique and unrepeatable for me. Wake up from this slumber. Leave behind every kind of drug and give your heart the joy that it needs to live in peace. I give you my peace and I bless you."
JUNE 12, 2019 - Mary, Mother of Jesus
Do not fear trials because, close to us, the ancient serpent can do nothing against you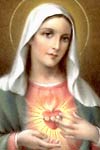 "Dear children, here I am among you. I want truly to inflame your hearts so that they burn with love for my Son. You know how difficult it is to pass through the narrow door, but if you want to follow Jesus, his passage is obligatory for each one of you. Do not have any trepidation for all the things that you will see. You know well that after the storm the sun returns to its splendor. My children, so very dear to me, you have the certainty of having a Father who loves you, so much that he sacrificed his Only Begotten Son. I do not leave you. I accompany you as only a mother knows how. Be close to Me, fear not. The world is putting you to the test. You know very well that all that comes from the world is worldly; therefore, at the spiritual level, it can do nothing for you. Cling strongly to me. You will find that certainty that only my Son can give you. Do not fear trials because, close to us, the ancient serpent can do nothing against you. I support you in trials and you can always win against evil. Seek always to opt for the spirit when you find yourselves before life choices. If your spirit is satisfied, you will have joy in your heart and the love of your God. Do not treat yourselves to passing joys but walk among heavenly ones. Prayer is the only weapon of defense. Pray to your Father with faith and He will make possible even the impossible. Offer your sufferings. Pray for your non-believing brethren. Pray for the Church in its struggle with evil as never before. Pray for the family, domestic church. I bless you, I assure you of my love and that of my Son. Be strong and aware that God is your Father. Be courageous evangelizers."
JUNE 5, 2019 - Jesus and the Spirit of God
The times are coming to fulfillment. Be true witnesses of faith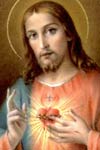 "May the Holy Spirit descend upon you, your families, and upon all the cenacles of prayer. You know very well that without the presence of the Spirit, your prayer would not bear its fruit. My dear children, never tire of calling upon the Spirit, because his strength alone can change your life. Fatigue will leave you to let enter within you his strength, his love and holy fear, his joy, his life. The times are coming to fulfillment. Be true witnesses of faith, now more than ever does the whole world need my help. What do you think you can do without my support? Man, in himself, would collapse at every dash of his foot. . You know well that my presence is infinite power. None of you could live only by material things. How often, even in suffering, do you feel serene and happy? And why, instead, enjoying the things of the world, are you never fully satisfied? You are born from the hands of God, and for this reason you can never live fully far from Him. Dear children, the Trinity fills you in every moment with true life, gives you counsel, sanctifies you, and totally enlivens you. Do not distance yourselves from your God. You would be like sheep without a shepherd. All the things of the world that you possess will never be enough to full your voids. I show you the way. Fear not; no one can do you wrong or diminish your faith – I will not allow it. I bless you, my such beloved children. Be always ready to listen to my voice."
Source: keepwatchwithme.org