February 2, 2017: Message to the seer Lily of the Holy Face of Jesus (Giglio del Santo Volto)
God the Father: Greece, Turkey, Ireland, Norway to suffer. Italy on the edge of a precipice
At all times let your garments be white, and spare not the perfume for your head.
(Ecclesiastes 9: 8)
 Before you are driven away, like chaff that passes on; Before there comes upon you the blazing anger of the LORD: Before there comes upon you the day of the LORD'S anger.
(Zephaniah 2: 2)
 On entering the tomb, they saw a young man sitting on the right side, clothed in a white robe, and they were utterly amazed.
(Mark 16: 5)
 "Children, listen up:
I have decided to dedicate a special day to remunerate those who have accomplished duly and wisely their work for the Glory of the Father.
You will receive directions about it, in the time to come.
In consecrating yourselves to the Divine Will, you are confirming yourselves in the Absolute Truth and errors are to become less and less frequent, because you will be in Me and I will Live in you.
We will be one in operating.
One in working wonders.
The time for your redemption on your enemies is a Promise, but to earn it and deserve it, you are required to make a great step forward in overcoming the sense of pride, and in showing sincerely that remorse and resentment do not darken your mind and soul, the reward will come to you.
In addition, when that is going to happen, it will be a joy for you to know that prayer, fasting and the sufferings you have offered for those souls, have allowed their ransom.
Thus, you will know that you will have snatched them from the enemy.
 Your joy is the awareness that they will enjoy the fruits of the Kingdom.
It will not be pride to make you happy, but what you have achieved spiritually not only for them, but also for the spiritual growth you have personally accomplished.
 It will be that to get you closer to the things belonging to the Kingdom of your Father.
The son of the merciful father objected his father's joy for the return of his brother, weighing in his merits and feeding a strong jealousy.
This is not how My children act.
The scales of Justice belongs to Me.
I know the true measures to be taken and the appropriate weight to give for actions carried out.
Leave this part to Me.
Lead by hand, out of the maze of sin and of fears the neighbor I have designated.
I have assigned a number of souls to any fighter of My Army.
Nothing is left to chance.
Always welcome those who seek help and does not see the Light.
If you find yourselves in difficulty, I say to you: it is needed sometimes just a little effort, an encouragement, a smile, a prayer to entrust these souls to Me in order to allow them to walk in the path of Truth.
Invoke the Holy Spirit upon them and He will act in the more appropriate way.
If these souls want to remain obstinate in spite of everything, I will know how to balance equally and respectively merits and shortcomings.
Children, too frequently, you do not trust Me!
You cannot know, or see beyond the established limit.
You see just because I allow it; in My times, into My Design that is only known by Me.
Go ahead without expecting immediate answers that you will have without any doubt, at the appropriate time.
Love one another and in the mutual respect for the  physical, moral and spiritual condition of the other.
Children, reluctantly I have to announce that Greece, Turkey, Ireland and part of Norway will suffer for their being far from God.
Italy is on the edge of a precipice, and the chastisement will not be stopped; Its destiny seems marked by an irreversible fate, which responsibilities are to be attributed only to your dull and obstinate behavior; its pride has reached its limit, and its arrogance will suffer an exemplary punishment.
This is what characterizes the people of Italy, My children.
Patriotism is not synonymous with fraternity.
Each region is in conflict with each other; conflicts that seem silent and of which you scorn one another without a glimmer of human dignity.
Italy is already divided in itself in its spirit and soon It will be in its geography.
All starts at the beginning in the spiritual dimension, up to flowing into the physical and tangible one.
The door between one another dimension has been already open.
Children, I am and I will always be with you because I love you.
It is because of My great Love that I allow this purification and these sufferings.
The forging of yourselves is necessary so that I can give you the keys of the New Paradise.
God the Father, the Merciful and Just Judge loves you and blesses you, beloved children."
 The sons of Amram were Aaron and Moses. Aaron was set apart to be consecrated as most holy, he and his sons forever, to offer sacrifice before the LORD, to minister to him, and to bless his name forever.
(1 Chronicles 23:13)
 Children, keep your education in peace; but hidden wisdom and concealed treasure, of what value is either?
(Sirach 41:14)
Source: Giglio del Santo Volto
The seer Lily of the Holy Face of Jesus (Giglio del Santo Volto), is a woman from Italy who lives a humble and hidden life. Those people whose heart belong to God, will recognize in these messages the voice of the Good Shepherd, God the Almighty, The Triune God: God the Father, God the Son, God the Holy Spirit, Who call all to salvation. Be the one who listens by abandoning a sinful life, by embracing prayer and by following the eternal 10 Commandments. Time is running out.
The truth about the Coronavirus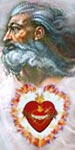 May 1, 2020 - God the Father says: "Today, I invite you to realize that this virus - the coronavirus - is no ordinary disease. It has been created from human ingenuity to specifically target the elderly and physically challenged. This is the plan of future generations to purify the human race around the world. It was released into the general population ahead of schedule - by accident. Those in charge were waiting for less capable government officials in your country (USA) to be in office. Nevertheless, proposed harm is being unleashed on the whole human race."
"I tell you these things to help you to realize the underlying evil at work and hidden in hearts these days. You cannot be confounded by any turn of events. Over all situations, I am in Dominion. No one will be given power over you that is more powerful than your Eternal Father. Therefore, be emboldened with this knowledge. If you persevere in Truth, you have loaded your weapons against what seems to be and discharged them with Truth." (Source: Holy Love)
Help the Lord spread His voice, time is running out
Please help spread these messages of faith, hope, salvation,
defense
against evil (by email, printing, Facebook, Twitter, and other media) to your loved ones, your friends, and all the people you may meet, who seek salvation or who are in danger of being eternally lost. The Lord gives great graces and blessings to those of goodwill who, according to their own possibilities, collaborate with His Plan of Salvation.
Who helps the Lord save a soul predestine his own
, independently from the outcome.