Watch this video and see what was caught by a camera in a wedding.
Jesus says: "In books of magic it is stated that one of the forms preferred by satan to appear to men is that of a mysterious dog or cat or billy-goat. 
The two most common means adopted by Satan to conquer souls are sensuality and gluttony. He always starts from material things. Once he has dismantled and subdued the material side, he attacks the spiritual part.
First the morals: thoughts with their pride and greed; then the spirit, obliterating not only its love -which no longer exists when man replaces divine love with other human loves- but also the fear of God. Then man surrenders his body and soul to Satan, only for the sake of enjoying what he wants, and enjoying it more and more."
Fr. Michel Rodrigue explaines The Events of the End Times
Do you want a quick overview of the end times? Then read "The great events of purification will begin this fall". If you want all the details of the unfolding events, then go to "Virtual Spiritual Retreat with Fr. Michel Rodrigue about the End Times".
Messages of Holy Love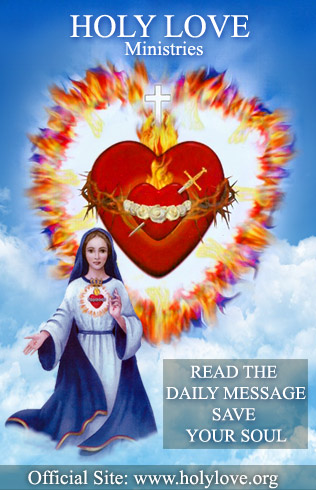 Read the daily messages
Catholics, we have entered the Pre-Tribulation, observe the Commandments, go to Confession; receive the Holy Eucharist; pray at least 3 Rosaries a day to keep your faith and save your loved ones. Prepare for the events that will devastate our planet: plagues, famine, WW3, cataclysms, antichrist's World Order