Tuesday, December 13, 2016
Jesus said: "My people, when you see a crossroads, you can go in all four directions. This means you have many choices in life, but I am always at the center of your lives directing traffic, and telling you which is the right direction to go. The biggest problem many people have, is that they would like to make their own decisions, instead of letting Me help them. When you listen to Me in prayer, and let Me guide you on the right path to heaven, you will be content with My decisions. When you refuse My help, and do things alone, you will go down many dead ends. Even more so, you need to imitate Me in life, and let Me guide you in your spiritual life as well. You need to let Me be the center of your lives, because all roads lead to Me, your Creator. Give Me your will, and you will be safe by My side at all times."
(St. Lucy) Jesus said: "My people, today's feast of St. Lucy is appropriate before Christmas. She is the patroness for helping people with eye problems. There are some people who are blind, and some who need glasses. You also have heard of the ten virgins where five were wise and brought extra oil for their lamps, and five who were not wise, and were not prepared. When the bridegroom came, the five foolish virgins went to buy oil for their lamps, but the door was closed when they returned. If you are waiting for My return, you need to be more like the five wise virgins, and be prepared. Some people are saving extra food and lamp oil for their lamps to give light. You can also be prepared in your souls with frequent Confession. Those people, who are not prepared, will not have crosses on their foreheads, and I will say to them: 'I do not know you, because you do not know the time, nor the hour of My return."
 Monday, December 12, 2016
(Our Lady of Guadalupe) Our Lady said: "My dear son, I am happy that you were able to visit my shrine of Guadalupe in Mexico. You could still see how my picture on St. Juan Diego's tilma is still intact for everyone to see this miracle. I am the patroness of all the Americas and I love my children as I bring you to my Son, Jesus. You were able to see the original church that was sinking into the earth on a tilt. The large Basilica could hold thousands of people. I gave you messages on Tepeyac Hill and in the Basilica. You met some new friends there, and they were very gracious to you. Now, you can share your experiences at my shrine where many people visit each year. Remember to pray your daily rosaries for the conversion of poor sinners, the souls in purgatory, peace in the world, and the stoppage of abortion."
Jesus said: "My son, when you are praying your rosaries, typing your messages, or making DVDs, you know how hard it is to avoid your distractions. This is why I wanted you to pray your St. Theresa Novena to help carry out your good works. You also need to pray to have a persistent focus when you are doing good works for Me. Whenever you try to do something good for Me, the devil will always try to interfere with things to distract you. You have seen this before, so keep praying your Glory Bes to keep focused on things to please Me. You have even seen temptations to sleep while you are doing your rosaries. Remember to pray your intentions for your prayers. By keeping focused on your work, and praying to avoid your distractions, you will be successful in your intentions."
Sunday, December 11, 2016:
(Gaudete Sunday, rejoice, rose candle) Jesus said: "My people, you remember when St. John the Baptist called Me the 'Lamb of God'. He was witnessing My coming because he saw the manifestation of the Holy Spirit in a dove and the voice of God the Father over Me. St. John wanted to hear My proclamation from My own lips. I described how I healed the blind, the lame, and the lepers. I even raised people from the dead. These were all signs of the coming Messiah. I also heard St. Peter describe Me as the Christ, the Son of the Living God. During My ministry My apostles witnessed My multiplying of the bread and the fish, My calming of the sea, My walking on water, and raising Lazarus from the dead. Only God's Son could do these things, so there are plenty of signs that I was sent by My Father in heaven. Today is a special rejoicing of My coming to the earth as a God-man. My Incarnation as a man was part of My plan of salvation for all sinners. This is truly a time to rejoice. I came as a humble infant boy, born in a stable amidst the animals. Others expected Me to put down the Romans, but I came to show you My love that I would even give up My life for My people to be healed and their sins forgiven."
Saturday, December 10, 2016
Jesus said: "My people, your first reading focused on Elijah the prophet, and how he was taken up into heaven on a chariot with fiery horses. You remember several passages when he multiplied the oil and flour for the widow, and he had the prophets of Baal killed when he brought fire down from heaven on his sacrifice. Then in the Gospel I told the apostles that Elijah had come first in the person of St. John the Baptist. This was not reincarnation, but it was like the spirit of Elijah. St. John was first before Me to prepare the way of My mission. There is another passage in the Book of Revelation (11:3) that speaks of two witnesses in Elijah and Enoch, who will evangelize people before My return. They will be killed, but later I will raise them up in the end days. You can see how Elijah did come first, before My coming on earth, and before I will return. Trust in My prophets that I send to you, for they will witness to My coming in the end days."
Jesus said: "My people, when the one world people plan to takeover, I told you that they would find a way to turn off your electricity either by turning off the grid, causing an EMP attack, or have terrorists destroy key power stations. If your power is out for a short time, many people have backup generators that are run by natural gas or gasoline. If your power was off for a long time, then My people may have to come to their refuges sooner. My refuge builders were told to have at least two back up sources of heating. You could use wood, oil, propane, or kerosene with the appropriate burners. You also need to have sources of light as battery operated lights, windup flashlights, and oil lamps with bottles of lamp oil. You will need to pray that I will multiply your fuels, your water, and your food. You can see that there could be many deaths from starvation or freezing, because most people do not have backup plans for a long time. Be ready to leave for My refuges when your lives are in danger."
Friday, December 9, 2016
(Juan Diego) Jesus said: "My people, in the Northern states you receive a fair amount of snow, especially around the Great Lakes with your lake effect storms. You have had some warmer weather, but now you are entering into the grip of winter and its many storms. This will be the time for snow removal, and hard to travel roads. It is also a time when you can help each other clear driveways, or offer rides when they are needed. As you travel to be with family on the Christmas holidays, your families will need to pray for safe travel on the icy roads. This time of year can also be difficult in paying for your heating bills, which are higher during the heating season. Winter has its problems, but the white covering has a certain beauty to it, especially for skiers. Be ready to help people in their needs out of love for Me."
Jesus said: "My son, you have heard of some people who are talking about this Christmas being different from those in the past. You also have seen some recent powerful earthquakes off the coast of California and a larger one near the Solomon Islands. These serious earthquakes appear to be happening more frequently. It is very possible that you could see more large earthquakes before Christmas that could cause problems for your people. There is another comet (Honda) coming by in February, but it is far away and does not appear to threaten the earth. God bless all of you for remaining faithful to Me in all of these latest events."
Thursday, December 8, 2016
(Immaculate Conception) The Blessed Mother said: "My dear children, as you read the account of Adam and Eve's original sin, you are now seeing me as the new 'Eve'. My Son, Jesus, gave me to St. John, and I was given to be the mother of all of Jesus' people. Now, Jesus is also the new 'Adam'. As you see the first Adam and Eve were in sin, now you have both the new 'Adam' and the new 'Eve' are both without sin. In the Gospel you have the account of my Annunciation on the feast day of my Immaculate Conception. You remember Bernadette Soubirous at Lourdes, France where I gave her the message of my Immaculate Conception. The Lord prepared me without original sin so I would be worthy to be His mother. Both our lives were sinless, and we are examples for you to imitate."
Prayer Group:
Jesus said: "My people, there are many one world people who do not want to see your President-elect take office. This is why I have encouraged My faithful to pray for your new President that he is not harmed, and not prevented from taking office. You have prayed for his election, and you have prayed prayers of thanksgiving that he won. Continue your prayers that America will be given a new opportunity to get rid of your current evil laws, and change your ways to love Me more."
Jesus said: "My people, America will continue to be tested by more disasters. As you move more into winter, you are seeing snow blizzards and more earthquakes that have killed some people and have caused severe damage. Pray that your people will recover, and help the victims of your disasters. Call on My help to get through your daily trials."
Jesus said: "My people, when your new President takes office you could see some disagreements on how to address the various problems of your country. Rather than spending your time fighting, now is the time to find some compromises so you can move forward with the needs of your people. With the focus on the true needs of your country, then your establishment should not block what is good for your country. Keep praying that your leaders can make the right decisions for your people."
Jesus said: "My people, as your President submits his appointments for cabinet positions to the Senate, hopefully there will be a consensus to move on with governing, without too much disagreement over these choices. It takes time and deliberation to choose a cabinet for the incoming President. Pray that these proceedings will be brief so your new government can move forward. You have been praying for a change, and with your prayers, your new President will get his chance to govern."
Jesus said: "My people, your reading of Psalm 51 three times is a great sign by your prayer group that you are truly trying to follow My Will for your country. Your people need to change their hearts and repent of their sins. This is truly the Advent spirit that is needed for your preparation for Christmas. Look beyond your gift giving, and see the need for more prayers to convert souls to love Me. Christmas is all about sharing, so you need to pray for each other in addition to exchanging gifts."
Jesus said: "My people of St. Charles Borromeo, you have been blessed to have this old cross from Holy Name placed on your front wall. This cross took forty years until it could be placed on the altar. Your present church did not have a large crucifix, so putting this cross up is a fine tradition to show the true leader of your church in Me. My Crucifixion shows you how much I love My people that I was willing to give up My life to bring salvation to all sinners. Show your love for Me in your daily prayers and your good works."
Jesus said: "My son, you are seeing that you cannot presume everything will go along without some trials. In the past you have had difficulties in preparing the DVD talks that you sell. The evil one will always try to upset your good work. This is why you see the need for your St. Theresa Novena to prepare your way. Call on My angels to help you in your work on your DVD talk. This is a good vehicle to share your love and evangelization efforts with all the people who will watch and listen to this new DVD. I will assist you in all that you are doing to help save souls from going to hell."
Wednesday, December 7, 2016:
(St. Ambrose) Jesus said: "My son, it is true that you have seen many unusual events that could be shared in your DVD. Your readers have seen many things in the messages, but your DVD can give more explanations and personal accounts that are not in your books. Your talk can also sum up the events to show how My power is greater than the evil ones in many ways. My people need to be encouraged by all the beautiful miracles that you have experienced. I love My people and this sharing can help build up the faith and trust that they should have in Me. You have seen the power of prayers in many ways that have thwarted the plans of the one world people. You are seeing a crucial battle for souls, and you are being prepared for My Warning before the tribulation will come. Continue to trust in Me in your prayers, and I will protect you at My refuges."
Jesus said: "My people, you have so many electronic distractions that it is difficult to find some quiet time for prayer. If you want to have true peace, you need to turn off the noise of the world, and go to a quiet place to pray. If you do not take time for Me in a quiet place, it will be hard for you to hear Me, and hard to make an assessment of where you are going in your life. If you meditate on your daily actions, you can see your mistakes, and try to change your behavior. If you do not show Me your love in quiet prayer time, then you could get taken in by worldly events, and lose your focus on Me. I should be the center of your life, but you need to turn off the noise of the world in order to hear Me. Trust in Me to lead you on the right path to heaven, but you need to give Me some prayer time each day to show Me your love. Those people, who pray and listen to Me, will receive their reward with Me in heaven."
Tuesday, December 6, 2016:
(St. Nicholas) Jesus said: "My people, each day in the readings of Isaiah, you are hearing about preparing for My coming at Christmas. You are also reminded about St. John the Baptist as one crying out in the desert for people to repent of their sins. Even as you prepare to come to the altar at every Mass, you need to have your soul cleansed in Confession, so you are worthy to receive Me in Holy Communion. On today's feast of St. Nicholas, many people celebrate this as 'little Christmas'. The idea of handing out gifts to the poor came from the stories about St. Nicholas. This is part of why you share gifts at Christmas. When you see your 'Santa Claus' dressed people, this idea of giving gifts is attributed to 'St. Nick'. This is another way of preparing for Christmas, when you go out of your way to work through the crowds to buy a special gift for your relatives and friends. Many of you are still sending out Christmas cards with notes to keep in touch with your distant friends. Caring for other people is how you can share your love with your neighbors, out of love for Me."
Jesus said: "My son, you have been making updated DVD talks every two years, and making a new update in December gives you plenty of time to complete it. You have been sensing that the Warning is near. The installing of your President-elect is becoming crucial for your country so it can be turned around both physically and spiritually. Remember that I will bring about My intervention in My time, when it is the right time. So continue preparing your new DVD and pray for your protection and success with your St. Theresa Novena. A lot has happened in the last few years, so it is appropriate for making your new DVD talk. I will be blessing you in this work to reach out to save souls from hell."
Monday, December 5, 2016
Jesus said: "My people, when you see a stream of water, as in the vision, you see it as a sign of supporting life for drinking. The ice forming over it, is a small sign of the coldness of the hearts of My people to My love. I love you all so much, as you can see in all that I do for you. But at times people forget about Me, and some people do not even make an attempt to know and love Me. Some people only come to Me when they want something. When you truly love someone, even your Creator, you do not just give Me only one hour on Sunday. But you need to remember Me every day in prayer. Some people to not even come to church, and these people need your invitation to My love in evangelizing. You know how much you love Me, but you need to share My love with those people around you. You are preparing to celebrate My birth at Christmas, so remember to think about My love every day in all that you do in your daily consecration."
Jesus said: "My son, I am showing you this very pointed vision of a stream of souls in mortal sin as they were flowing into the abyss of hell. These are the souls who died, and they still refused to accept Me and love Me. I have been asking My people to pray for the conversion of poor sinners. You do not realize how these souls, who were not converted, are going to be lost forever in hell. Unless there is a miracle, or people praying for these lost souls, they will all be lost forever in hell. I could see how you were taken back at the sight of so many souls who are constantly going down into hell of their own choosing. I cannot force people to love Me, because I have given all of you a free will. I want people to love Me, and desire to be with Me in heaven, but each soul has to truly love Me by their own free will. Most of these lost souls have basically ignored Me all of their lives, and they did not repent of their sins. I have encouraged all of My people to pray for poor sinners, and for the souls in purgatory. When you have extra time, pray a few more rosaries for the intention of souls that might otherwise be lost."
Sunday, December 4, 2016
Jesus said: "My people, Advent time is a time of preparing for Christmas, but also it is a time to prepare your soul by confessing your sins, and changing your heart to more love for Me and your neighbor. The Pharisees also taunted Me, because I was threatening their authority over the people. I came to redeem the people with My sacrifice on the cross, but the Pharisees were hypocrites, because they did not follow what they preached. They were only interested in money, fame, and power. I also came as a God-man to give you and example to follow, since I was without sin. Even when you fall into sin, your soul can be restored by confessing your sins to the priest, and to Me in the priest. Seek My forgiveness and avoid repeating your sins that offend Me. I love all of you, and I want to look at your pure souls, instead of all the black souls in mortal sin."
Jesus said: "My people, you are seeing St. John baptizing Me in the Jordan River, and you have been to this same place in Israel. This scene was in a desolate place in the desert, and it is a great place to consider repenting of one's sins. St. John was the last of the Old Testament prophets, and he was My herald in the desert preparing the way for My mission. St. John baptized with water, but I came to baptize with the Holy Spirit. Your Baptisms now, are possible because My sacrifice has redeemed your souls with the price of My Blood. Your Baptism brings you into the faith. It is sad that some parents refuse to have their children baptized. There could be a Baptism of desire in these cases. At the Easter Vigil and at Baptismal services, you are denying the devil and all of his temptations. This sacrament is a deliverance service to claim your soul for Me. In a word, today is all about repenting and being sorry for your sins. Keep close to Me in your prayers, so the devil cannot steal your soul."
Saturday, December 3, 2016:
(St. Francis Xavier) Jesus said: "My people, the laborers are few, but the harvest is great. Ask the harvest Master to send out more workers to harvest the souls. My son, it is coincidental that you are coming to another church for Saturday morning Mass, and now you hear My call for more priests. I have asked you many times to pray for your priests, and for more vocations to the priesthood. As more older priests retire, it puts more of a burden on the remaining priests to provide Masses for all the open churches. As Mass schedules change, you will see it harder to even have a Sunday Mass, let along a Saturday morning Mass. Not only are you seeing fewer priests available, but you are also seeing a declining number of lay people in the pews. There truly are a lot of souls to be converted, but few people are willing to be evangelists to save souls. I thank all of My priest sons and lay people who are reaching out to save souls from hell. Keep praying for vocations to the priesthood, and for the conversion of poor sinners."
(4:00 p.m. Mass) Jesus said: "My people, today in the Gospel you are hearing My herald in the desert preparing the way for Me. St. John called people to 'repent' of their sins, and be baptized by immersion into the water of the Jordan River. He is the one in the desert who wore camel's hair and ate locusts and wild honey. He was called by God to be one of My prophets. You have read the account how as a baby in the womb, St. John leapt for joy at the announcement of My Blessed Mother's coming to visit St. Elizabeth. This was his first announcement of My coming, as I was in My Blessed Mother's womb. Later, in the desert he called Me the 'Lamb of God',  and My first apostles started following Me. St. John was strong in his faith, and he even told King Herod that he should not marry his brother's wife. For that he was imprisoned, and later beheaded by Herod. Rejoice in this second week of Advent, as I also call people to repent of their sins, and confess them in Confession frequently. You will soon be reading the account of My birth, and you are grateful that I came as a God-man. I came to sacrifice My life so that all sinners could be redeemed of their sins, and be saved from hell. I have given you My sacrament of Baptism as an entrance into being a Christian. Many of you were baptized at birth, but you can now proclaim your own faith in Me, as your Baptismal sponsors did. Enjoy the Christmas spirit by loving Me and loving your neighbors."
Friday, December 2, 2016
Jesus said: "My people, at times it is good to take walks in your parks, just to appreciate the beauty of My creation. During the winter months, it is not as nice looking because the leaves on the trees and the flowers are gone. There is still a certain beauty in each of the seasons. Many of these sights were created for you to marvel at such beauty. You get caught up in your daily routines so much that you sometimes forget to thank Me for all the beautiful scenes in My creation. When you go on trips for vacations or even work, you can see more of your country's treasures. Even as you see beautiful scenery on earth, this does not even come close to My creation in heaven's beauty. This life on earth is a trial of your actions and faith in Me. Those people, who repent of their sins, and work hard to obey My Commandments of love in good works, will see their reward in the glory of heaven with Me one day. Even as you prepare for the celebrations of Christmas, you can also keep your souls pure with frequent Confession and be ready to be with Me in the glory of heaven."
Jesus said: "My son, I am showing you a vision of how your life review will appear in your Warning experience. It will appear as you are looking in the mirror, and you will see your own actions, as well as how people were reacting to your actions. If you expand this mirror image out, you will be able to see everything in your life as in a time line. You will be outside of time, as you will not realize how long it took to visit every moment of your life. As you view a sin that was not forgiven, you will see it in slow motion compared to the rest of your life review. I will enable you to remember every unforgiven sin, so you could tell it to the priest in Confession later. After you digest your own life review, you will be able to help lead your family and friends back to the sacraments, especially Confession. At first they will be seeking My forgiveness, so Confession will help them the most. If you do not try to evangelize them right away, they could in time forget their experience, and it will be harder to evangelize them. I will give everyone six weeks of time to be evangelized, and have time to learn to love Me. Once a person has faith in Me, My angels will place a cross on their foreheads. This cross on the forehead will be needed as a pass to get into My refuges by the protecting angel. Trust in My help, and keep praying that your family and friends will change their lives, so they can be saved from hell."
Thursday, December 1, 2016
Jesus said: "My son, you are seeing in the vision something out of the ordinary with this incensor smoking upside down. You usually see the incensor being used for Benediction or for Mass, especially at funerals. In this case the rising smoke gives glory to Me. In this vision with the smoke going down, your world is giving glory to Satan. This sign is also about how what is right, is not politically correct, but what is wrong, is accepted and tolerated. Look at people living together in fornication without marriage that is accepted in your society. Look also at gay marriage which is a violation of sinful homosexual acts, as well as giving marriage a bad name. Because of your abortions and these sexual sins, I am about to turn your world upside down when you see My Warning experience. This will show you how much you are offending Me with your sins. Even My faithful are being persecuted for worshiping Me, or saying My Name in public. You will see a short time of apostasy during the shortened tribulation, but then My faithful will be vindicated, and the evil ones will be cast into hell. Then in hell's flames the evil ones can give glory to Satan, and he will torment them for all eternity. My faithful need to reach out and shake these sinners into reality with conversions, or they will suffer the flames of hell forever. I love all of you, but you have a choice of either being with Me in heaven, or being with the devil in hell. If you truly love Me, then you should show Me in your actions of loving Me and loving your neighbor."
Prayer Group:
Jesus said: "My people, you are all sensing a coming battle between your President-Elect and your current establishment of the one world people. The principles of each side are so far apart that you could see some physical turmoil to settle these differences. If the evil ones start using violent tactics against My people, the one world people will have their plans changed by My supernatural intervention of My Warning. I will bring this intervention to keep the evil ones from harming My faithful. After the Warning I will soon direct My people to My refuges for their protection."
Jesus said: "My people, you are now in Advent and many people are shopping for gifts, and preparing their Christmas decorations both inside and outside. You are hearing the readings of Isaiah, as he was preparing the people for the coming Redeemer. So My people are making their own preparations for their coming Christmas feast. I remind people to be kind and courteous to your fellow shoppers both in the stores and in your cars. Many of you will be traveling to get together, so pray for safe travel for celebrating My birth."
Jesus said: "My people, I know that buying gifts for each other is a tradition for celebrating Christmas. Even the Magi brought Me gifts of frankincense, gold, and myrrh. It is good to share with each other, but do not be too extravagant with your gifts because you all have different abilities to afford gifts. You can all share gifts of prayers for each other as well as your physical gifts. Remember that it is the thought of a gift that counts the most. Even sharing a meal with each other is also a happy occasion for most families. You may not see all of your family members very often, so enjoy each other's company."
Jesus said: "My people, there are poor people among you who you could share some gifts with. They do not have much, so any help would be most appreciated. When you share with the poor, you should be thankful that they could only thank you, and are not able to give you gifts in return. In these gifts of charity, you will store up treasure in heaven for your kind deeds. You can help people with food, donations, or even some Christmas flowers. When you share your love with family and the poor, you are respecting My Presence in your neighbors."
Jesus said: "My people, you can remember in past days how each family member felt chosen to light the candles on your Advent wreath at your evening meal. Try to have such an Advent wreath present in your home so you could pray some prayers that are special for Advent. You are preparing to remember My coming in Bethlehem. This was a historical event that is a center point in your dates of BC and AD. Rejoice that your Redeemer is near in your celebration of My birth, for I am truly the reason for your Christmas season."
Jesus said: "My people, there are many miracles that all are brought about in My salvation plan for all of mankind. The prophets foretold how I would be sent to My people to save sinners from their sins. With My birth you are seeing the miracle of My Incarnation as a God-man, and other miracles as My star of Bethlehem that led the Magi to Me. Even when I come in victory, you are seeing My present day prophets speak of My coming to purify My people in the end times. Rejoice that you are living in this time of My coming victory."
Jesus said: "My people, you are aware how during Lent before Easter, you take time to pray, do penances, and give alms to charities. Advent is not as long as Lent, but you could also do a little penance, prayer, and almsgiving during this time. Every extra effort to share your love with Me and your neighbors, is well appreciated, and you will store up treasure in heaven for your judgment."
Fr. Michel Rodrigue explaines The Events of the End Times
Do you want a quick overview of the end times? Then read "The great events of purification will begin this fall". If you want all the details of the unfolding events, then go to "Virtual Spiritual Retreat with Fr. Michel Rodrigue about the End Times".
The Pope's approval of homosexuality
Beware of the 'New World Order'
The Rosary is the weapon of these times
The truth about the Coronavirus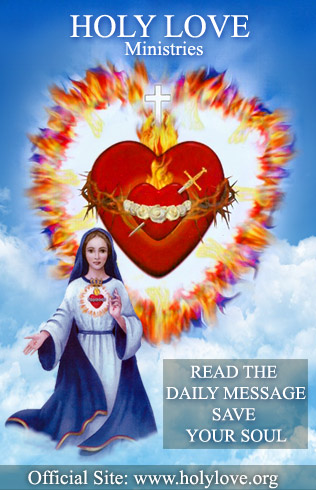 Read the daily messages
Catholics, we have entered the Pre-Tribulation, observe the Commandments, go to Confession; receive the Holy Eucharist; pray at least 3 Rosaries a day to keep your faith and save your loved ones. Prepare for the events that will devastate our planet: plagues, famine, WW3, cataclysms, antichrist's World Order