December 23, 2014
Call of the Divine Child Jesus to the people of good will
Days are coming in which Christmas will be abolished
"May my peace, humility and love be with all of you.
Little children, another Christmas approaches and I come back to be born spiritually in all the hearts of good will; enjoy these last Christmas with your family, and pray, because the days are coming in which Christmas will be abolished, and it will be a crime celebrating It.
Little children, the sense of Christmas, which is of love and of service, is being replaced by an excessive consumerism.
I, the Child of Bethlehem, am being replaced by an emblem of materialism and consumerism that goes by the name of Santa Claus.
The servants of my adversary are the Herods of these end times who are disparaging through the mass media the true sense of Christmas, making of this feast a time for consumerism, waste, and sin.
Christmas is love, service, forgiveness and prayerful gathering in family, about my birth.
Christmas is humility that reminds you that God becomes a man in your midst and is born in poverty, so that you too learn to be humble and simple and for you to understand that Christmas is sharing with those most in need.
My little children, in my adversary's time, Christmas will be abolished, and whoever celebrates it will be incarcerated by the religious authority that will be created by the New World Order.
Celebrate within your families and around the Nativity scene, contemplate the humility and the love of the humanized God Who will be born anew at the entrance gate of the hearts of good will.
I am the Infant Child of Bethlehem Who wants to be born in you, prepare for me a crib in your hearts and open your spirits to receive Me; offer Me love, humility and a sincere desire to change your life.
I Am the Light of the World, who comes to shine light upon your darkness and to free you from the yoke of sin.
Keep in mind that Christmas is neither consumerism nor dissipation, but a time of love, forgiveness, charity and before all a donation to those most in need.
I love you, may the night of Christmas be for praising Me and to await Me rejoicing, in union with the Choir of the Angels singing: Glory to God in the highest and on earth peace to men of good will.
I AM your gift, the Divine Child of Bethlehem.
Let My messages be known to all humanity."
Source: mensajesdelbuenpastorenoc.org
Fr. Michel Rodrigue explaines The Events of the End Times
Do you want a quick overview of the end times? Then read "The great events of purification will begin this fall". If you want all the details of the unfolding events, then go to "Virtual Spiritual Retreat with Fr. Michel Rodrigue about the End Times".
Messages of Holy Love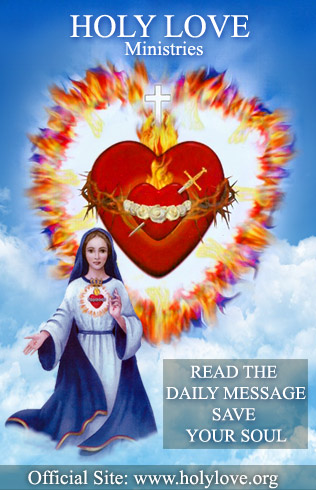 Read the daily messages
Catholics, we have entered the Pre-Tribulation, obey the Commandments, go to Confession; receive the Holy Eucharist and pray the Holy Rosary daily to keep your faith and save your loved ones. Prepare for the events that will devastate our planet: plagues, famine, WW3, cataclysms, antichrist's World Order