Please read from begin to end, pay attention to the instruction given by Our Lord Jesus  how to prepare and be ready for the refuges and for what is coming…
Wednesday, July 22, 2020: (St. Mary Magdalene)
Jesus said: "My people, it is appalling that you Democrat mayors and governors are permitting all the shootings of people. The anarchists are burning buildings and fighting the police and Federal agents with all kinds of projectiles. Every night you hear a list of how many people were shot and killed in your major cities. These Democrat officials are doing practically nothing to stop the anarchists from their crimes. Your President can legally protect Federal buildings, and your liberal officials even want to arrest these agents for defending Federal buildings. These protests are no longer peaceful, and they are even growing more violent as time goes on. I told you before that these officials care more for their power, than their people. Because this violence is continuing, you will see more conflicts between the anarchist killers and your President's desire for law and order. This is no longer just a political battle of words, but you are seeing an attempt by communist radicals to take over your government by force. Pray for your police and Federal agents to bring law and order to your cities of violence."
Thursday, July 23, 2020: (St. Bridget)
Jesus said: "My people, I see a deep contrast between heaven, where there is peace and love, compared to earth, where you are seeing hate and division with virus plagues. You can see the demons are at work to prepare for their brief reign over the earth. They know their time is short, and they are doing all they can to try and steal souls from Me. If only the people could understand My Commandments of love of Me and love of neighbor. I give you My Word of love in the Bible for those who read it. Instead of having a struggle for power and taking over the government by force, you need to have more love and help for your neighbor. This killing and destruction is from the evil one, who is inspiring a socialist communist takeover. The socialists are listening to the lies and deceit of the devil, instead of loving everyone in peace. Pray for a stop to all of this violence. After the brief reign of the Antichrist, I will bring My victory over these evil ones, as I will cast them into the eternal flames of hell. My faithful need to be patient, and eventually come to My refuges of protection. After My victory, I will bring My faithful into the peace and love of My Era of Peace."
Prayer Group:
Jesus said: "My son, I want you to read the seven trumpets as given in the Book of Revelation. (Chaps 8, 9, 10) I am having you read about these trumpets because you are about to see them falling on the earth.
For the first trumpet the first angel sounded the trumpet and there followed hail and fire mingled with blood, and it was cast upon the earth; and the third part of the earth was burnt up, and the third part of the trees was burnt up, and all green grass was burnt up.
For the second trumpet the second angel sounded the trumpet, and as it were a great mountain burning with fire was cast into the sea; and the third part of the sea became blood, and there died the third part of the those creatures that have life in the sea, and the third part of the ships was destroyed.
For the third trumpet the third angel sounded the trumpet and there fell from heaven a great star, burning like a torch, and it fell upon the third part of the rivers and upon the fountains of waters. The name of the star is called Wormwood.
For the fourth trumpet the fourth angel sounded the trumpet, and the third part of the sun was smitten, and the third part of the moon, and the third part of the stars, that the third part of them might be darkened, and the day for the third part of it might not shine, and the night likewise.
For the fifth trumpet the angel called forth scorpions on the earth from hell. And they were told not to hurt the grass of the earth or any green thing or any tree, but only the men who do not have God's seal upon their foreheads. The scorpions were the size of horses and they stung the people for five months without killing them.
For the sixth trumpet the four angels were loosed who are bound at the great river Euphrates. They were to kill the third part of mankind with fire, smoke, and sulphur.
For the seventh trumpet an angel gave a small scroll to St. John to eat and it became sour in his stomach.
Jesus said: "My people, you are familiar with Niagara Falls where large amounts of water are flowing over the edge. With storms and hurricanes, you will be seeing some floods in various parts of America, and other parts of the world. Be prepared for more testing of your people because of your sins."
Jesus said: "My people, this is another example of how My angels will expand all of My refuges. Have no fear of the evil ones because I will lead you to My refuges when your lives are in danger. You all will have your own space to sleep, eat, and worship My Host in your monstrance. Remember to choose your hour of Adoration every day. Trust in Me to protect you and provide for all of your needs."
Jesus said: "My people, you need a spiritual uplift amidst all of the corona virus fears. Every time you receive My Blessed Sacrament, you are receiving a spiritual uplift with all of My graces. You may not fully appreciate the power of My consecrated Host. Just as the Israelites survived on the manna in the desert, so you have witnessed saints who have lived only on taking My consecrated Host every day. If you only had the daily Holy Communion that you will receive at My refuges, you could survive on My daily Manna. You will receive daily Holy Communion from either a priest or My angels. So have no fear of what you are to eat, or drink, or where you will stay, because I will protect you and provide for your needs."
Friday, July 24, 2020: (St. Sharbel Makhluf)
Jesus said: "My people, I want people to love each other, even if you perceive some people as your enemies. You are all made in My image, and you need to pray for the conversion of sinners. I allow people to have free will to love Me or not. My faithful are directed by their Baptism to try and evangelize all souls. Because Satan has turned many souls away from Me, it is very difficult to fight these evil led movements in your country. I have told you before that your daily rosary is your best weapon against this evil. You may help those people who are open to listen to My Word, and you can help your neighbor with their needs. The violence in front of you is an example of how the demons are controlling the minds and weak souls who are closed to My Word. Keep praying for these souls and still love even those people who may be your enemies. I am allowing the evil ones their brief hour of reign on earth. Once I separate the good people at My refuges, I will bring My victory over the evil ones with My Comet of Chastisement. Be faithful and have patience, for I will soon bring My reign in My Era of Peace."
Jesus said: "My people, earlier you watched a video of 'To Hell and Back' where clinically dead people came back and gave witness to their experience in hell. They each were given a choice to call on Me to be saved from the eternal flames in hell. These people had traumatic experiences that made a huge impact on their lives. They could have another chance to change their lives to the spiritual life that I call all souls to come to Me out of love. I am calling My faithful to help all souls to come close to Me and love Me. My prayer warriors are given a glorious opportunity to help save souls by their preaching My Word and giving good example of how to love Me in their daily actions. For your kind efforts, you will receive many graces, and with the souls you save, I will reward you in the higher levels of heaven. Rejoice, My people, when I give you this opportunity to help save souls or these scrolls for heaven."
Saturday, July 25, 2020: (St. James, the apostle)
Jesus said: "My people, I AM love itself, and everything I do is out of love for My friends. Since you know how much I love you by dying for your sins, it is important to Me that you love Me as well. If you truly love Me, you will show it in your actions, more than your words. I should be your first love in your life, even above your spouse, relatives, and possessions. In other words, you need to love Me in everything you do, and also you need to love your neighbor as yourself. At one time, My son, you had two agendas, one for Me, and one for yourself. Once you were enlightened by My healing of your computer addiction, now you only have one agenda for what I want you to do. This is how I desire all people to love Me, with only one agenda over all of your own wants. When you worship Me in silence, and pray to Me, I will see to all of your needs in My time. So have no fear, and I promise to be with you and help you through every day of your life."
Jesus said: "My people, you are seeing a continuing battle between the Black Lives Matter mob and the Federal agents and some police. Your Democrat mayors and governors are supporting the anarchists who are destroying your cities. You are on the brink of a civil war between the communist anarchists and those authorities who are fighting for law and order. I am showing you earthquakes and hurricanes that are going to test your people. You need to pray that your authorities can control these evil mobs, or you will see My punishment come upon you more severely. You have seen the communist leaders undermine your families, your churches, your government, and your media and schools. Now these mobs are attempting the physical takeover of your government. If your people do not stop these evil ones in your streets, then you will have no more freedoms. Continue to pray for peace and love in your country, instead of hate and division. Worship Me instead of worshiping war and violence from the devil."
Sunday, July 26, 2020: (St. Joachim and St. Anne)
Jesus said: "My people, in the Gospel I told the people that the Kingdom of God is like a fisherman who hauls in a catch of fish. Later, on shore the good fish are sorted into vessels, but the bad fish are thrown away. (Matt. 13:49-50) 'So it will be at the end of the world. The angels will go out and separate the wicked from among the just, and the angels will cast the wicked into the furnace of fire, where there will be the weeping, and the gnashing of teeth.' In My messages I have repeated this same judgment that will fall on the evil souls. The evil ones are having their brief hour of control that I will allow with the Antichrist. My faithful will be separated at My refuges from the evil ones throughout the whole tribulation. Your stay at My refuges will be your purgatory on earth. After this separation, I will bring down My Comet of Chastisement which will be My victory over the evil ones. These evil ones will be cast into hell, as I will bring My faithful into My Era of Peace. Trust in Me that I will bring My love and My justice down upon the earth."
Jesus said: "My people, every child that comes into this world faces many challenges. Each conceived child first has to be able to avoid being killed by abortion. The next challenge is what kind of family are they born into. I desire that your children are born into a couple that is married, and not outside of marriage. You also should prefer that each child has a mother and a father present. Your children should be baptized and be given the other sacraments as well. As the child grows up, you may have to protect your child from developing autism from too many shots. You also will have to decide if the child will be in day care, or if one parent stays home to take care of the baby. As your child enters the public school system or home schooling, you will need to watch over what they are being taught. If you cannot have any religious education, then the parents will have to teach the children their religion. As they grow up, the parents should be taking their child to Sunday Mass. Each child has a soul, and My parents are responsible to lead this child to Me as they are taught the faith. Bring up your children by giving them your full attention, because they grow up quickly, and you are responsible for their food, clothes, and their spiritual life."
Monday, July 27, 2020:
Jesus said: "My people, you have read in Jeremiah 13:1-11 how I asked Jeremiah to hide a worn loincloth in the desert. Later, I asked him to find the loincloth, but now it had rotted and was good for nothing. Jeremiah was given: 'So also will I allow the pride of Juda to rot, the great pride of Jerusalem. This wicked people who refuse to obey My words, who walk in the stubbornness of their hearts, and follow strange gods to serve and adore them, shall be like this loincloth which is good for nothing.' My people of America, you also will be taken over for all of your abortions, fornications, adulteries, and many other evil sins against Me. Your country was once beautiful and prosperous, but now you are beset by this evil virus as part of your punishment for worshiping your gods of pleasure and wealth. Because of your sins without repentance, you will be tested with more severe viruses, bad weather, and even a nuclear attack that will destroy your electric grid. You will soon be called to My refuges after My Warning, so you will be protected from the Satanic mobs who will want to kill you. Give praise and thanks to Me for My refuges, and My angel protection during the tribulation. I call My faithful to repent of their sins and follow their guardian angels. The evil ones who do not repent, and do not love Me, will suffer destruction and the eternal flames of hell. Trust in Me and have patience through this evil time, and you will have your reward in My Era of Peace."
Jesus said: "My people, you are seeing two category I hurricanes striking your land almost at the same time. The first one, Hanna, struck in the southern tip of Texas along the Gulf of Mexico. The second storm, Douglas, came close to the Hawaiian Islands in the Pacific Ocean. Both of these storms have caused some damage which is till being assessed. You will be seeing more storms as time approaches your peak hurricane season. Many events will be ongoing, especially another more serious virus attack that will shut down your economy again. All of these viruses are being made on purpose and exported from China to America. I told you the evil ones will be using your chemtrails to spread the next virus. More people will die from this second attack, and the restrictions will be more severe than the first attack. When you see many people dying, I will send My Warning for all sinners, and then I will call My faithful to My refuges. Call on Me to protect you and lead you to the nearest refuge. My angels will protect you and provide for your needs."
Tuesday, July 28, 2020:
Jesus said: "My people, I have been giving you messages that you are in the pre-tribulation with all the restrictions of this corona virus. Fortunately, you have not seen severe amounts of deaths with this first attack, but in the fall you will see a worse virus attack with more deaths than the first. I have also mentioned that when you see many deaths around you, I will call you to the safety of My refuges, where you will be healed of all of your ills. Before you are called to My refuges, I will bring My Warning experience to everyone all at once. During the Warning you will be advised to come to a refuge for your protection. I have led some of My faithful to set up refuges, and I have enabled them to afford what is needed. Because there are only a few refuges that are still viable, I will have My angels expand My refuges to accommodate the numbers of My faithful who will be led to My refuges. Have no fear because My angels will put invisible shields over you to protect you. For those refuges that need help, My angels will finish any projects left undone. I will perform miracles to protect and feed My faithful. Only My believers with a cross on their foreheads, will be able to enter. So after My Warning, you need to convert your family into believers, so My angels can place a cross on their foreheads."
Source: John Leary
Fr. Michel Rodrigue explaines The Events of the End Times
Do you want a quick overview of the end times? Then read "The great events of purification will begin this fall". If you want all the details of the unfolding events, then go to "Virtual Spiritual Retreat with Fr. Michel Rodrigue about the End Times".
The Pope's approval of homosexuality
Beware of the 'New World Order'
The Rosary is the weapon of these times
The truth about the Coronavirus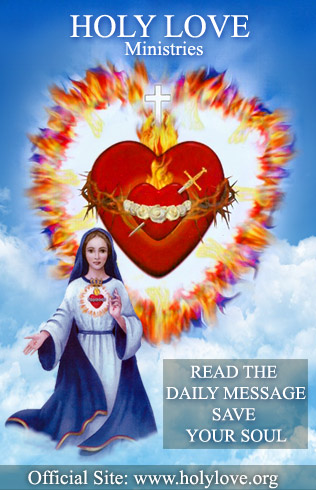 Read the daily messages
Catholics, we have entered the Pre-Tribulation, observe the Commandments, go to Confession; receive the Holy Eucharist; pray at least 3 Rosaries a day to keep your faith and save your loved ones. Prepare for the events that will devastate our planet: plagues, famine, WW3, cataclysms, antichrist's World Order