May 29, 2017
Urgent call of Jesus the Good Shepherd to His Flock
Be careful about the deception of false messengers
"Peace to you, sheep of my Flock.
Sheep of my Flock, days of spiritual darkness are coming where humanity will lament for not having wanted to listen to Me.
When My Holy Spirit separates Himself from the Earth because of the great abomination, this ungrateful and sinful generation will feel in his soul the suffering produced by My departure.
They will call by shouting My presence, they will beat their chest when they feel the darkness in their soul, but it will be too late for them; only My sheep will find Peace, Hope and Comfort in those days; because they know that I am in the Tabernacle of My Mother.
The prayer of the Holy Rosary will be the compass that will guide them so that you can come to Me.
In those days of spiritual darkness you must, flock of Mine, pray all the times with the prayer of the Holy Rosary, so that you remain firm in faith and no evil spirit can harm you. I tell you this, because the forces of evil will seize the land and will look for My flock to disperse it and to make it be lost.
Learn by memory the spiritual communion and do it tomorrow, afternoon and at night, so that it helps you as spiritual support and frees you from the attacks of the evil one.
Do not forget to wear always the Spiritual Armor at all times, because the days are already of combat.
That no sheep of My flock be lost for not wearing the Armor; because I've been repeating the same thing for a long time, so that you do not say you were not warned!
Therefore, obey My instructions because the time of darkness is approaching; do not be rejecting My appeals; see that what is at stake is your life. It depends on your obedience that tomorrow you may live or die eternally.
My flock, I am making an urgent call to you  and I alert you, because the messengers of My adversary are giving messages, making them appear as if they were Divine.
Be careful in this deception, sheep of my Flock; do not read or listen to these messages; remember that they are imbued by the spirit of evil, charged with deception and subliminal messages that will make whoever hears them fall in love with the false Christ!
You flock of Mine, you know My prophets and you know that I speak through them. They have been instructing you with My Words for a long time. I tell you this, so that you are alert and vigilant and do not fall into this deception.
Flock of Mine, My true prophets are going to be attacked, criticized, insulted and put on the public scaffold, by the messengers of My adversary.
I am announcing this to you before it happens, so that you do not pay attention to those attacks, because their aim is to divide My flock and to create confusion and doubt.
You are warned My flock, pray for My prophets and give them your full support, so they can continue giving you to know My Word.
My Peace I leave you, My peace I give you.
Repent and convert because the Kingdom of God is at hand.
Your Teacher, Jesus the Good Shepherd.
Let sheep of Mine my messages be known to all mankind."
Source: mensajesdelbuenpastorenoc.org
Urgent call of Jesus the Eternal High Priest
August 9th 2020 from 12:00 am to 6:00 pm - Worldwide day of fasting and of prayer to the Heavenly Father for the protection of Catholic Temples, Shrines and Holy Places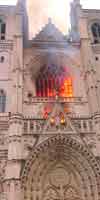 "I make an urgent call to the whole Catholic world for a day of fasting and of prayer to be held worldwide on August 9th with the prayer of the Rosary of my Most Precious Blood and with the prayer of the Exorcism of St. Michael, from 12:00 am to 6:00 pm, asking the Heavenly Father for the protection of my Temples, Shrines and Holy Places, which are being destroyed and desecrated by the forces of evil of this world. I'm counting on you, my Flock." —Jesus the Eternal High Priest
The truth about the Coronavirus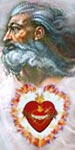 May 1, 2020 - God the Father says: "Today, I invite you to realize that this virus - the coronavirus - is no ordinary disease. It has been created from human ingenuity to specifically target the elderly and physically challenged. This is the plan of future generations to purify the human race around the world. It was released into the general population ahead of schedule - by accident. Those in charge were waiting for less capable government officials in your country (USA) to be in office. Nevertheless, proposed harm is being unleashed on the whole human race."
"I tell you these things to help you to realize the underlying evil at work and hidden in hearts these days. You cannot be confounded by any turn of events. Over all situations, I am in Dominion. No one will be given power over you that is more powerful than your Eternal Father. Therefore, be emboldened with this knowledge. If you persevere in Truth, you have loaded your weapons against what seems to be and discharged them with Truth." (Source: Holy Love)
Help the Lord spread His voice, time is running out
Please help spread these messages of faith, hope, salvation,
defense
against evil (by email, printing, Facebook, Twitter, and other media) to your loved ones, your friends, and all the people you may meet, who seek salvation or who are in danger of being eternally lost. The Lord gives great graces and blessings to those of goodwill who, according to their own possibilities, collaborate with His Plan of Salvation.
Who helps the Lord save a soul predestine his own
, independently from the outcome.