Read all… April 14, 2021 – Message from God the Father to Lorena – Mexico
Instructions from God the Father to His Faithful Remnant before the incoming Warning
"My cup overflows and my Angels of Justice in their 4 cardinal points await the Shofar to draw their sword and unleash My Wrath, but first I want to shelter my beloved people in the desert and for this, they must be prepared in the womb of the Virgin. Mary.
Few seconds left to prepare. I will call those who are properly prepared. To do this, they must have everything said by Heaven put into practice.
There is little time left, and still, the last Apostles are arriving at the last hour, and I call you to make a quick preparation with the guidelines given by Heaven because I will pay the same wages, both to the first as to the last. The last to arrive must prepare intensely through what has already been dictated by Heaven, which I will repeat in this message:
Prayer, which is not the same as praying. Prayer is establishing a friendship with Me through a dialogue; and praying is repeating prayers already made that enter the soul into the mystery of My Kingdom through prayers already made.
Fasting to mortify the senses, and sacrifices to die to human nature, and to let the Holy Spirit flow in you. Contemplative life, and above all learn to carry out My Divine Will in your lives.
As you can see, it is a very extensive preparation, without forgetting the study of the Bible and the Catechism of the Catholic Church.
You will carry out this final preparation without exception in order to become protected in my refuges, whom I will call my children, who live after the Cross of My Son Jesus Christ, giving their lives for Him. For this reason, today I ask you to continue with your final preparations, there is little time left.
The Glorious Cross of My Son will appear in the Heavens. And it is then when I, through internal locution, will tell my chosen ones the instructions to be able to know exactly about their missions, since during the Warning they will make a pact with Me in front of the Holy Trinity, where I will give you your weapons to carry out your mission. For this, I need courageous men who give everything for My Son, and are willing to do anything.
A bloody persecution against my people will come. Some chosen from before they were born, will perish, as witnesses of My Love, and as abundant fruit of Graces that will spread in the New Jerusalem, giving life to the new church of My Son. These martyrs, with their blood, will renew the church and the face of the earth. Therefore, martyrdom is a mission from Heaven. I will preserve others from all events so that they can reach New Heavens and New Earth, and my First fruits will go out to Evangelize all over the world.
These three types of people, martyrs, those who will be preserved and First Fruits, have already been prepared in advance for these specific missions, which I have given to my children since before they were born.
All this delves into the mystery of the Passion and Resurrection. Just as My Son lived it, his remnant people will live it. Also some have already been purified through pain, and through this call, I have led them to grow in spirituality. I call all of you at the foot of the Cross of My Beloved Son Jesus Christ to make that final surrender of your life at his feet, as a pact of love between you and Jesus Christ, I have asked you to give your FIAT to the Holy Trinity.
On this Pentecost you will give your second FIAT, where you must have learned to live in the Divine Will, to give your third FIAT in the Illumination of consciences, where you will fuse your soul and spirit to the Heart of My Son and that of the Most Holy Virgin Mary, merging in unison with one heart, that of the Most Holy Trinity.
As your Father, I will anoint you with My Spirit so that, ready for battle, you go out to Evangelize every people, race and Nation.
I ask those who have arrived at the end of the day to abide by my instructions to the letter, and to work for their wages, at nightfall, I will equally confirm all and each one of you.
This has been a process in each one of you, a long process full of tests; however, those who have arrived at nightfall have the same opportunity to belong to My Army, to the Army of My Son, because I have searched for my Apostles in squares and streets and I have found worthy of this mission both the first and the last.
Therefore, prepare yourselves for this Pentecost to receive the Gifts, Graces and Charisms that I will give to all and every one of you as the culmination of your preparation.
Soon I will call you to my preservation shelters; living in holiness is a prelude to what will be lived in the New Heavens and New Earth. That is why it is important that you carry out everything that Heaven has said.
I will give great manifestations of My Power these last days before My Justice falls with all rigor on earth. Be attentive to the last Shofar, the one of My Just Wrath, because when it sounds, you must go to the places of preservation that I have for all of you, where you will be guided by Angels. Fear not, My strength accompanies you and you will be guided safely under a protective Mantle so as not to be seen by others. I will speak to your hearts and a light will guide you to the places of preservation where you will go fast. Leave everything and listen to My Call quickly. I will protect you from all altercation and danger so that you can freely reach your place of refuge.
Those who have not been ready and heeded My Call because they have not truly renounced the world will face horror and despair because of their attachment to the world, so they must be free from all attachment, even human. That is why we have worked hard in your hearts for a long time, because you must be free from all attachments. For this reason, the rapid training of the last to arrive is hard and intense, because they must assimilate and renounce their whole being and the whole world in a few days. But if I called you at the last moment, it is because you have the capacity to do so. After this day the final and extraordinary training will be closed. Those who arrived, arrived, and those who did not, because they were in the world rejected my call, will face the consequences. This does not mean that they cannot be saved, because I will give everyone until the last moment to come to meet Me, but it does mean that they will not belong to My Army, the one that will fight against Satan and the false prophet.
I will have mercy on all humanity until the last moment, but those who rejected the call to their missions, I will punish them for their indifference towards Me, because they did not multiply their talents, instead, those who responded to the call I will reward greatly. For this reason, soldiers the Army of My Son, work for the Kingdom of Heavens, for I will soon call you to My Shelters. Be ready and prepared for it physically and spiritually.
I call you from within your hearts to deepen your missions and to the importance they have for Me and for My Plan of redemption. Accept my last call to be part of this Army. We are waiting for you all at the Wedding of the Lamb. Their names are written in the Book of Life to become part of the Celestial Banquet. Be attentive to this renewal of the earth and of humanity, so that with joy raise your heads high and give your third FIAT in the Warning.
Your Beloved Heavenly Father loves you."
Source: Mensajes del Cielo a Lorena
Fr. Michel Rodrigue explaines The Events of the End Times
Messages of Holy Love
Prayer given by God the Father to recite each morning at the beginning of your day
January 31, 2022 – God the Father says: "Children, I come to you today, to dictate to you this prayer which I desire you recite each morning at the beginning of your day."
"Heavenly Father, today, I surrender to You my heart. Help me to be Your instrument in the world. Cover me with the Precious Blood of Your Divine Son. Guard me against all evil. Protect me from any evil plan Satan may have for me today. Clothe me in Your Divine Will. Amen."
"This prayer is peace-giving if you mean what you say in your heart."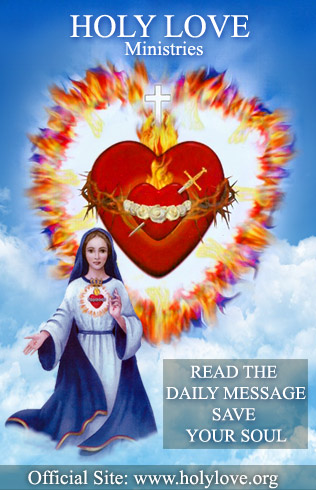 Read the daily messages
Prepare your soul for the End Times, increase and strengthen your faith. Learn and obey the Ten Commandments so that God can protect you and your loved ones from the evil one.
Fear is lack of faith. Fear does not come from God.
Learn to trust in God the Father, Jesus, The Holy Spirit and the Blessed Mother, by reading the daily Messages of Holy Love.
(Read more...)
Catholics, we have entered the Pre-Tribulation, obey the Commandments, go to Confession; receive the Holy Eucharist and pray the Holy Rosary daily to keep your faith and save your loved ones. Prepare for the events that will devastate our planet: plagues, famine, WW3, cataclysms, antichrist's World Order