FEBRUARY 16, 2022 – MESSAGE OF OUR LORD JESUS CHRIST TO HIS BELOVED DAUGHTER LUZ DE MARIA
An attack on a leader… and this will cause fire to fall upon the earth
"My beloved People, I bless you.
MY HEART MAINTAINS THE CONSTANT DESIRE TO HAVE YOU IN ME.
Children, I speak to you so that you may constantly exercise foresight: the madness of men of power is extreme.
They do not analyze consequences, but allow themselves to act on impulse so that their desires would be fulfilled.
An attack on a leader will become known: a groundless attack, and this will cause fire to fall upon the earth.
My children: In its extreme emanation of streams of fire, the sun will emit great heat towards the earth. You will see nature dry up in the midst of extreme heat. Man will feel unable to remain on earth.
At this moment ignorance goes ahead of humanity, dominated by people in powerful hands, who will make My children succumb to the tragedy of the disastrous world war.
My children: YOU MUST BE CREATURES WHO ARE PREPARED TO CONVERT, BUT NOW, BEFORE IT IS TOO LATE…
Evil is rising; you will think that I have abandoned you when you see your brothers rise up against Me in broad daylight. The altars in My Churches will be destroyed and all that they contain will be eliminated. (*)
Humanity wishes to erase every trace of Me. It will not succeed – it would be as if it could live without air. It will be a time of pain and hope, as I will send My beloved St. Michael the Archangel, guarding My beloved Angel of Peace to sustain you with My Word, to call you to continue resisting until the imminent arrival of My Mother who will fight evil.
My people, keep in mind My faithful Elijah. (I Kings ch.10, 18 and 20)
CONVERT, PREPARE YOURSELVES! IN EACH ONE OF MY CHILDREN, FAITH IS ESSENTIAL, SO THAT YOU WOULD NEVER DOUBT MY LOVE FOR MY PEOPLE.
Pray, My children, pray for My Church.
Pray, My children, pray: the earth will be more strongly shaken.
Pray, My children, pray and repent: confess your sins and live in Grace.
Pray, My children, pray: remain at peace with your brothers and sisters.
Pray, My children, pray: from Space will come suffering for mankind.
Be cautious, My children. Come to Me, even if the majority of mankind declares itself against Me.
Keep the Faith: do not lose it even for an instant. Faith is gold in the hearts, minds and thoughts of My Own. Without Faith you are nothing: without Faith every wind moves you one way or the other.
I bless you, My people, I bless you, children.
May My Peace be in each of you.
Your Jesus."
HAIL MARY MOST PURE, CONCEIVED WITHOUT SIN
HAIL MARY MOST PURE, CONCEIVED WITHOUT SIN
HAIL MARY MOST PURE, CONCEIVED WITHOUT SIN
(*) Reference to the October 6, 2017 message of Our Lord Jesus Christ: My Beloved People, the relics that My Church possesses will be seized in order to profane them. Because of this I have previously requested that the relics be rescued and preciously guarded from now on, otherwise you will have no trace of them.
Source: Revelaciones Marianas
Messages of Holy Love
Prayer given by God the Father to recite each morning at the beginning of your day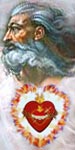 January 31, 2022
– God the Father says: "Children, I come to you today, to dictate to you this prayer which I desire you recite each morning at the beginning of your day... This prayer is peace-giving if you mean what you say in your heart."
"Heavenly Father, today, I surrender to You my heart. Help me to be Your instrument in the world. Cover me with the Precious Blood of Your Divine Son. Guard me against all evil. Protect me from any evil plan Satan may have for me today. Clothe me in Your Divine Will. Amen."
Daily Prayer to Mary, Protectress of the Faith
"Most Holy Mother of God, Mary, Protectress of the Faith, shelter my faith in the refuge of your Immaculate Heart. Therein, protect my faith from any marauder. Expose to me the threats to my faith and help to overcome them. Amen."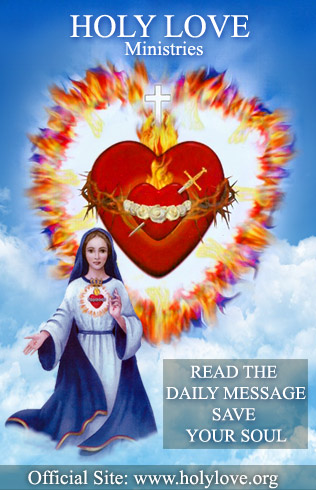 Read the daily messages
Prepare your soul for the End Times, increase and strengthen your faith. Learn and obey the Ten Commandments so that God can protect you and your loved ones from the evil one.
Fear is lack of faith. Fear does not come from God.
Learn to trust in God the Father, Jesus, The Holy Spirit and the Blessed Mother, by reading the daily Messages of Holy Love.
(Read more...)
Fr. Michel Rodrigue explaines The Events of the End Times
Catholics, we are in the Pre-Tribulation, obey the Commandments, go to Confession; receive the Holy Eucharist and pray at least 3 Holy Rosaries daily to protect your faith and save your loved ones. Prepare for the events that will devastate our planet: plagues, famine, WW3, cataclysms, antichrist's World Order