MAY 12, 2021 – MESSAGE FROM ST. MICHAEL THE ARCHANGEL TO HIS BELOVED LUZ DE MARIA
Prayer of Saint Michael the Archangel to Our Lady of the Rosary of Fatima
"Beloved People of God:
As Captain of the Heavenly Host, on this date when you are commemorating Our Queen and Mother under the Title of "Our Lady of the Rosary of Fatima", I call you to immediate conversion.
IT IS URGENT THAT THE PEOPLE OF GOD BECOME AWARE AT THIS MOMENT WHEN THE HISTORY OF HUMANITY IS CONVERGING, AND THAT THEY DECIDE TO SURRENDER TO THE DIVINE WILL, CONSECRATING THEMSELVES TO THE IMMACULATE HEART OF OUR QUEEN AND MOTHER.
Conversion must happen now! For this, it is essential for you to acknowledge that you are sinners and confess sins committed, also having the firm intention to make amends.
You are invited to participate in the Celestial Banquet, and to be creatures of Faith, Hope and Charity on Earth.
Humanity has felt the touch of misused science, which keeps you powerless against the scourge of this disease.
Those who neither love the Most Holy Trinity nor Our Queen and Mother continue to refuse conversion at a crucial time when the future of this generation can already be clearly perceived.
Together with Our Queen and Mother, I bless you.
St. Michael the Archangel."
Prayer of Saint Michael the Archangel to Our Lady of the Rosary of Fatima
I come before You, Our Lady of the Rosary of Fatima. Falling at Your Feet out of love, my heart offers you the works and actions of my life and each Rosary prayed in reparation for my sins and those of the whole world. I come before You and offer You each one of my senses, with which I have offended Your Immaculate Heart. O Mother, I give them to You; help me in this moment when I take Your blessed Hand, with the firm intention to convert. Before You I promise to be faithful to Your Divine Son and to You, Our Lady of the Rosary of Fatima. I give you my love, my commitment, my strength, my perseverance, my faith, my hope, my intentions. I give you all that I am and will be from this moment on, until, next to You, changed into a new person, I am able to look into your eyes and call you: My Mother! Amen.
HAIL MARY MOST PURE, CONCEIVED WITHOUT SIN
HAIL MARY MOST PURE, CONCEIVED WITHOUT SIN
HAIL MARY MOST PURE, CONCEIVED WITHOUT SIN
Source: Revelaciones Marianas
Fr. Michel Rodrigue explaines The Events of the End Times
Messages of Holy Love
Prepare your soul for the End Times, increase and strengthen your faith. Learn and obey the Ten Commandments so that God can protect you and your loved ones from the evil one.
Fear is lack of faith. Fear does not come from God.
Learn to trust in God the Father, Jesus, The Holy Spirit and the Blessed Mother, by reading the daily Messages of Holy Love.
(Read more...)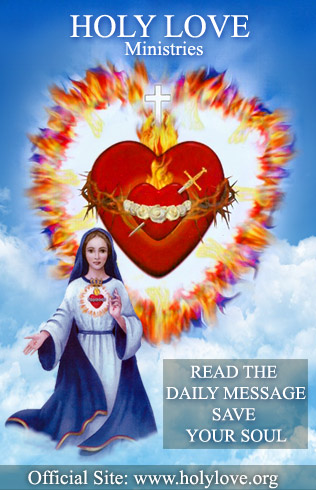 Read the daily messages
Catholics, we have entered the Pre-Tribulation, obey the Commandments, go to Confession; receive the Holy Eucharist and pray the Holy Rosary daily to keep your faith and save your loved ones. Prepare for the events that will devastate our planet: plagues, famine, WW3, cataclysms, antichrist's World Order