Our Lady – March 3rd, 2021 – Soon, God's Justice…
Dear children, thank you for having responded to my call in your hearts. Beloved children, I your Mother ask you to take my hands and listen to what comes to you from Heaven, because everything is for your salvation. Profit from this time of mercy, because soon God's justice and wrath will make themselves felt; now, there is really very little time left, just like the time that I will remain with you. My beloveds, do not fear for the times that will come or that have already come, because with prayer and conversion you can save yourselves—but do not play any more. Open your hearts and let the Holy Spirit enter, who will transform you and unite you in a single heart with Jesus.(1) Children, if you [only] knew how much I love you and how much joy I feel seeing you all together in prayer. My beloveds, pray for the Church and for the consecrated, because they are in the dark, in confusion and darkness—that they might be illuminated by God's love. Now I leave you with my maternal blessing, in the name of the Father, of the Son and of the Holy Spirit, Amen. Many will be the graces that will descend on you today: testify with humility. Your Mother!
Our Lady – March 6th, 2021 – The Time of Mercy has Closed
Dear children, thank you for having responded to my call in your hearts. Beloved children, are you asking yourselves why my Son is crying tears of blood? Know that Jesus is sad, grieved by this humanity which is being called to salvation, but which is not responding to His call. Now, my children, today the Time of Mercy has closed: invoke the Lord so that he would have mercy on you; I offer my tears for you.(1) My children, some(2)will be saved thanks to the suffering offered up by this daughter of mine.(3) I ask you: pray, pray a great deal. Children, technology is about to be attacked by solar flares, so be ready. Evil will soon reveal itself before the world, but only those who are faithful to Christ will recognize good and evil, thanks to the outpouring of the Holy Spirit. Children, the times that will come will be hard, very hard. As a Mother I ask you: hasten your conversion, do not be lukewarm; God alone will be your salvation, entrust your lives to Him. Everything will be renewed and much will be lost, but I want to save these children of mine. The earth will continue to shake without ceasing.(4) Now I leave you with my Maternal blessing in the name of the Father, Son and Holy Spirit, Amen.
Our Lady –  March 9th, 2021 – Everything is Prepared
Dear children, your prayers dry my tears. My children, pain offered up must bring joy. Children, not everything will be as you expect, the earth as you know it will no longer exist; you will be transformed in light and taken to a safe place; (1) do not be afraid, because everything will be painless at those moments. I only ask you to pray for your transformation. My children, the new earth will be full of joy and peace and there will be no disease;(2) everything is prepared for your arrival. Children, you will not be able to bear what you will soon see if you are not in faith and prayer: pay attention, because the Devil will do everything he can to discourage you, so much so that even those who say they have faith may become trapped in his web. My children, bring many souls to Jesus, so that they might know Him and always be faithful to Him. Children, many have adhered to evil, to the blasphemies and corruptions of the world, but they have not yet understood that their "Yes" must be for God alone. Children, please open your eyes and look around you: do you not understand where you have come to? The spiritual war is underway: watch over your children, pray for your rulers, so that the light would enter their hearts. Now I leave you with my maternal blessing in the name of the Father, Son and Holy Spirit, Amen.
Our Lady – March 16th, 2021 – Be Careful Regarding Vaccines
My children, thank you for being here in prayer. Children, I come again to warn you and to help you not to make mistakes, avoiding what does not come from God; yet you look around in confusion without realizing the dead that there are, and that there will be on earth — all because of your obstinacy in only listening to human decisions. Many times I have told my children to be careful regarding vaccines, yet you do not listen.(1) Beloved children, look at the cross of Jesus and stand under His Blessed Cross by which He has redeemed you. Beloved children, the Wrath of God will not delay in making itself felt, but humanity is so blind that it will not notice anything, giving only scientific explanations. Children, you are my true Church and it is to you that I commend myself, because thanks to my faithful she will be reborn, resplendent and glorious. Children, now nothing will be the same as before: they have taken everything away from you including your freedom. Be faithful to the Lord and to the Holy Scriptures. Convert: only thus will you be on the path of light prepared for you. My children — the Church, oh, the Church — what pain! My heart bleeds to see her falling brick by brick — what pain!! My children, you are at war and must fight; it does not matter if you are mocked, go on without stopping. Now I leave you with my Maternal blessing in the name of the Father, Son and Holy Spirit, Amen.
(1): A few hours after posting the article Grave Dangers on the warnings of misused science and experimental vaccines, this message from Our Lady was sent to us. Here again, the warnings from Heaven and from science continue to merge (see When Seers and Science Merge).
Our Lady – March 20th, 2021 – The Storm is Upon You
Dear children, thank you for being here in prayer and for having responded to my call in your hearts. Beloved children, your prayers soothe my sufferings and those of my Son. Children, be ready: the Storm is upon you and I ask you to forgive, to love and confess in order to be ready for what is about to occur and for the times that are coming. This is the time to unite and not to be divided: be true men and women of faith, be those who will fight in the front line. This is the time (1) when you will be asked by heaven to find shelters and refuges where you can also hide in order to pray: the times foretold have come. My children, I as Mother am with you together with my angels in order to protect you. Now I leave you with my Maternal blessing in the name of the Father, Son and Holy Spirit, Amen.
Our Lady – March 23rd, 2021 – – The Trumpets Have Sounded
My beloved daughter, thank you for your "Yes"; together with your husband and the little remnant you are my consolation. Daughter, you must tell humanity that the trumpets have already sounded: only one remains, that of Justice.(1) Children, my chosen people must increase their prayers for these times: division and persecution have begun. My children, war is about to begin in the Middle East; pray for Syria — this will be a great war because it will involve Russia and America. How much pain there is in this land flooded with sin; I had asked other favored children to warn the Church and heads of government, so that they would not compromise, and instead they have chosen the path of evil. Now I ask them once again: repent and convert, because you do not realize where you are headed. Only some in the government know what is about to happen: the other members are simply very confused, but remember that my Immaculate Heart will triumph. Pray, pray, pray. To my faithful children I say: be at peace, because you will lack nothing; you will be covered and protected by My Mantle. Now I leave you with my blessing, in the name of the Father, the Son and the Holy Spirit, Amen.
Our Lord Jesus – March 30th, 2021 – Entrust Everything to Me
Beloved children, do not fear, because I, too, was persecuted before you. And please do not say that I was the Son of God and as such I could bear all the suffering. That is not how it is; in My flesh, as in My heart, I experienced all the pain and darkness of the world, because for this I became incarnate. Entrust everything to Me, the sole anchor of salvation; I will take you by the hand and alleviate your sufferings, loading them on My shoulders and carrying them with Me towards Calvary. I ask you with extreme love not to abandon Me and my Holy Mother, who with great humility is still among you; your suffering will be rewarded. I ask you to help your brothers and sisters, so that they would not not fall into perdition, and if just one of your brothers and sisters is saved, there will be celebrating in Heaven. I will not leave you; look at the Cross and all that it means — have mercy on your Jesus who understands you and who suffers so much. Unfortunately, man is being attacked by the most beautiful angel who rebelled against God: only those who have strength and Faith will be saved. This message is for you, Gisella, and for all my brothers and sisters chosen for My works; do not allow evil to cloud your minds. I am with you and I bless you in the name of the Father, in My name and that of the Holy Spirit, Amen.
Official Italian site: La Regina del Rosario
Site in English: Countdown to the Kingdom
Fr. Michel Rodrigue explaines The Events of the End Times
Do you want a quick overview of the end times? Then read "The great events of purification will begin this fall". If you want all the details of the unfolding events, then go to "Virtual Spiritual Retreat with Fr. Michel Rodrigue about the End Times".
Messages of Holy Love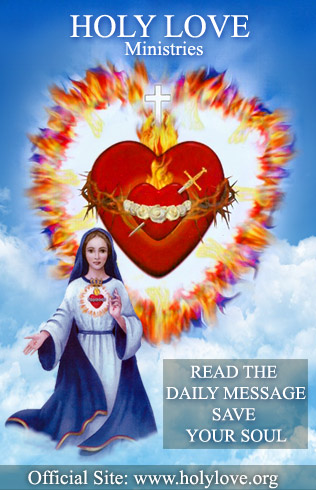 Read the daily messages
Catholics, we have entered the Pre-Tribulation, observe the Commandments, go to Confession; receive the Holy Eucharist; pray at least 3 Rosaries a day to keep your faith and save your loved ones. Prepare for the events that will devastate our planet: plagues, famine, WW3, cataclysms, antichrist's World Order