Please read these messages from beginning to end, pay attention to Our Lord Jesus' words on how to prepare and to be ready for refuges and for what is coming to the world … Also pay attention to the news from the USA to understand the end times.
In this section: Faith, Sins; State of the Church; Punishments, Abortion, Warning (Illumination of Consciences); Virus; New Pandemic; Vaccines; micro-chips; US Presidential Elections; Deep State; Uprisings; Possible Civil War, Tribulation, Kingdom of the Antichrist; Refuges …
Wednesday, December 9, 2020:
In view of the increase of China corona virus cases, there is concern over taking a vaccine for this disease. Here are some comments from some internet stories you can see online:
"For the first time in the history of vaccination, the so-called messenger RNA vaccines of the latest generation intervene directly in the genetic material of the patient and therefore alter his or her individual genetic material, which represents genetic manipulation, which was already prohibited and hitherto considered criminal. Even though the media and politicians are currently trivializing the problem and even foolishly calling for a new type of vaccine to return to normality, this vaccination is problematic in terms of health, morality and ethics, but also in terms of genetic damage which, unlike the damage caused by previous vaccines, will be IRREVERSIBLE and IRREPARABLE. If a vaccination symptom develops after an mRNA vaccination, no therapist will be able to help you, as the damage caused by this vaccination will be genetically irreversible. This mRNA vaccine for the vast majority of people should be banned because it is genetic engineering." (Read more…)
Jesus said: "My people, you are concerned about all of the judges not accepting all of the testimonies of fraud in your election. These judges are paid off by China and the Democrat financial backers to not give in to T*rump's lawyers. You recently saw in your news how the Dominion machines were finally tested with ballots. When people put in an equal amount of ballots for T*rump and B*iden, the counter showed a 26% lead for B*iden. The programmed counter is the reason you are getting partial ballot numbers. Even with this advantage, the cheating Democrats had to bring in thousands of B*iden only mail-in ballots to make B*iden the winner. That means T*rump was an overwhelming victor that took more cheating to win. The evil Democrats were using fixed Dominion machines and fake mail-in ballots to win. You will see a miracle of changing a blue B*iden into a red T*rump, but this could trigger a war that your military is preparing for. Trust in Me that I will call you to My refuges of protection."
Jesus said: "My people, for months I have been warning My faithful not to take any virus vaccine shots and not to take any flu shots either. I have warned you that these vaccines will ruin your immune system, and genetically modify your body. Any vaccine reactions will have little chance of being counteracted in your body. This Chinese virus and the vaccines are a Bill Gates plan to vaccinate the whole world. This is also their plan to reduce the population of the world, meaning people could die or be sterilized from these shots. Some law makers are already planning legislation to make these shots mandatory. Refuse to take any vaccine, even if they threaten to kill you in detention centers. I will call My faithful to My refuges if they threaten your lives. Trust in Me to protect and heal you from any virus at My refuges."
Saturday, December 12, 2020: (Our Lady of Guadalupe)
At Mother of Sorrows Church after Holy Communion, Our Blessed Mother came to give an important revelation. Our Blessed Mother said:
"My dear children, you have heard in the Book of Revelation how I came as a woman dressed in the sun. Back in the 1500's the people were offering up babies to the false gods. I came and gave a miracle to Juan Diego with my miraculous tilma and roses in winter, that were shown to the bishop. Under this title of Our Lady of Guadalupe, I am recognized as the Blessed Mother of the Americas. You, my son, have been to see this miracle in person in Mexico City. I know your people have been disappointed with your corrupt election. My Son, Jesus, has been telling you about a miracle that He will bring about. You know my Son's power, but you were only focused on your unjust election. You have to see the bigger picture, because this coming miracle will be all over the earth at the same time. My Son knows the devil's time is about over, so be patient, and wait on the Lord for his miracle of grace."
Jesus said: "My people, if you allow this cheating to go on with rigged Dominion voting machines and fake mail-in ballots, you will never see another Republican President again. Not only are your elections corrupt, but your judges are corrupt as well. You will soon come to My refuges when the civil war starts. I will first intervene with My miraculous Warning that will give all sinners one last chance to save their souls from hell. When your lives are in danger, I will call you to the safety of My refuges."
Thursday, December 10, 2020: (Our Lady of Loreto)
Jesus said: "My people, this feast honors My Blessed Mother in the very house that I lived in. There was an account that this House of Loreto was lifted by angels from Israel to Italy. In earlier years people claimed there was a small space of air under this house. You have been to see this house, and it is very simple in its construction. This is another Advent account about My Blessed Mother. Just as you will be honoring My birth at Christmas, remember all of the Holy Innocents in Bethlehem who were killed by Herod in an attempt to kill Me. You can also remember all of the unborn babies that you are killing every day in your abortions. Your country and other countries will pay dearly for your abortion crimes. Pray to stop your abortions, and your abortion laws should be overturned."
Prayer Group:
Jesus said: "My people, I have given you many messages NOT TO TAKE THIS VACCINE, which uses genetic materials that will PERMANENTLY change your DNA. I am making a point of this now because your medical people will soon be giving out this vaccine to supposedly heal you from the corona virus. This vaccine is worse than the virus, and you could die more from the vaccine than the virus itself. This plan of a virus and vaccine is part of a one world plan to reduce the population. If the authorities try to mandate this vaccine, I will call you to the safety of My refuges where you will be healed."
Jesus said: "My people, you have seen many lawsuits that have been thrown out of court where they did not even hear the arguments about your fraudulent election. Now your Supreme Court voted 6-3 in favor of hearing this Texas lawsuit. Keep praying your double prayers that your President could have a chance to win against all of the fixed Dominion machines and the illegal mail-in ballots. Pray for My miracle to help your President win this election."
Jesus said: "My people, you are seeing what would happen if B*iden is allowed to be President. He is restoring all of the evil people from the Obama Presidency that will allow China to take over America. Stand up to this evil, and keep doubling your prayers to elect T*rump as President."
Jesus said: "My people, if your President T*rump wins this election, there is a threat that China will try to invade America from Canada and Mexico. China has been massing troops on your borders in preparation for an invasion. America is sending your troops to the border, and you are positioning your aircraft carriers to fight off any attack from land or sea. When a war starts, I will call My faithful to the protection of My refuges. My angels will overcome any enemy troops that will try to kill you. Trust in My protection at My refuges."
Jesus said: "My people, before many people are killed by a virus or a war, I will bring My Warning in such a time of chaos as I have promised. I will bring every one all over the world out of your body and outside of time to My life review all at the same time. This will be one of My many miracles that will give every sinner one last chance to change their evil lives into a life following My laws. Those people, who refuse to repent and refuse to change their lives, will be swept away into hell after the six weeks of conversion. Repent of your sins and seek My forgiveness, and you will be saved in My Era of Peace."
Jesus said: "My people, have no fear, and trust in My protection from the evil ones. No matter how the evil ones will try to kill you, My angels will defeat them. When you have Me protecting you, you will have nothing to fear, for My power is greater than all of the demons and evil people. Have faith in My protection throughout the tribulation, and you all will be saved at My refuges."
Jesus said: "My people, keep fasting and praying for your President to win. Have faith that I could bring T*rump's win, despite all of the evil judges who are not taking up this case of a fraudulent election in court. There is more than enough evidence of fraud in the Dominion machines and the stacking of illegal ballots, even days after the election. Trust in Me and My angels to bring you through the coming tribulation. I will bring My victory and all of the evil ones will be cast into hell."
Friday, December 11, 2020: (St. Damascus I)
Jesus said: "My people, when you were in school, you took classes in civics and you learned about your bicameral legislative branches of government. It is difficult to have a true majority when you have more than two main parties. This is why you are having a runoff election in Georgia because the third party had enough votes so one candidate did not have 50% of the votes. Over the years your voters have put different parties in power, both in the Presidency and the Congress. You are seeing more divisions in your people as each party struggles to gain power. Campaigning is legal, but this 2020 election for President is strange and corrupted. Normally, when one party wins the Presidency, that party brings in more members to Congress. This year the votes for the Republicans gained members in the House of Representatives. This anomaly is explained with the cheating Dominion machines that were rigged to change T*rump votes to B*iden votes by 26%. The fake mail-in ballots were also rigged which is why many Democrat districts had more votes than there were people registered to vote. This election is a fraud, and you are praying for T*rump to win in the Supreme Court. Trust in My protection at My refuges."
Jesus said: "My people, it is obvious to most observers that there was fraud with the Dominion machines that could be demonstrated in a court room with a 26% change of T*rump votes to B*iden votes. You also did not have a forensic validation of all of the mail-in ballots. If nothing is going to be settled in court, then America just turned into Venezuela where any amount of cheating is allowed. If there ever was an election that needed to be investigated, this is the one. All of the fraud evidence was brought forward, but the judges are either too weak to make a decision, or they were paid off to rule in favor of B*iden's cheating. This is not over, because I can still perform miracles that could change the outcome. Keep praying your double prayers for your President."
Sunday, December 13, 2020:(Third Sunday of Advent, Gaudete Sunday)
Jesus said: "My people, to Me the bigger picture of events is all about how can I save the most souls before the coming tribulation is allowed. I will truly bring about My Warning before the killing starts. It is during the Warning that the truth of the fraud of this election will be revealed to everyone. This Warning will be a chance for My faithful to convert your families during the six weeks of conversion, so they are ready to come to My refuges. Only My believers in faith will be allowed into My refuges with their cross on their foreheads. After the Warning and the conversion time, America will be taken over, but My faithful will be safe at My refuges. This is your punishment for your abortions. The Antichrist will reign a short time, but fear not, because I will bring My victory over the evil ones, and they will be cast into hell. I will then bring My faithful into a new heavens and a new earth of My Era of Peace."
Monday, December 14, 2020: (St. John of the Cross)
Jesus said: "My people, you have the worldly news, and you have My 'Good News' of salvation of the spiritual news. The worldly news is concerned with politics, sports, and the weather, but My news is exclusively about worshiping Me and guiding you on the way to heaven. You are seeing how the deep state evil people have control over your newspapers, TV programs, the social media, and now they are using the corona virus from China to control your everyday life. The deep state has an agenda for a takeover of your government, and they will stop at nothing, even cheating and killing to get their objective. They even persecute and censor any news or people who speak out against their narrative. This is how they have stolen this election from your President. Keep praying for your President, as you are about to see his response to the cheating people and the corrupt judges."
Jesus said: "My people, out of My Divine Mercy I am going to give every sinner one last chance to be saved from hell with My Warning experience. In your mini-judgment after your life review, the serious sinners are going to feel what it will be like to be in the flames of hell with the demons tormenting them. Many people who lead evil lives, have no idea how they are offending Me with their sexual and cheating sins. The Warning will be a wake-up call to some people, but others will go back to their evil ways. It is the souls, who will not change, even after experiencing hell, that you are seeing in the vision falling into this black abyss of hell. My faithful will have a chance to convert souls in the conversion time of six weeks after the Warning. I have shown you what hell is like, and you do not want to see anyone go to hell. Yet, you will see many souls falling into hell like snowflakes. Keep praying for your family members that you can help save their souls from hell. If people refuse to believe in Me, and do not seek My forgiveness of their sins, then they are choosing hell for all eternity. Keep close to Me in your daily prayers and you will be with Me forever in heaven."
Tuesday, December 15, 2020:
Jesus said: "My people, be prepared if your President invokes his Executive Order of 2018 that allows a military insurrection for foreign countries interfering in your election. You are seeing how both B*iden and H*arris have had dealings with Communist China, who is your most threatening enemy. If H*arris becomes President, you could have an instant communist state, because there are Chinese troops in Canada near your border. It is your President T*rump who is protecting your freedoms, so keep praying for his plans to keep you from being taken over by Communist China. If a civil war breaks out, I will call My people to the safety of My refuges. Remember how I told you that I will send My Warning before any killing starts. Trust in Me to protect you from the evil ones."
Source: John Leary
Fr. Michel Rodrigue explaines The Events of the End Times
Do you want a quick overview of the end times? Then read "The great events of purification will begin this fall". If you want all the details of the unfolding events, then go to "Virtual Spiritual Retreat with Fr. Michel Rodrigue about the End Times".
Messages of Holy Love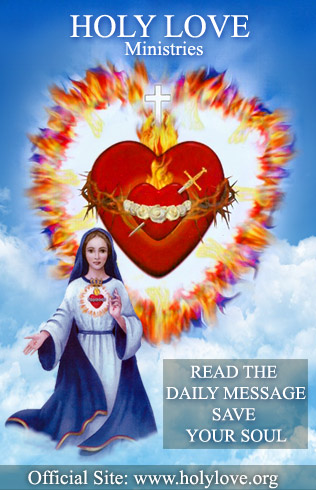 Read the daily messages
Catholics, we have entered the Pre-Tribulation, observe the Commandments, go to Confession; receive the Holy Eucharist; pray at least 3 Rosaries a day to keep your faith and save your loved ones. Prepare for the events that will devastate our planet: plagues, famine, WW3, cataclysms, antichrist's World Order