November 7, 2020 – False Disguises
Our Lady: "My children, thank you for having responded to my call in your hearts. Dear children, how your prayers comfort me! You also comfort the pierced heart of Jesus. Children, as you can see, this is a time of great confusion, when evil is hiding behind false disguises; you will need to pay attention: walk together with Jesus and nourish yourselves with His Word for your salvation. Children, my little ones, they will try to make you believe that everything is being done for your good, but that is exactly where the temptation of the devil is hiding—discern. Please live out these messages with joy, and then you will be witnesses to the truth, because whoever follows Jesus should not fear anything. If you do not strengthen yourselves, you will not be able to face the new diseases that will come. I will pass among you to bless you one by one, in the name of the Father, the Son and the Holy Spirit. I will be with you until the end of the prayer [meeting]."
November 10, 2020 – Why Are You Not Listening to Mother?
Our Lord: "My brothers and sisters, thank you for being here with joy in your heart: how much faith I see in your hearts. Please, why are you not listening to the most important messenger in the universe, My Mother, She who with Her love does everything to protect her children in this world of confusion? Please be in silence, prayer and contemplation: do not talk. Did you want to see the signs of the end times? The signs have arrived and you still do not believe; you have been told that apostasy would enter the Church because of proud, selfish theologians, and this has happened, overturning the words of my Gospel. I told you about famines, plague and diseases that would come, and you still do not believe. I told you that the noise of war would be heard: here it is, everything has already been revealed in the Bible — state against state, governments against governments, men against men, you are afraid of each other, they have taken away your freedom and still you do not believe. Oh, how much faith will I find on My return? And yet, how many trials can be overcome by you with faith and by praying the Holy Rosary. My children, trust and entrust yourselves [to Me] and I will always be beside you; follow in My footsteps and take My hand and I will be with you every day until the end. Now I bless you one by one, in the name of the Father, in My name and in the Holy Spirit, Amen."
November 14, 2020 – Now is the Time of Battle
Our Lady: "My children, thanks for being here in prayer and for having listened to my call in your hearts. My beloveds, Jesus is suffering because of what they are doing to Him; Satan is disturbing many souls and is leading men of the Church down the path of pride and arrogance, and this will cause them to believe that they are omnipotent, travelling the road of perdition; but this what pains me is that the flock will be scattered without having known Jesus. Instead, my children, God asks you for humility: this is the virtue by which you will be recognized as His children. Now is the time of the true battle, and with the weapons of fasting and the Holy Rosary in your hands, fight together with me for the Triumph of My Immaculate Heart. Beloved children, the times that will come will be terrible, but do not fear, because I and my Son will be close to you in the tribulation. Jesus will make the Holy Spirit descend upon you, just as He did with his apostles. Those children of mine who are the ambassadors and prophets of these times will suffer most of all; do not leave them on their own. Love one another as brothers and sisters, be united with love and pray together with devotion. Now I bless you in the name of the Father, the Son and the Holy Spirit, Amen."
November 17, 2020 – Winds of War
Our Lady: "Dear children, thank you for being here and for having listened to my call in your hearts. My beloved children, open your eyes to see the darkness that has descended on this earth; winds of war are blowing ever more strongly. My dear children, I look with pain at humanity that is becoming lost — part of it is already lost. I continue to tell you to love one another; humanity has turned into human beings without the Divine Spirit: you think of everything that is tied to the earth and you never look to Heaven, which lovingly wants to save you with its signs and to protect you with My words, yet you are blind. My children, look to the Cross of Christ and love it; pray in particular for those priests who are no longer worthy to have the Body of Jesus in their hands. I have already told you that you will go back to praying in your homes. Children, pray for Italy, because soon the earth will shake. Pray for America and have no regard for the silence of these times: conflicts will soon make themselves felt. Now I bless you in the name of the Father of the Son and of the Holy Spirit, Amen."
November 21, 2020 – Be Like Noah
Our Lady: "My dear children, remember that from today onwards the demonic spirit will be stronger, it will take hold of many minds; please believe my words, prepare yourselves for the renunciations that they will require of you – follow my words. Be like Noah when he prepared the Ark and everyone considered him mad, yet he had Faith and saved his family and animal species. This is the worst time that humanity has ever experienced, therefore I ask you my children to have faith, and you will be saved. Be little – only thus can you enter the Kingdom of God. No matter how many people will despise, judge and persecute you, you will have my Angels beside you, who will make you invisible for evil, especially when you are in your refuges. I ask for an altar and blessed candles to be set up in every home; my Son and I will be there with you always; do not fear: my Lord has conquered death and He loves you. Now I bless you with all the fire of a Mother's love, in the name of the Father, the Son and the Holy Spirit. Amen."
November 24, 2020 – The Beginning of the Tribulation
Our Lady: Dear children, thank you for having responded to my call in your hearts. My beloveds, this is the beginning of the tribulation, but you should not fear as long as you kneel and acknowledge Jesus, God, One and Three. Humanity has turned its back on God because of modernism and licentiousness, but I ask you: to whom will you go when all that you have now disappears? Whom will you ask for help when you no longer have anything to eat? And it will be then that you will remember God! Do not reach that point, because He, too, might not recognize you. My children, do not be like the foolish virgins: fill your lamps immediately and light them. Children, remember that silence will lead you to perdition, therefore shout out and be silent no longer! Sing Praises and Hymns to the Lord: do not be afraid, but be courageous. Accepting even the slightest change in the Word of God will be like accepting everything — be vigilant. I ask you to repeat the promises of Baptism when you renounce Satan and all his seductions. Now I bless you in the name of the Father, the Son and the Holy Spirit, Amen
November 28, 2020 – The Warning is Soon
Our Lady: "Dear children, thank you for having responded to my call in your hearts. How beautiful it is to see my children kneeling; now I rarely see people's hearts transported by love for Me and for my Son Jesus. My dear children, I already see the divisions that will appear regarding faithfulness towards God. My children, I am here to bring love and courage and protect you at every moment. At this time, those who will be faithful will see graces doubled so that they would understand the greatness of God's mercy. My children, the Warning will soon be upon you, so prepare yourselves because it will arrive unexpectedly. My dear children, remember that the Truth is God's Word and there can be no mystification of it; behold, man has allowed himself to do what is not pleasing to God. Children, remember the words of Jesus: "either with Me or against Me". Be with Him and you will have joy and serenity even when darkness falls around you. Now I give you my Maternal blessing, in the name of the Father, Son and Holy Spirit, Amen"
Official Italian site: La Regina del Rosario
Site in English: After the Warning
Fr. Michel Rodrigue explaines The Events of the End Times
Do you want a quick overview of the end times? Then read "The great events of purification will begin this fall". If you want all the details of the unfolding events, then go to "Virtual Spiritual Retreat with Fr. Michel Rodrigue about the End Times".
Messages of Holy Love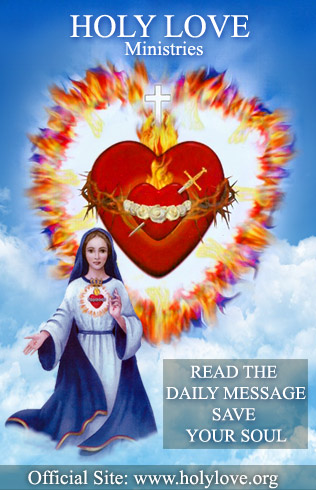 Read the daily messages
Catholics, we have entered the Pre-Tribulation, observe the Commandments, go to Confession; receive the Holy Eucharist; pray at least 3 Rosaries a day to keep your faith and save your loved ones. Prepare for the events that will devastate our planet: plagues, famine, WW3, cataclysms, antichrist's World Order