Please read these messages from beginning to end, pay attention to Our Lord Jesus' words on how to prepare and to be ready for refuges and for what is coming to the world … Also pay attention to the news from the USA to understand the end times.
In this section: Faith, Sins; State of the Church; Punishments, Abortion, Warning (Illumination of Consciences); Virus; New Pandemic; Vaccines; micro-chips; US Presidential Elections; Deep State; Uprisings; Possible Civil War, Tribulation, Kingdom of the Antichrist; Refuges …
Wednesday, November 25, 2020: (Prayer Alert)
URGENT MESSAGE TO GET OUT RIGHT AWAY! – At the Eternal Father Chapel we were praying before our Adoration DVD. I could see Jesus suffering on the cross and He wants us to double our prayers for President Trump to win this election.
Jesus said: "My people, I cannot stress enough how important it is to pray for your President to win this election. The demons and evil people have gone all out with every fraud possible to beat your President. There are not enough people praying for this intention. This is why I have to depend on My prayer warriors to step up and stand your ground, if you want to keep your freedoms. PLEASE DOUBLE YOUR PRAYERS FOR YOUR PRESIDENT TO WIN. If you pray three rosaries a day, then you need to pray six rosaries a day. You are dealing with cheating, crooked people, so you are in a spiritual battle. Your rosary is your best weapon against this evil, fraudulent election, so you need more prayers to allow the courts to overturn the illegal ballots. Give thanks for your freedoms, but keep doubling your prayer efforts until the Trump lawyers can secure a victory."
Wednesday, November 25, 2020: (St. Catherine of Alexandria)
Jesus said: "My people, do not forget that you are living in the pre-tribulation with China's evil corona virus that has been spread all over the world. This current virus will get worse with a more deadlier virus. These are the first plagues of the end times that are being used to control people. Soon you will also see mandatory chips in the body which you will not take. You will also see mandatory virus vaccines which you will not take either. The vaccines will be worse than the disease because the nano technology will change your DNA. The chips will be the new currency for buying and selling, but they will control your mind. When these mandatory chips and vaccines are forced on you, the authorities will kill those people who do not obey. This is when you will be called to My refuges for your protection with My inner locution. You will call on Me and your guardian angels to lead you to My refuges with your backpacks. You will leave your home for the refuge within twenty minutes. Only My believers will be allowed into My refuges. You will see some people persecuted and even martyred, if they refuse to leave their homes. Trust in My angel protection, because My refuges will be your only safe havens during the tribulation of the Antichrist."
Thursday, November 26, 2020: (Thanksgiving Day)
Jesus said: "My people, your governors are trying to limit the number of people you can have in your own home. You are seeing your governors dictate rules that are not laws, as you see the encroaching signs of socialism trying to control your travel and your activities. You are thankful for many of your freedoms, especially being free to come to Mass at church. You also are thankful for your families and all the things I have given you. Give thanks and praise to Me for all of My gifts. Now, your freedoms are at risk from the communist leaning Democrats. Continue to keep praying for your President to be vindicated from this fraudulent election. Be prepared to come to My refuges if a civil war breaks out. My angels will shield you from the evil ones at My refuges."
Friday, November 27, 2020:
Jesus said: "My people, this last two weeks of the Church Year you are reading in the Book of Revelation about the end times according to St. John the apostle. Today, he speaks about the end of the Antichrist's reign with the Battle of Armageddon. The Antichrist, the False Prophet, and all those people who took the mark of the beast were defeated, and thrown into the abyss of hell. This is another sign to not take the mark of the beast or a computer chip in the body. Satan was cast into hell and locked there for a long time. All of My believers did not take the mark of the beast, and they were written in the Book of Life. I brought all of My faithful into My Era of Peace where there was a new heavens and a new earth. The new Jerusalem was brought down to earth, and there was no more influence of the devil. Rejoice, My faithful, for this will be your reward for enduring the tribulation at your refuges."
Prayer Group:
Jesus said: "My people, I am very pleased with all of My prayer warriors who are doubling their prayers for their President to be vindicated with this fraudulent election. The Democrats have committed treason for having Dominion software and the CIA software of Hammer-Scorecard change Trump votes into Biden votes. The Democrats also cheated by dumping thousands of illegal mail-in ballots at the end of the election. Your President's lawyers have presented their case, but the judges are still claiming there is not enough evidence of fraud. This fraud is so obvious that these judges had to be paid off to refuse accepting this case. Now the cases are being brought before the Supreme Court. You will see in a few weeks how your country will either retain its freedoms, or you will become a communist state."
Jesus said: "My people, America has to stand tall against this new call for a 'Reset' revolution which is nothing more than accepting the communist state. The One World people will be pushing this agenda for a world socialist government that will prepare the world for the Antichrist's reign during the coming tribulation. America has had its freedoms for too long not to put up a fight against this reset. Have no fear for I will call My people to the safety of My refuges."
Jesus said: "My people, your abortions are calling down more punishments upon your country with food shortages, an EMP attack, and a more severe pandemic virus. You will see dead bodies all over with these events, and I will call My faithful to My protection at My refuges. Trust in My angel protection during the tribulation, then you will see the evil ones cast into hell."
Jesus said: "My people, the control of your US Senate is in danger if the Democrats win both contested seats in Georgia. Continue to double your prayers for Trump and also that the Republicans can win in Georgia for the US Senate. If the Democrats control the White House and the Congress, then you will be on a quick road to a communist state. You may have to come to My refuges when your lives are in danger."
Jesus said: "My people, even if your President wins this election, he will be tested by many assassins who want to kill him. Even Biden is at risk of death because the liberals want Harris to be President. You could see major turmoil in the next few weeks that could lead to chaos and the coming Warning. Have no fear, My faithful, because you will soon be coming to My refuges for your protection."
Jesus said: "My people, before you could die from a worse virus or an EMP attack, I will call My faithful to the safety of My refuges, and My Warning will come first. You will see a world takeover by the evil forces so the Antichrist can have his brief reign. Trust in Me to keep you safe at My refuges. You will see some people martyred, but most of My people will survive this tribulation."
Jesus said: "My people, you will be starting your Advent Season this weekend as many of you are putting up your decorations for the Christmas Season. Some people have been given prophecies that you will not have another normal Christmas celebration. This is true, so you need to be ready for more corona virus cases and deaths that could cause another shutdown and your churches could close again. You were warned to have several months of food on hand at your home, in case you cannot get out to your grocery stores. Your stores may not receive enough stock if your trucks cannot deliver food to your stores. Be ready to come to My refuges, or I may have to multiply your food at your homes. Trust in My protection."
Saturday, November 28, 2020:
Jesus said: "My people, your President will be vindicated that this election was stolen by a fraudulent election led by the Democrats. Unfortunately, he will not be living much longer. This election has seen machines change votes, and many mail-in ballots were illegal or duplicated. If these frauds are allowed to stand, you will never have another fair election. Keep praying your double prayers for your President and for the Republican candidates to win the US Senate seats in Georgia. Your country's freedoms are on the line for America's decision."
Jesus said: "My people, as I look down on the many ways that the Democrats were cheating to win, I see a real travesty of justice in not having a fair election. I know My faithful have faith and trust in My power to answer such an injustice. Do not give up hope and keep doubling your prayers for Trump to win, and for the Republican US Senators to win their election in Georgia. Pray also that you can stop the cheating in the US Senate races, now that you know how evil the Democrats can be. It is your extra prayers and My intervention that will vindicate Trump."
Sunday, November 29, 2020: (First Sunday of Advent)
Jesus said: "My people, today you start a new season of Advent as you are making preparations for My birth on Christmas. Your shoppers are out buying gifts for your family and friends. More people are buying on the internet, depending on how many virus restrictions you have in your area. It is better to support your smaller businesses, if you want them to remain open. I told you that these next few weeks could see some confrontations over your fraudulent election. There will be many cases and proof brought before your Supreme Court that could make a final determination over who will be President for the next four years. You are seeing Antifa and BLM determined to cause more riots in the suburbs or where they think conservatives live. This could cause a retaliation from the armed patriots who will be fighting the communists for your freedoms. If a civil war breaks out, this could cause a martial law, and any chaos could bring My Warning. Be watchful and be prepared to come to My refuges. Trust in My protection no matter what happens."
Jesus said: "My people, absentee ballots have to be requested and verified by a signature. Mailing out multiple ballots should not be allowed to be sent to everyone according to most state constitutions. The only recourse would be for the legislatures to have one vote for each state. This would rectify all of the cheating with fake ballots. Many districts had more ballots than were registered. If this election is overturned because of the fraudulent election, then the Democrats would start a riot and try to kill your President. Pray for a peaceful settlement for all of the cheating. Trust in Me to protect My faithful at My refuges."
Monday, November 30, 2020: (St. Andrew)
Jesus said: "My people, when I called My apostles, like Andrew, to follow Me, they immediately left to be fishers of men and women. All of My baptized faithful are called to evangelize souls to bring people to faith in Me. It is by believing in My Word and following My Commandments, that you will have eternal life with Me in heaven. My people need to keep praying for your President to find justice in this fraudulent election. Keep praying also for the US Senate Republicans to win their election in Georgia. Trust in Me to protect you during the coming trials."
Jeanne Marie Bello Mass intention: She said: "I love Al so much, and I am comforting him with my prayers. I know he will continue our Christmas traditions that I taught him."
Jesus said: "My people, with this fraudulent election America stands at a crossroads. One road leads to freedom, and the other road leads to communism. You have laws on your books with each state constitution that does not allow sending out ballots to everyone. Your election had so much fraud from mail-in ballots that there was no verification that the legal voter filled out the ballot. You also had voting machine software that changed thousands of Trump votes into Biden votes. Not only is the Presidency at stake, but if all of this cheating is accepted, you could never again have a fair election. If you cannot trust your voting system, then you are no better than Venezuela, for whom your Dominion machines were used so he would never lose. Wake up America to your corrupt voting process, or you will soon be a communist state. Keep doubling your prayers for Trump to win, and for the Republican senators to win in Georgia."
Tuesday, December 1, 2020:
Jesus said: "My people, I am showing you in this crack and the eye of a needle, that there is still hope for your President to win this election. You can see My Light shining through all of the injustice in this fraudulent election. So do not give up hope, but keep doubling your prayers for your President to win, and for the two Georgia Republican senators to win. Be prepared, My people, because if your President does win, the left will do everything to overthrow your government and Constitution with a communist revolution. They have had a plan for an overthrow all along. They are just waiting for the right opportunity. You will see a battle of your National Guard and your patriots against the communist mobs. At that time when there will be chaos, you could see My Warning and conversion time, followed by your coming to My refuges. The evil ones will reign for a short time, before I will cleanse the earth of the evil ones who will be cast into hell. Be patient and follow My angels to My refuges of protection. Soon you will see My Light of a final victory over the Antichrist and all of the evil swamp creatures of the deep state. You read about the Era of Peace in the first reading, and this will be My reward for all of My faithful."
Source: John Leary
Fr. Michel Rodrigue explaines The Events of the End Times
Do you want a quick overview of the end times? Then read "The great events of purification will begin this fall". If you want all the details of the unfolding events, then go to "Virtual Spiritual Retreat with Fr. Michel Rodrigue about the End Times".
Messages of Holy Love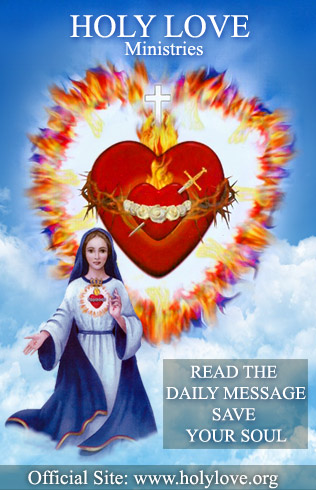 Read the daily messages
Catholics, we have entered the Pre-Tribulation, observe the Commandments, go to Confession; receive the Holy Eucharist; pray at least 3 Rosaries a day to keep your faith and save your loved ones. Prepare for the events that will devastate our planet: plagues, famine, WW3, cataclysms, antichrist's World Order